The 'RHONY' Reunion Might Not Be Too Fun For One Of The Housewives, According To Andy Cohen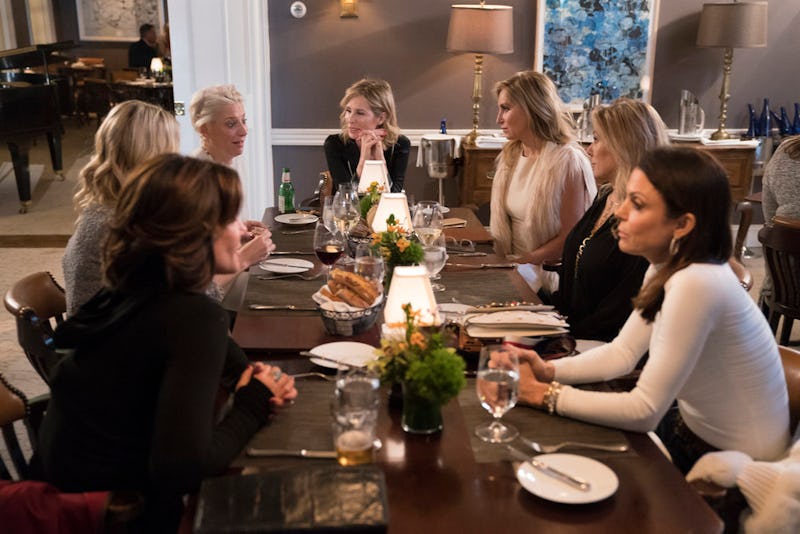 Peter Kramer/Bravo
The season finale of Real Housewives of New York is quickly approaching, and from the sounds of it, things are about to get really interesting for one cast member in particular. During a recent chat with Entertainment Tonight, Andy Cohen revealed that the RHONY Season 10 reunion will be dramatic for Bethenny Frankel. If you watched any of the drama that went down during the show's tenth cycle, it's easy to understand why.
Spilling the reunion tea to ET during the TCA tour on August 1, Cohen shared:
"I watched part one on the plane today and it's great. What's interesting is the women are gunning for Bethenny. It's like a gang bang on Bethenny. Yeah, oh yeah. Big time."
Cohen's comments come as no surprise given the fact Carole Radziwill and Bethenny Frankel's ongoing feud was one of the major highlights of the season. The relationship between the former best friends appear to have become irretrievably broken after Frankel insinuated that Radziwill's boyfriend Adam Kenworthy requested to be compensated for participating in an event supporting hurricane relief. Radziwill later denied those claims in a BravoTV blog. Despite attempts to repair the friendship, the animosity between the two continued to mount and it sounds like things may come to a head at show's upcoming reunion special which was reportedly taped in July. A source for Us Weekly claims that the reunion will result in a final blow-up between the two women who have been at odds the entire season.
Bethenny and Carole's feud has become so monumental that it is speculated to be the reason behind Carole's decision to step away from the show. In a statement shared on Wednesday, July 25, Carole said that she was leaving the reality television circuit in order to place more focus on her journalism career, adding that she was "thrilled to leave frenemies behind." (When asked for comment by Bustle, Bravo shared Radziwill's statement from Bravo's Daily Dish.)
Through her announcement, Carole explained, in part:
"After six seasons on Bravo's RHONY, I have decided to return to what I do best — journalism and producing. I am sure this does not come as a surprise to any of the viewers, all of whom have been supportive, encouraging, and kind. My original curiosity about reality television has waned over the years and I am focusing on TV and writing projects that better suit my more steady temperament."
Another indication of how things may turn out is the RHONY Season 10 reunion seating chart, which was shared by the network on July 18. The seating arrangement revealed that — for the first time ever —Bethenny and Carole are not sitting next to each other, nor are they on the same couch. As for the rest of the seating chart, it revealed that Sonja Morgan is next to Bethenny, and Ramona Singer is sitting beside Sonja, which should also prove to be interesting since Bethenny has continually had issues with both women in the past. However, Bethenny and Sonja have, somehow, become closer now that Bethenny and Carole are no longer on good terms.
The opposite couch has Dorinda Medley sitting in between Carole and Tinsley Mortimer, which makes total sense as Dorinda, too, has had her fair share of issues with Bethenny this season. On a June 27 episode of Watch What Happens Live, Dorinda revealed that she and Bethenny "haven't really spoken" since this season of RHONY ended. She also claimed that Bethenny had unfollowed everyone except for Sonja on social media which seems to make it crystal clear that Bethenny is at odds with just about everyone on the show at this point.
With just a few weeks remaining until the reunion showdown, it's will be interesting how the reported attack on Bethenny is going to change the landscape of the series going forward.