The 'Roseanne' Cast Has Finally Spoken Out About The Show's Cancelation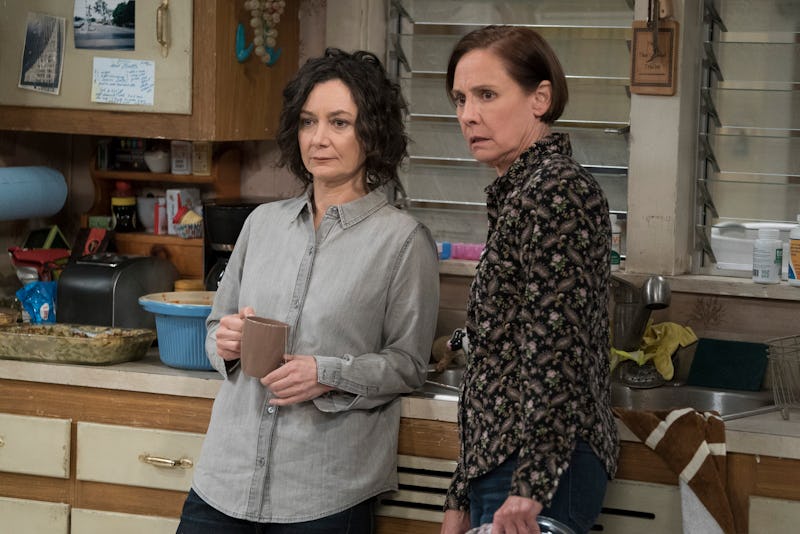 Eric McCandless/ABC
For the most part, John Goodman and Laurie Metcalf have been hesitant to comment on Roseanne Barr's offensive and racist tweet that ultimately led to ABC canceling the Roseanne reboot. But with the premiere of The Conners looming on the horizon, many members of the Roseanne cast have spoken out about the show's cancelation and what it feels like to move on without the Conner matriarch at the helm.
"There was the feeling of not wanting it to go away until we were ready," Goodman told People during a recent interview in regards to the show's cancelation. "There was a debt owed to this fictional family. We want to finish telling this story." He could recall the exact moment he found out about Barr's tweet, remembering that he was "in my kitchen and maybe my daughter or my wife told me," though he had a difficult time believing what was happening. "It just didn't seem true," he said. "Then it got true. I was consciously trying to accept it."
As for Sara Gilbert, who plays the second eldest Conner sibling Darlene, she chose to try and simply take each day at a time in the aftermath of everything. "I don't remember too much," she admitted during the same interview. "It was more just, 'Okay, what are we dealing with today?' I was just kind of taking things one step at a time as they came."
Meanwhile, Metcalf had been in New York City performing on Broadway at the time of Barr's tweet. In fact, she was so busy that she ending up finding out what was going on ""on the news, actually," Metcalf recalled to People. "And I [first] thought, 'Oh, I wonder if we still have a show.' Because of how heavy everything became." She also had a difficult time accepting the show's cancelation. "Coming off such a high, it was hard to wrap our heads around," she admitted.
And while the cast was hesitant at the idea of returning for a new series, now titled The Conners, they felt it was ultimately the right decision to make. "There was a lot of risk involved," said Metcalf. "But we all decided as a group to take the risk, knowing that we could be judged by deciding to come back."
Metcalf, Goodman, and Gilbert may all have varying personal opinions about Barr's past actions, but the one thing they can agree on is that they're grateful that she agreed to cut all financial and creative ties to the show so that they could continue on without her. In a previous statement to Bustle, Barr said:
"I regret the circumstances that have caused me to be removed from Roseanne. I agreed to the settlement in order that 200 jobs of beloved cast and crew could be saved, and I wish the best for everyone involved."
This, in turn, allowed the rest of the cast to pick up the pieces of the show and create The Conners. "That was a very big deal," Goodman stated to People. "To give us a chance." Gilbert added: "Any sadness that we feel over what we've lost we're hopefully channeling in an honest way into the show." (Barr's character Roseanne will reportedly be killed off, thereby explaining her absence in the series.)
All anyone can do now is look to the future and hope that The Conners proves to be a success. At the very least, the cast takes comfort in the fact that they have each other to help get them through any hard times that come along. "We're leaning on each other when we do this show," Goodman explained. "And supporting each other — that's a very strong feeling among us. It's different, but we can create something new from it. Let us finish the story on our own terms. Come along with us and see how we do."
Fans who wish to do just that can catch The Conners premiere on Tuesday, Oct. 16 at 8 p.m. ET on ABC.