'The Sinner' Season 3 Could Finally Explain Harry Ambrose's Dark Past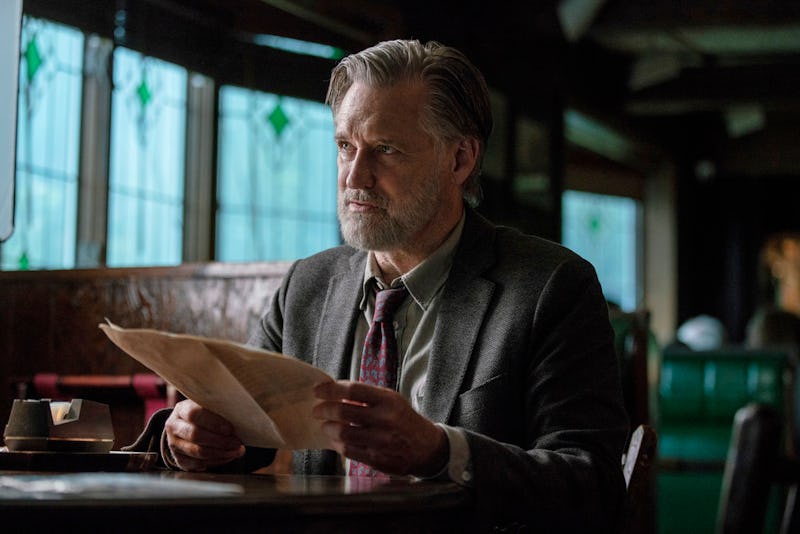 Zach Dilgard/USA Network
The Season 2 finale may finally bring Julian's case to a close on The Sinner, but because USA has yet to confirm a renewal, a potential storyline for The Sinner Season 3 is far from being revealed. Still, the people behind the anthology series have given some clues about what the show's future could hold. And, it sure seems like Bill Pullman's Harry Ambrose will solve one last case before his TV character is retired.
Season 2 of The Sinner has mostly been about understanding why the 13-year-old Julian poisoned two people. Yet, the series has also been exploring Detective Ambrose's own dark childhood. Though the show was initially intended to be a mini-series, USA decided to bring it back after Season 1's success, using Pullman's character as the connecting force after Cora Tannetti's story was finished.
And in Season 3, the plot could be dependent on him again. Pullman told Variety in an August interview that he'd already spoken to showrunner Derek Simonds about coming back onboard. "Derek and I have talked about different things that he's thinking about, and he does have a kind of trilogy idea so far, and the idea of going to a third season would be very tempting, particularly with what scale he's talking about going to," Pullman said. "I would be interested, for sure."
Simonds was the person who decided to keep Ambrose around in Season 2, and it certainly sounds like he has a larger plan mapped out. When Season 1 ended, he spoke to IndieWire about why Ambrose paid special attention to his physical bruises in the finale. "He's looking at them squarely for the first time in the show instead of just playing with the bruises," he told the outlet. "It's this idea of he's now just cracked open the door to his own issues, his own wounds, and we hope will deal with them in the future."
In a USA Network video promoting Season 2, Simonds further explained how he set the stage to continue Ambrose's story. "I kind of designed the end of Season 1 to really end as a handoff in a way from Cora to Ambrose's character," Simonds said. "What was his trauma that made him connect to Cora so deeply?"
Season 2 has followed through on that promise, delving deeper into Ambrose's past even as Julian's case took the lead. We've learned that his masochism highlighted in Season 1 may stem from the guilt he feels over allowing his childhood home to burn down, and that because of it, his mother was placed in a mental health facility and he entered the foster care system. Season 2 has also yet to answer questions about "the work" that Ambrose did with Carrie Coon's Vera. If he remembers what he told Vera about his childhood trauma in the finale, it could be a lead-in for another season.
That being said, Pullman's character isn't the only person who could return in a possible Season 3. In an interview with Gold Derby about her Season 1 performance, Jessica Biel discussed how she hasn't closed the door on bringing back Cora, even if she's not yet sure how it would work. "I always like to leave it open just a little bit, in my mind at least. Like, 'Oh, Cora, she could come back, right? Somehow, someway?' Maybe that's my ego talking," Biel said. "But realistically, I don't know. I feel like we really satisfied that storyline. We're not sure where Ambrose and Cora go after this. We exhausted a lot of ideas for Season 2."
She added that the creative team (she still serves as executive producer) didn't feel like bringing back Cora for Season 2 did justice to the show. "We couldn't figure it out in a way that made any sense and we really felt strongly about moving Ambrose forward and letting him be the foundation of the show," Biel said, noting that she's not opposed to Cora could coming back if done right. "I always keep it open, just in the back of my brain that maybe if we find an amazing idea that it could be possible," she said.
Beyond Cora and Ambrose, there's another character who could be a bridge between Seasons 2 and 3: Natalie Paul's Heather Novack. She told her father in Episode 4 that she wasn't sure why she stayed in town, and now that Marin is dead, her memories may be too overwhelming for her. It's unlikely that as anything major as Julian's case would happen in Keller again, but as a detective, it's possible Heather could become the new Ambrose and link the seasons by investigating a different case in a new town.
However, given Pullman's comments about a trilogy and how much time has been devoted to showing Ambrose's past, a Sinner Season 3 should feature him. Maybe for this last chapter, he'll finally be able to forgive his own sins.