The First 'Stranger Things 3' Trailer Just Revealed A Totally New (And Terrifying!) Monster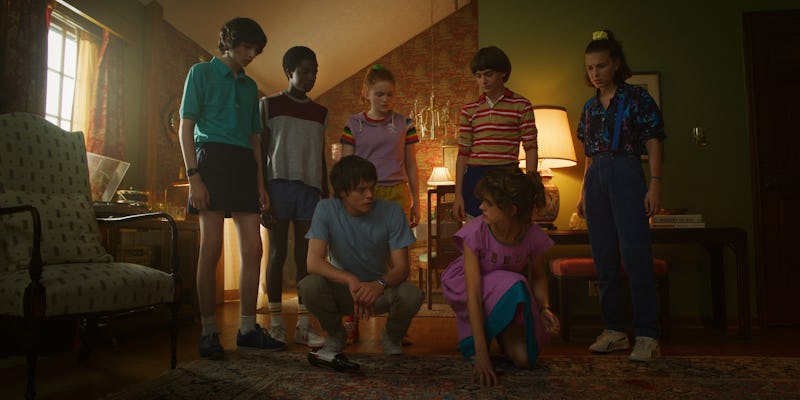 Netflix
School's out for summer ... but the kids of Hawkins, Indiana still have plenty of work to do when it comes to protecting their town from the horrors of the Upside Down. The first trailer for Season 3 of Stranger Things was released on Wednesday, March 20, and with it comes the tease of yet another terrifying monster from the Upside Down with the potential to destroy the town that they love.
In true Stranger Things fashion, the '80s nostalgia is strong throughout the trailer, which is reminiscent of a classic action movie of the genre, complete with a menacing town mayor (Carey Elwes) and a county fair that sees all kinds of chaos unfold. But before they come face to face with the season's new, slimy and terrifying monsters, the kids at the center of the show have to face off against something equally terrifying: growing up.
"We're not kids anymore," Mike (Finn Wolfhard) is heard saying, while The Who's "Baba O'Reilly" plays underneath, in order to underscore that the group of friends are now officially teenagers. "What did you think, we were just gonna sit in my basement all day and play games for the rest of our lives?" The trailer then cuts to Dustin (Gaten Matarazzo), standing alone on top of a hill and a terrified and sweaty Will (Noah Schnapp), looking back at old photos of himself and his friends dressed as the Ghostbusters for Halloween.
In addition to underscoring the fact that everyone's favorite group of friends is growing up, the Season 3 trailer teases plenty of scary new sci-fi elements, including a massive lightning storm and Eleven (Millie Bobby Brown, sporting long, wavy hair and a new, colorful wardrobe), sitting on the ground, surrounded by her friends and broken glass after what appeared to be a pretty draining and violent fight.
As for that terrifying new monster, it makes its first appearance near the end of the trailer, slowly growling and unfolding itself in a hallway as Jonathan (Charlie Heaton) stares it down. If that final shot of the pink, dripping monster with rows upon rows of teeth isn't enough to get you excited about what the Upside Down will unleash this time around, we don't know what will.
Even scarier, of course, is the shot of one character in the shower, staring at what looks to be some kind of dark, poison spreading through their veins. Could this be how the monster breaks through into Hawkins this time around?
One thing that the trailer does make clear is that the show's newest location — the Starcourt Mall, where fan favorite Steve (Joe Keery) will spend the summer working alongside new character Robin (Maya Hawke) — will play a major role in all of the creepy excitement that will unfold over the summer of 1985. The mall's significance, as well as the show's July 4 release date, was originally teased back in January, when Netflix released a video counting down to an ominous new year.
The new clip also teased the presence of an army of rats, which freaked fans out a few weeks ago when Netflix released a teaser video featuring the rodents on Twitter. That, combined with the hints about a mysterious company called "LynxCorp" and a shot of someone in a mask being electrocuted in the trailer seems to imply that just because Brenner has been replaced at Hawkins Laboratory at the end of Season 2, that doesn't mean the town's mysterious scientific experiments are anywhere near finished.
Sadly, fans will have to wait until Season 3 of Stranger Things premieres on July 4 in order to find answers to the many, many questions raised by the trailer — as well as whether or not this will be the final season of Stranger Things, as some fans have speculated. In the meantime, we'll all just have to keep rewatching the trailer to work out our new theories for what's to come.