The 'Stranger Things' Kids 2017 Emmys Prep Will Have You Ready To Return To The Upside Down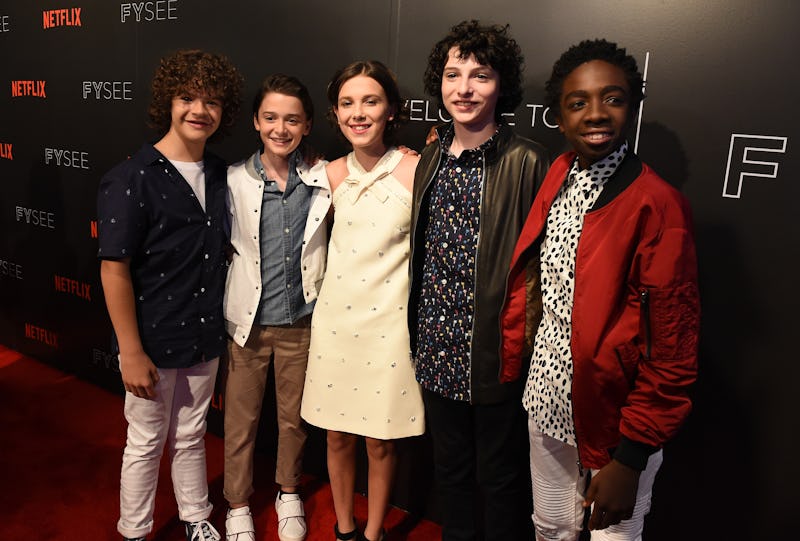 Kevin Winter/Getty Images Entertainment/Getty Images
There's only one cast that can turn the Emmys upside down, and that is the Stranger Things gang. The Stranger Things kids are ready to own Emmy night (again), and their social media accounts prove it. Millie Bobby Brown, Gaten Matarazzo, Caleb McLaughlin, and the rest of the crew have spent their Sunday preparing to represent their breakout hit in a big way. While the adults have been getting pampered, it's all about the fun for the kids.
According to their Instagram posts, Brown is busy channeling her inner Audrey Hepburn, while Matarazzo and McLaughlin are perfecting their cool handshake. The chill vibe that the young cast is taking will make you wish it was time for Stranger Things Season 2, but seeing them have a blast on the red carpet is the next best thing to fast-forwarding to the October 27 premiere.
While the show wasn't eligible for any nominations in 2016, the cast still managed to be the highlight of last year's ceremony. Their performance of "Uptown Funk" was a total showstopper. This year, they're coming back as nominees. Not only is the show up for awards in multiple categories, Brown is competing for the Best Supporting Actress in a Drama trophy — and she has a good chance of taking home the gold.
Even if she doesn't win her category, Brown will have her squad by her side. Matarazzo and McLaughlin are already hanging out as they wait for the festivities to begin, and it's only a matter of time before the rest of their castmates join them. The actors who play Dustin and Lucas seem way less stressed than their onscreen counterparts. But once you've taken down the Demogorgon, an awards show must feel like a vacation.
There's no doubt that the guys are having a blast making the hotel their own. Both Matarazzo and McLaughlin's Instagram pages are full of evidence that they are making the most out of Emmy night — and their well-deserved quality hangout time.
In between showing off their dance moves and special handshake, Matarazzo and McLaughlin also squeezed in some serious Emmy prep. McLaughlin took a moment to film a video expressing his hope that Stranger Things will come home with an award — and sentiment fans everywhere can agree with — while Matarazzo showed off his sprinting skills.
No one can say these kids aren't making the most out of their fame while still managing to stay down to earth. Because come on, who wouldn't run through the halls if they knew they were going to be going to the Emmys later?
For some of the cast, the Emmy fun started early. Finn Wolfhard met one of his favorite stars, Seth Green, at a pre-Emmys party, and revealed to his mom it was totally worth getting grounded to stay up and watch Robot Chicken because he was learning from a true creator. Meanwhile, Noah Schnapp rocked the BAFTA red carpet yesterday — it's so nice to see Will not being traumatized in the Upside Down, you guys.
Wolfhard and Schnapp's early Emmys adventures look just as fun as their castmates day of prep.
The Stranger Things kids are coming for you, Emmys, and let's face it, whether they take home any trophies or not, they're going to be the night's true winners.