'Stranger Things' Was The Biggest Series Of 2016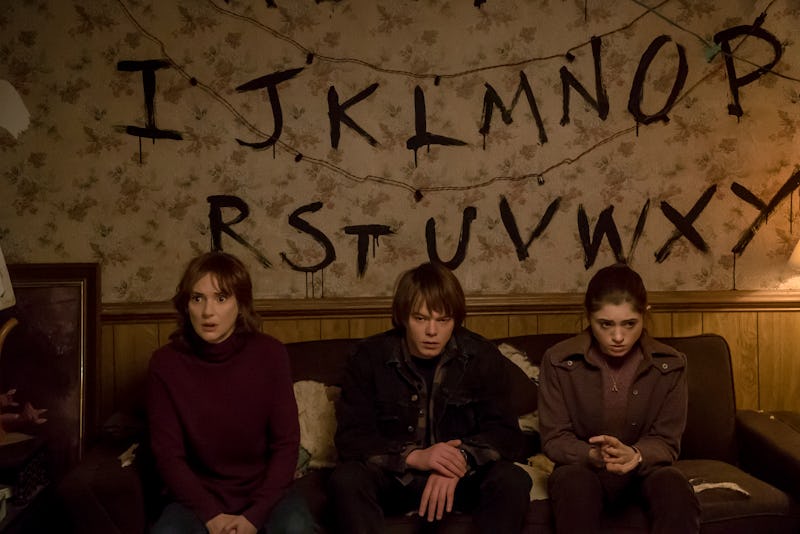 Curtis Baker/Netflix
The year 2016 was a good one for TV with the buzziness of The People v. O.J. Simpson, the continued epicness of Game of Thrones, the game changer Insecure, and the return of Gilmore Girls. Yet, the TV show that won 2016 was Stranger Things. The eight-episode Netflix series from the Duffer Brothers — Matt and Ross Duffer — became a pop culture sensation with its blend of horror, supernatural, and childhood adventure elements. From fans' obsession with Barb to Eleven-inspired Halloween costumes to the theory that Steve was the dad of Jean-Ralphio from Parks and Recreation, the word "sensation" honestly feels like an understatement. However, the show's popularity isn't the only reason it won 2016 — Stranger Things earns the title of number one show of the year because of how well its major elements worked together and how it united audiences.
Even if you didn't watch Stranger Things, you most likely came across someone who told you to watch it — whether that interaction was in person or on social media. And that may be because the show thrived on its connections to the past. The Duffer Brothers did not shy away from the fact that Stranger Things was an homage to beloved '80s sci-fi films like It, E.T., and The Goonies. Plus, it didn't hurt that the series featured movie star Winona Ryder as Joyce, the mom of the missing boy Will. Yet, while these nostalgia factors certainly helped create a fan base, there was more to Stranger Things Season 1 than just familiarity.
The premise of Stranger Things was not original — a group of kids looking for their missing friend in a suburban town discover a dark secret — and I appreciated that the series never acted like it had a groundbreaking plot. So when why Will was missing was revealed and it happened to be because of the wholly unique and freaky Upside Down world, it was an incredibly pleasant and scary surprise. Taking a familiar premise and then actually flipping it upside down is one way to make a compelling TV show.
Another aspect that Stranger Things benefitted from was that it was only eight episodes. Most of Netflix's original shows are made up of 13 episodes, but Stranger Things didn't follow that mold for the better and not just because eight episodes were easier to marathon in one sitting than 13. The running times of each episode were also not set — ranging from 41 to 55 minutes. All of this indicates that Stranger Things told the story it needed to tell in each individual episode and overall in one concise season without overstaying its welcome. Watching Stranger Things was more a cinematic experience with a true beginning, middle, and end rather than a meandering TV show with no clear destination.
As for how easy it was to marathon Stranger Things, the cohesive aesthetic of the series added to that. Yes, the 1980s vibe was recognizable, but the Duffer Brothers put a twist on it, as the eerily simple opening title sequence with its synth music highlighted. The imagery of the series stuck with viewers as proven by that magical and unsettling feeling you got when you saw the Byers' home covered in Christmas lights and the alphabet scrawled on the wall. The Upside Down also provided a completely fantastical setting that most likely continued to haunt you after you saw it. Stranger Things sucked you right into its world, just like the monster sucked Will into the Upside Down.
Then, there are the characters and the actors who portrayed them. Watching Ryder as the frantic Joyce was a delight for her fans and David Harbour excelled as the unlikely hero Chief Jim Hopper. And let's not forget that Matthew Modine had his time to shine as the bad guy Dr. Martin Brenner. However, it was really the kids who stole the show.
Not only were Noah Schnapp's Will's group of friends — made up of Finn Wolfhard's Mike, Gaten Matarazzo's Dustin, and Caleb McLaughlin's Lucas — endearing, but then you had the teenagers too. Natalia Dyer's Nancy, Charlie Heaton's Jonathan, Joe Keery's Steve, and — but, of course — Shannon Purser's Barb provided performances that were unexpectedly affecting. Yet, the indisputable breakout star of Stranger Things was Millie Bobby Brown as Eleven. The stoic girl with psychokinetic powers was the main attraction not just because of her abilities, but because of Brown. With very little dialogue, the young actress conveyed fear, confusion, happiness, and complete dominance, all while breaking viewers' hearts in the process.
How quickly Stranger Things became a television phenomenon was perhaps unexpected, but upon looking at the individual elements of the series, it's in no way astonishing that the series resonated with such a large group of people. Do I think that Stranger Things was the best show of 2016? No, I don't. But Stranger Things did what a universally loved TV show should do — entertain people with a good story that appeals to fans of all different types of genres. In an otherwise divisive year, Stranger Things brought people together and that's how it came to be the real winner of 2016.