The Golden Globes Majorly Snubbed 'This Is Us' & Fans Are Not Pleased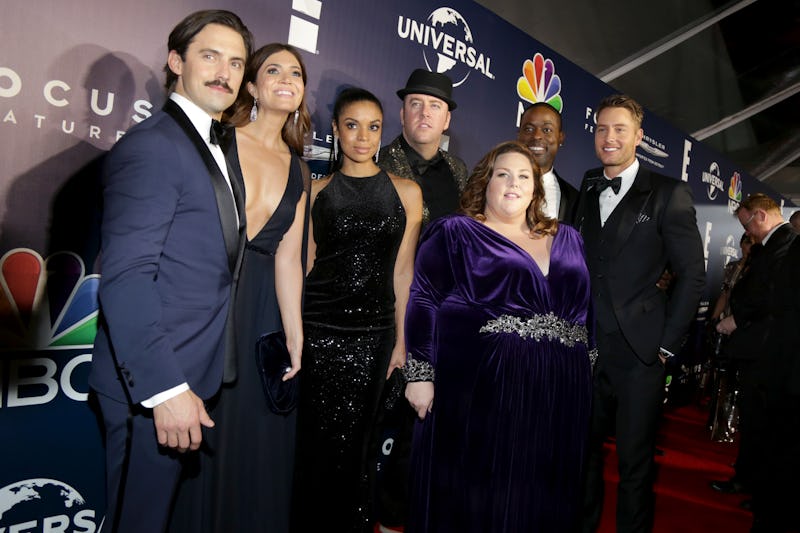 Loreen Sarkis/Getty Images Entertainment/Getty Images
On Thursday morning, next year's Golden Globes nominations were finally announced, however one beloved network television drama received zero love. In some shocking news, This Is Us was snubbed by the 2019 Golden Globes. You read that right, the Pearsons were completely shut out by the awards and didn't receive one single nomination. As you can imagine, fans are downright upset and confused by the lack of acknowledgement.
How can a drama who puts out quality and diverse subject matter with the help from some of the most complex and relatable characters not be nominated for a Golden Globe? Furthermore, the actors who bring the stories and characters to life are on a whole other level. Then, there is also, of course, the creators, writers, and the rest of the crew and staff who help make This Is Us the fabulous drama it is.
So, to learn the NBC series wasn't nominated in any category is definitely not what This Is Us fans were expecting during the early announcements on Dec. 6. Since the show first debuted in 2016, it's repeatedly been recognized by both the Golden Globes and the Emmys. Fans definitely assumed the show would get at least a few Golden Globe nominations again this time around, especially in the acting categories, but, unfortunately, that's not the case.
Here are just a few of the fan reactions:
What Happened?
Did other shows and actors take This Is Us' slots?
What The Heck?
It's a legitimate question.
Hmm... Something Important Is Missing
And that important item missing is multiple noms for This Is Us.
But, The Talent!
The actors certainly deserved recognition. They are astounding.
So Many Snubs, Including Mandy Moore
Yep, that's about right.
The Golden Globes Are "Trash"
That's one adjective to describe the nominations and awards show.
Excuse Me?
Fans need answers!
Yes, there are new critically-acclaimed series' and talented actors that are constantly coming onto the TV scene, which means they might get nominated. That's how it works, but it's truly unfortunate when a drama as wonderful as This Is Us is overlooked, especially when it's earned so much respect in the past and continues to produce worthy storylines and acting.
For the 2017 Golden Globes, both Mandy Moore and Chrissy Metz were nominated for Best Supporting Actress in a Series, Miniseries, or Television Film. As a whole, the show was nominated for Best Drama Series. Then, for the 2018 Golden Globes, Chrissy Metz and the drama both scored yet another nomination in those same categories, in addition to Sterling K. Brown earning a nom in the Best Performance by an Actor in a Television Series — Drama. Speaking of Brown, he won his category in 2018.
The fact that This Is Us didn't get nominated even once is actually mind-boggling. Not everyone may agree, but the drama remains one of the best shows currently on television. Between the acting and the stories, This Is Us is extremely relatable, which is why the series is so beloved.
Why the Golden Globes excluded the entire show, Moore, Metz, Brown, Milo Ventimiglia, and every other actor from its list of nominations is one of those award shows mysteries that has yet to be solved.