This Is The #1 First-Date Idea That Leads To Marriage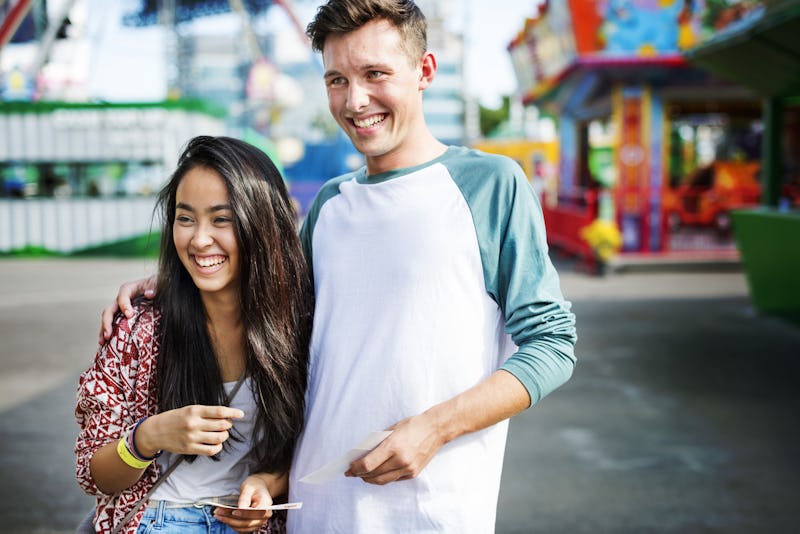 Rawpixel.com/Fotolia
When it comes to first-date ideas, there's a lot of options out there, from the standard dinner-and-a-movie to more atypical ideas, like going for a walk or hike. But you may wonder what the best first-date idea is if you want a long-term relationship. Luckily, one dating platform found out the top first dates that lead to marriage.
Between August 16-20, 2018, PlentyOfFish (POF) surveyed more than 400 former users from the U.S. who married partners they met on the app. After all, it's best to go straight to the source and see what date ideas worked best.
"It's important to pick a first-date location that encourages conversation," Kate MacLean, resident dating expert at POF, tells Bustle. "Dates that foster conversation will help you get to know someone better and will determine whether or not date #2 is in your future." She also suggests selecting a location you've been to before so you're relaxed and familiar with your surroundings. "That way, when you're at ease on a first date, there's less room for any awkward interactions," MacLean says.
So, when you think about your own first-date locations, do you do the same type of activity with each date? Do you have a go-to first-date spot? Or does the location vary depending on the other person? In any case, the below are good #firstdateinspo, so take note.
This article was originally published on