Women Have Been Super Successful At The VMAs, But Will The New Categories Change Things?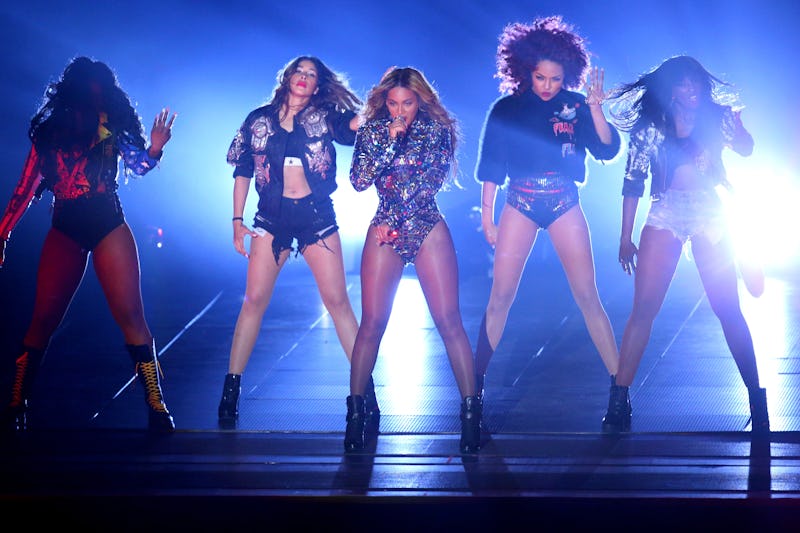 Mark Davis/Getty Images Entertainment/Getty Images
For years, music, TV, and movie fans have become accustomed to award shows breaking down certain categories based on gender, but times are changing. MTV's 2017 Video Music Awards will have gender-neutral categories and the "Moonman" is now being called a "Moon Person." If you take a brief look at the VMAs' history, you'll see the show has been offering a place for women overcome obstacles. But do the VMAs' genderless categories help women break out even further?
There's no doubt that the award show has repeatedly given women a platform to push boundaries so far. In 1984, during the first VMAs ever, Madonna set the tone for other women with her "Like a Virgin" performance. She exuded confidence, sexiness, and an unapologetic attitude. And this wasn't the only time, as shown by her infamous 2003 "Like a Virgin" performance with Britney Spears and Christina Aguilera, where they all shared that kiss that shocked the world.
There was also the time Miley Cyrus took the stage in 2013 to sing "We Can't Stop" and showcased a sexier side of herself as compared to the Disney Channel star fans first fell in love with. During the same performance, Cyrus and Robin Thicke also sang "Blurred Lines." It became one of the more well-known sets due to Cyrus' twerking. She faced backlash for it, including people equating her performance to a "strip club" and "porn." But regardless of what people thought, the 24-year-old didn't shy away from showing off a side of herself she no longer wanted to hide.
Still, it's not all about women being sexy on stage, but about women expressing themselves and even causing massive controversy and owning it.
The VMAs is also an event that helps women break barriers when it comes to winning awards. Lorde became the first female artist to win Best Rock Video for "Royals" in 2014. At just 16 and as the only woman nominated in the category, she beat Imagine Dragons, Linkin Park, Arctic Monkeys, and The Black Keys.
Women are known for taking home major awards at the VMAs, like Beyoncé, who is currently the most awarded artist in the award show's history. As of August 2016, she has won 24 awards, after winning for Best Female Video, Best Pop Video, Breakthrough Long Form Video, Best Choreography, Best Editing, Best Cinematography, Best Direction, and Video of the Year, at that year's show. Before Beyoncé, Madonna held the record with 20 statues, and the fact that another female musician was the most decorated before Bey is further proof that women aren't strangers to dominating the VMAs.
Which brings us to the elimination of gendered categories that are all about talent making up the award, not the artist's gender. The VMAs' Video of the Year award has been a genderless category since the beginning. It took six years for the first woman, Sinéad O'Connor for "Nothing Compares 2 U", to win, but, since then, many women have won against their fellow male artists, including Christina Aguilera, Missy Elliott, Pink, Mya, and Lil' Kim for their 2001 hit "Lady Marmalade." In total, 20 women have won Video of the Year compared to the 18 male artists/male groups.
All that said, the combination of men and women in the same category doesn't mean a gender balance will be formed overnight. In 2011, the Grammys merged its remaining gendered categories, and, as BuzzFeed reported last February, there is still a gender imbalance, as far as that show is concerned. According to the outlet, "...solo female, female-fronted, female co-led, and female-featuring albums still make up less than 40 percent of the Album of the Year winners tally." BuzzFeed also reported about Album of the Year winners that, "since 2000, only 35 percent the total are for solo female, female-led, or female co-led artists."
To look outside of music, at the Academy Awards, Best Director has always been a genderless category. However, it wasn't until 2010 when the first woman, Kathryn Bigelow, won the award. It took 89 years for a woman to be recognized. Only a small percentage of films are being directed by women, because they aren't given the same opportunities to show their directing abilities as men are. Maybe if they were, they would have a chance to win awards.
This goes to show you that women can easily be underrepresented in categories that are genderless, by no fault of the award show itself. It seems that could very well be the case also at the 2017 VMAs. According to Bustle writer Dana Getz, "On average, women have roughly a 28.8 percent chance of winning a newly christened 'Moon Person,' while men's odds are a staggering 83.1 percent," based on the nominees from this year.
Bill Freimuth, the Recording Academy's vice president of awards, spoke to BuzzFeed about the Grammys in January 2016 and how gendered categories originated as a way to battle sexism in the music industry. "In the early days of the awards, it was a very different time in the music business, a time in which women on the whole had a much more difficult time, not only as producers and engineers, but as artists, getting their recordings played on the radio, getting noticed," he said.
Now, it's a completely different time for women in the music business, despite still facing some of the same struggles they did in the past. With the categories being merged, this is a good sign as far as equality overall. It's a great way to show that women and men are on the same level. Furthermore, by combining categories, there is hope that more weight will be given to the award without gender being at the forefront.
Genderless categories aren't going to eradicate the patriarchy or get rid of male privilege that still very much exists. But they're still an important step towards equality. In May, when Emma Watson won the first gender-neutral acting award at MTV's Movie and TV Awards, she said in her speech,
"The first acting award in history that doesn't separate nominees based on their sex says something about how we perceive the human experience. MTV's move to create a genderless award for acting will mean something different to everyone. But to me, it indicates that acting is about the ability to put yourself in someone else's shoes. And that doesn't need to be separated into two different categories."
Gender-neutral categories obviously don't fix the problem of women constantly struggling to find achievement for their hard work, but it's a positive move forward. It also opens the door for non-gender conforming performers.
As Billions star Asia Kate Dillon, who identifies as gender non-binary and doesn't use gender-specific pronouns, told People in May about MTV's first genderless acting award (which they also presented to Watson),
"I'm really proud that MTV has joined the conversation, about breaking down binaries. To be presenting the first best acting award based solely on performance and not on sex or gender identity? It's a historic moment, and one that I share with everyone leading the way for change."
Dillon added, "Binaries, whether it's 'man' or 'woman,' or 'black' and 'white,' were created to separate us. So without binary, there is only 'us,' which makes us all equal."
When it comes to genderless categories, a woman shouldn't just be winning because she's a woman; she should win over a man if she deserves it. These categories allow talents be judged for what they are — talents.