You Can Buy The Wine Served At Meghan & Harry's Wedding And Drink Like Royals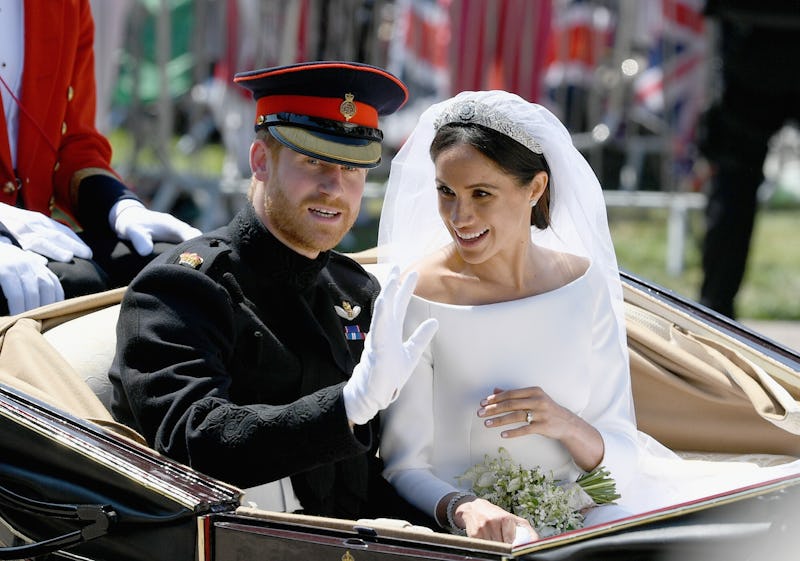 Jeff J Mitchell/Getty Images Entertainment/Getty Images
Nearly a month after Prince Harry and Meghan Markle tied the knot, details about the big day are still trickling down — including, it seems, information about the wine that was served at the Royal Wedding. According to various reports, the white wine was allegedly the 2016 vintage of Olivier Leflaive's Les Setilles Bourgogne Blanc, a white Burgundy made of 100 percent chardonnay grapes; meanwhile, the red is said to have been the 2014 vintage of the Domaine Eden Pinot Noir from Mount Eden Vineyards. If you've ever wanted to drink like royalty, here's how you do it — and the best part is, the white, at least, is pretty affordable.
First, though, a caveat: As Wine Spectator notes, the white hasn't actually been confirmed by Kensington Palace; nor has Olivier Leflaive president Jean Soubeyrand been able to confirm the news making the rounds. (So much of the wine is apparently sold in the UK that even a large order wouldn't necessarily register as notable in the shipping records.) The information seems to come from a guest in attendance at the reception who spoke to the Daily Express about the experience. Representatives from Mount Eden Vineyards did, however, confirm to Food & Wine last week that the Domaine Eden Pinot Noir was on the menu at the Royal event, so at least there's that.
Let's take a closer look at both wines, shall we?
It might be surprising to some that the white wine on offer was Chardonnay. Chardonnay — particularly California Chardonnay (which the Olivier Leflaive Les Setilles Bourgogne Blanc isn't) — has a reputation for being "oaky" and "buttery," and, subsequently, uh… not great. But Chardonnays don't have to be either oaky or buttery; indeed, as Marissa A. Ross noted in a 2016 piece for Bon Appetit, chardonnay grapes are actually "one of the most neutral grapes in the world." What's more, although heavily oaked Chardonnays were de rigueur in the '80s and '90s, that trend has given way to steel and concrete fermentations, which yield crisp and fruity wines, rather than the oaky, buttery ones of yore.
Indeed, many white Burgundies are unoaked and designed to be refreshing, rather than heavy. There are four primary types of white Burgundy, three of which often don't involve any oak, according to Wine Folly's crash course in the wine: Bourgogne Blanc, which has notes of minerals apples; Chablis, which also has a minerality to it, although it's more lime-like than apple-like; Mâconnais, which has fruity notes like melon and starfish; and Côte de Beaune, a rich wine the might have notes of apple and starfruit undercut by truffle, hazelnut, and vanilla. The first three are typically unoaked, while the last is oak-aged.
The 2016 Olivier Leflaive Les Setilles that Meghan and Harry allegedly went for is a Bourgogne Blanc, a variety which is often described as "simple," but which, as Wine Enthusiast notes, is also one of the most difficult wines to make well. "[Bourgogne Blanc] is the equivalent of non-vintage Champagne, where the skill of the master blender is at a premium," as writer Roger Voss put it. Usually, you won't taste a specific terroir in a Bourgogne Blanc, although you will taste the region of origin: Burgundy's wines are known for their minerality and how they delicately balance fruitiness and acidity.
Bourgogne Blancs might have some oak in them; indeed, Olivier Leflaive's Les Setilles ages around 60 percent of the wine in oak, with the remaining 40 percent being aged in stainless steel. Bourgogne Blancs are, however, always dry and with a comparatively low alcohol content, according to Wine Enthusiast — which, I would imagine, makes them a great choice for weddings, whether Royal or not. (People do tend to… overindulge at weddings, which can get messy.) Per Wine Folly, Bourgogne Blanc is "easy drinking," light-bodied and refreshing. They pair well with "chicken, middle-weight pastas, or random Thursday nights on the couch." (Yes, please.)
The unoaked quality of Bourgogne Blanc has another benefit to it, as well: It brings the cost down. While a bottle of oak-aged Côte de Beaune might cost you anywhere from $40 to several hundred dollars, a decent Bourgogne Blanc will usually average out at around $20. Indeed, according to Wine Searcher, in the United States, bottles of the 2016 Olivier Leflaive Les Setilles Bourgogne Blanc that Meghan and Harry served run between $18.39 and $26.99. While it's true that a $20 bottle of wine isn't as cheap as, say, a $5 bottle of wine, it's also not bank-breaking; even if you're on a budget, you might be able to set aside a few bucks here and there for a nice bottle of Bourgogne Blanc as an occasional treat for yourself. It'll probably taste better than a $5 bottle, anyway.
The Mount Eden Vineyards Domaine Eden Pinot Noir, however, is a different story. Although the Pinot Noir grape originated in Burgundy, Domaine Eden Pinot Noir is not a red Burgundy — because Mount Eden is in California. (Makes sense, given that Meghan Markle loves red wine and is a California native, no?) The grape is quite difficult to grow, but when it works, it produces a wine with notes of red berries (think cranberries, cherries, and raspberries), as well as flavors of vanilla, clove, licorice, mushroom, wet leaves, tobacco, cola, and caramel, according to Wine Folly. If you like jammy wines, you'll probably be a Pinot Noir fan.
Food & Wine Executive Wine Editor Ray Isle, who recently taste tested the 2014 Domaine Eden Pinot Noir, described the scent of the wine as "that beautiful kind of raspberry scent—crisp, light, lot of flavor, though." He also noted that the wine had "a little bit of spice" and "a little pepper-iness," as well as "a little bit of tea leaf character." All in all, said Isle, it was "a lovely bottle of pinot noir."
However, it's not cheap: The 2014 vintage was sold at $40 per bottle — and yes, I said "was," because it's also currently sold out. (You can find it for a little cheaper via some wholesalers if you really want to try it.) The 2015 vintage is still available, though; it also sells for $40 per bottle. While the Olivier Leflaive white Burgundy that Meghan and Harry are said to have served could be an everyday sort of wine at its price point, the Domaine Eden Pinot Noir probably isn't — or at least, not for most Gen X-ers, millennials, or Gen Z-ers. (In the great battle between expensive wine and student loan payments, student loans generally win out.) It does sound like a very nice wine, though, so if I'm ever in a position where I feel OK dropping $40 on a bottle of wine, I just might consider choosing this one.
And, I mean, hey — even if $40 is more than I'm usually willing to spend on wine, at least it's not quite as pricey as a bottle of Tiganello.