Colton Described His 'Bachelor In Paradise' Reunion With Tia As SUPER Emotional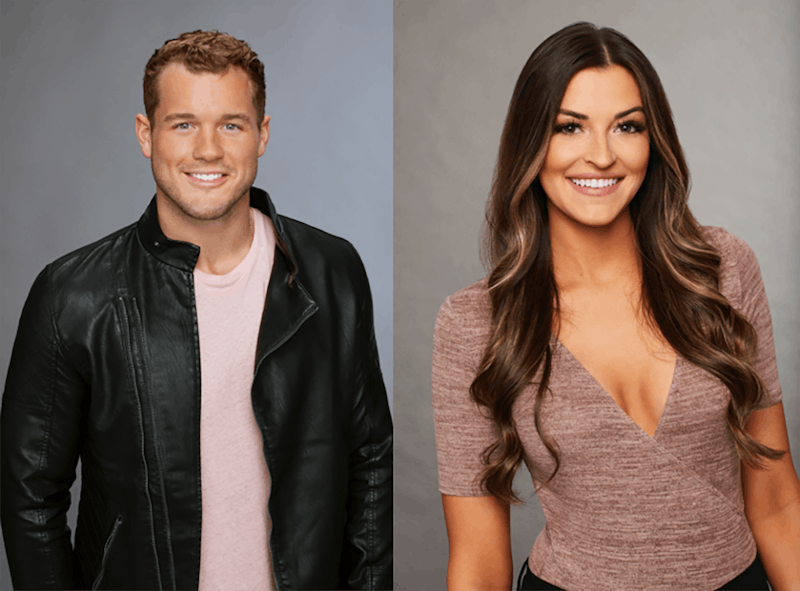 Craig Sjodin/ABC;Craig Sjodin/ABC
If you were still on the fence about whether to tune into Bachelor in Paradise Season 5, this latest development from Bachelor Nation's Tia Booth, Becca Kufrin and Colton Underwood love triangle just may have you hooked. While speaking to Entertainment Tonight, Bachelorette Season 14 suitor Colton revealed that his Bachelor in Paradise reunion with Tia will be "emotional" on Season 5, so no, the promo for the upcoming season did not deceive you.
How did the love triangle come to be, you ask? Well, the story goes a little something like this: The world was first introduced to Tia and Becca as they both vied for the heart of Season 22 Bachelor Arie Luyendyk Jr., but after being eliminated from the competition, the Arkansas native and Arie's winner/runner-up/ex-fiancé, Becca, remained pretty good friends. According to Tia, while waiting for Season 22 to air, she met and hit it off with Becca's soon-to-be suitor Colton. But once Colton was selected to appear on Season 14 of the Bachelorette they decided to part ways. Sure, this all sounds pretty straightforward on the surface, but once digging a little deeper, fans of the franchise started to point out all of the cracks.
During one of Becca's group dates, she invited some of her friends from Arie's Bachelor season to get to know her suitors... You know, to see who was truly there for her, and report back if any snakes in the grass were found. Colton, Tia's ex-flame, was one of the contestants on the date, and Tia, Becca's gal pal, was also in attendance. There was awkwardness, but at the end of the date, Tia and Colton both declared that neither of them had feelings for the other. And with that, Becca continued getting to know Colton, all the way up to hometowns. It was later revealed that Tia wasn't exactly honest with Becca about her feelings for Colton, and walked the line of having a serious girl code violation. Needless to say, Colton eventually was given the boot, and according to the NFL free agent, reuniting with Tia on BiP Season 5 after all of that drama was a lot to handle.
While speaking with ET after the Men Tell All taping, Colton said, "Some things happen that I wasn't expecting to happen. It was very emotional."
"I think, you know, just coming out of a relationship with Becca, and I'm dealing with Tia at the same time and I'm also on a beach with a bunch of beautiful women and some of my friends, so I wasn't expecting to feel the emotions that I felt."
And by the looks of the teaser for the upcoming BiP season, Tia and Colton both seemed to have been overtaken with emotion… and tears.
According to reports, BiP Season 5 will premiere Tuesday, Aug. 7, with a two-hour episode, seemingly, filled with a ton of drama and goodness. So far, it's been announced that fan favorites from past Bachelorette and Bachelor seasons, like Bibiana Juliana, Chelsea Roy, and Kendall Long from Arie's season, Eric Bigger and Kenny Layne from Rachel's season, and Joe "Grocery Store Joe" Amabile and Jordan Kimball from Becca's season, will be joining Tia and Colton on the Mexican beach. And bartender extraordinaire Wells Adams, with special guest Yuki Kimura, will also be in his element to keep the party on point.
Tia and Colton may have had chemistry initially, but with so many other beautiful people in the mix — per Colton, of course — it's going to be interesting to see if they'll be able to kick their feelings into high gear. And thank goodness fans will get to watch it all play out on television.