The Best Theories About How 'Mr. Robot' Will Finally End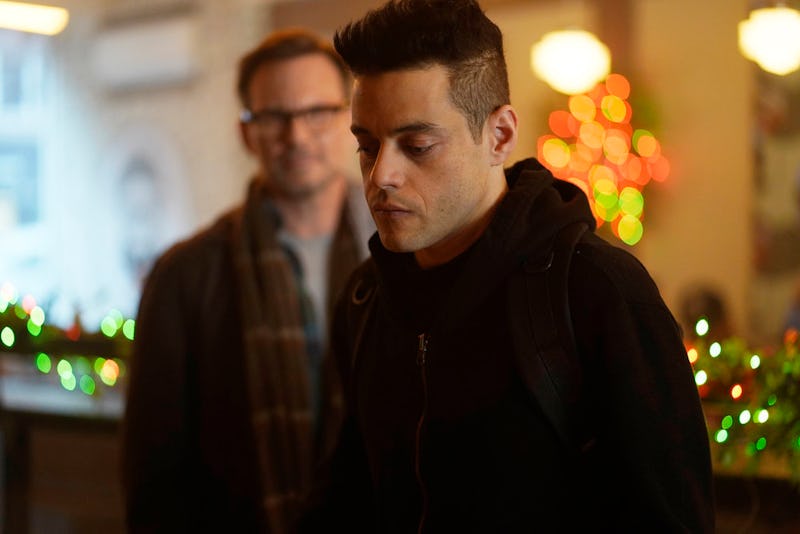 Scott McDermott/USA Network
To viewers, it's always been unclear where Elliot's journey on Mr. Robot will lead. But as creator Sam Esmail recently told Vulture, he's known exactly how Mr. Robot will end from the beginning. Fans have long speculated about what this might look like, but Season 4 alone has debunked a number of previous theories about the Mr. Robot series finale. In just the first five episodes, both Angela and Tyrell died, and it was revealed that Elliot has a third identity.
There are still seven episodes left in the season, which means that there will likely be a lot more twists to come (and a lot more theories to be debunked). But while star Rami Malek has been understandably coy about what's ahead, he's promised the ending will be satisfying. "I think it's going to come to a phenomenal end, but I obviously can't say how," he said at a Mr. Robot panel during the Tribeca Film Festival, per Deadline. Malek had previously told Entertainment Tonight his "mouth was agape" after Esmail told him how the season ended, "so it's going to be a very, very, climatic ending."
If it made Malek's jaw drop, it seems unlikely that viewers at home are going to be able to correctly predict how things will play out. But that isn't stopping them from trying.