Attention, 'Vanderpump Rules' Fans: New Photos Of Tom Tom Are Here & They Are STUNNING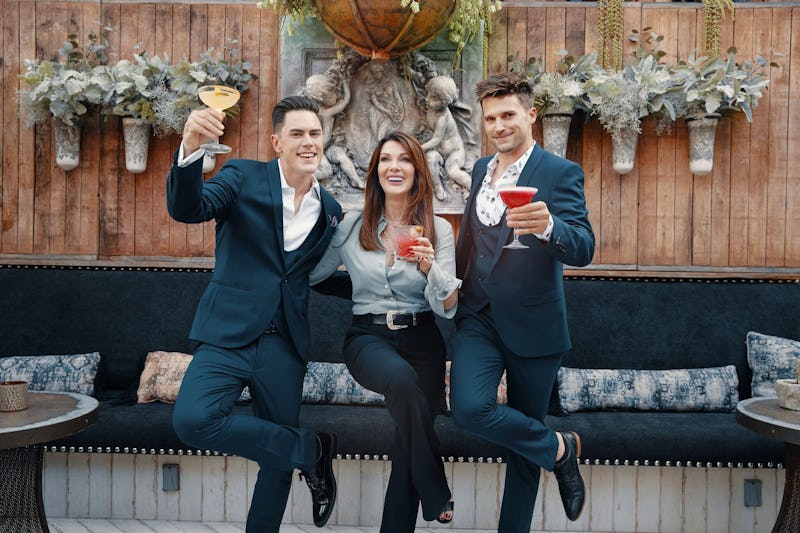 Courtesy of Tom Tom
The moment that's been two years in the making is only a few quick days away. As Vanderpump Rules star Tom Sandoval announced on Instagram earlier this week, Tom Tom will open to the public on Thursday, Aug. 9. And as you can see in the photos of Tom Tom below, this space has changed quite a bit since Season 6. Out with the exposed frames and plastic tarps, and in with the plush seating and dazzling light fixtures.
Lisa Vanderpump, Ken Todd, Tom Schwartz, Sandoval, and designer Nick Alain's vision has become a reality — and a beautiful one at that. While Bustle was at the Tom Tom preview event on Monday, Aug. 6, we had an opportunity to speak with both Vanderpump and Alain about what went into creating the stunning new Weho eatery.
"It's been a labor of love and a collaboration between all of us, and you know, I like to be very hands-on," Vanderpump tells Bustle. "So when you work together, and there aren't assistants, and there aren't other designers, it's just us working together, I think it's really been a passion project, and I think that very much comes through."
When designing Tom Tom, Alain says he, his wife and business partner, Elena Alain, Vanderpump, and Todd wanted to ensure every part of the bar packs a punch. He explains to Bustle,
"You stand outside and you're kinda looking in, and you get this, like, 'Oh, this is really cool.' You come inside and you see the clock and you're like, 'Oh, this is even cooler.' And then you come [to the back patio] and you're like, 'Wow.' So there's a lot of wow factors as you come in. And that was the intention, all the way. Keep them surprised."
He was not kidding about wow-inducing this place is. Ready to take a tour? Put on your Tom Tom motorcycle helmet, because it's going to be a SUR-ious ride.