These 'One Tree Hill' Fans Are Standing Behind The Cast Now More Than Ever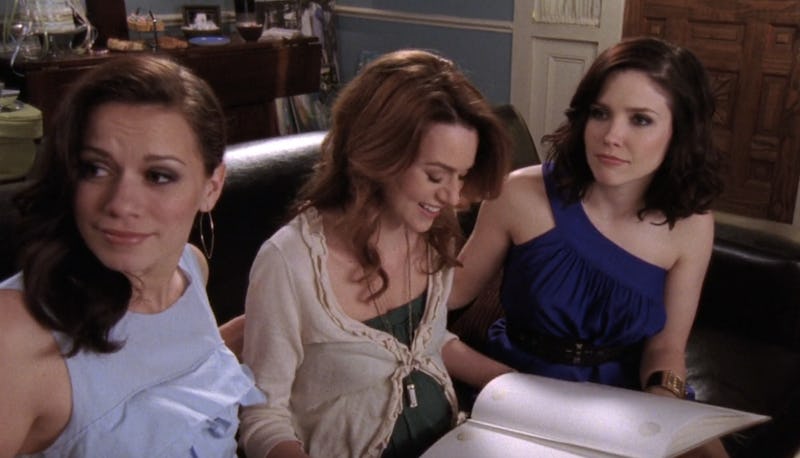 Warner Bros. Television Distribution
There's an unforgettable Season 8 episode of One Tree Hill, where Haley (Bethany Joy Lenz), Brooke (Sophia Bush), and Quinn (Shantel VanSanten) throw on masks and superhero capes. The trio — dubbing themselves Baby Mama, B. Dazzle, and Shutterbug — stands up to bullies at the high school where Haley teaches. It's a slightly silly, over-the-top scene, but this empowering moment doesn't even come close to the heroics currently coming from the beloved series' real-life counterparts.
Earlier this week, 18 women from One Tree Hill's cast and crew came together to write an open letter, accusing series creator Mark Schwahn of sexual harassment. The group claimed,
"Many of us were, to varying degrees, manipulated psychologically and emotionally. More than one of us is still in treatment for post-traumatic stress. Many of us were put in uncomfortable positions and had to swiftly learn to fight back, sometimes physically, because it was made clear to us that the supervisors in the room were not the protectors they were supposed to be."
These OTH women also wrote, "The through line in all of this was, and still is, our unwavering support of and faith in one another. We confided in each other. We set up safe spaces to talk about his behavior and how to handle it." (Schwahn has not publicly commented on the allegations. When the news broke, Bustle reached out to his agent and lawyer for comment, but did not receive an immediate response.) While this undeniably casts a shadow on the show, fans aren't letting it stop them from believing in its legacy. If anything, they're more inspired than ever by the women's courage.
When I watch scenes that showcase the strong female friendships between the characters, those, at least, will still feel real.
Dana, 22, tells Bustle, "Throughout the seasons of the show, these women inspired us on how to fight back against prejudice, injustice, societal labels, and self-doubt. Now, five years since the end of the series, they are still teaching us to be advocates for ourselves." She credits the cast as the ones who "inspired us to be better people and to believe in ourselves," not Schwahn. She also says the OTH women have now become "more than characters in a show, they became real people fighting the same battles as many of us."
As Jenny, 27, points out, she knows the harassment scandal is not about her, saying, "No feelings I have as a fan of the show compare to the gravity of the abuse they faced." But that doesn't mean fans aren't impacted by the news on some level, especially given their fond memories of the series. "While the plotlines verged on the absurd, the show's values were consistent and comforting, and its warm depiction of suburban America was probably a key reason I decided to move to the U.S. from the U.K. at 22," Jenny explains, comparing her viewing experience to curling up next to a cozy fire.
This isn't quite the case anymore. "Obviously, it's now difficult to consider the show an escape from reality — an escape from the patriarchy, if we consider them one and the same," Jenny says. Still, this doesn't mean she doesn't appreciate the effort that went into it: "My sense is that the cast does not want the abuse to overshadow all of the hard and good work that they, and the entire crew, put into those [nine] seasons."
I am starting to talk about it and that is something the women of One Tree Hill gave me the courage to do.
Olivia also viewed the series as a comfort, relating to various characters over the years — whether bookworm Haley or outgoing Brooke or bighearted Peyton. The 26-year-old tells Bustle, "The reason I kept watching for so long was because I loved the women of OTH, so to find out that the creator of the show was creating a toxic working environment for women on set and in the writers' room is infuriating." She even classifies it as a "betrayal" of the characters and those who helped bring them to life. Another fan, Elien, 24, echoes those thoughts, saying the news "broke my heart and made me extremely angry at the same time."
Yet their appreciation for these female stars is unwavering. Olivia adds, "I'm trying not to let it influence my love for the characters. Luckily, seeing all the actresses (and actors) come out and support each other on social media and via the group statement has been really inspiring... I like to think Brooke, Haley, and Peyton would have done the same."
As for Elien, OTH meant so much to her growing up, too. "It gave me my [favorite] female character in Brooke Davis and role model in Sophia Bush," she says. "So reading what the women he employed went through for nine years because they didn't want the show to end is deeply upsetting and uplifting at the same time." She applauds their strength and adds, "Fans can only have great respect for the commitment and sisterhood they showed... I couldn't be more proud of them. "
Meanwhile, Mallory, 34, recalls instantly being able to bond with other fans over memorable moments, like when that dog eats Dan's heart transplant. "But now with the revelations about Mark Schwahn, I don't think 'Nanny Carrie' or that heart scene will ever be the same anymore," she says. "I'll always be wondering about what the actors and writers had gone through off-screen and feel horrible."
But just like the other female fans mentioned above, this doesn't detract from her respect for the series' cast and crew either. "Seeing the actors involved stand by Audrey Wauchope has been inspiring," Mallory adds. "This gives me hope that the culture is changing and that everyone (men and women) will take reports of harassment seriously, stand up for each other, and not just shrug it off."
I am proud to be walking in the direction of change with these inspirational and strong women.
Highlighting how this news is doing exactly that, an anonymous fan told Bustle that she was sexually assaulted by a friend and now is speaking up about it. "For many months, I did not even realize it was sexual assault. I had re-written the reality of the experience so he would not lose friends, so he would not feel guilty, and so I would not have to call it 'assault,'" she explains. "What I had repeatedly kept forgetting to do was to think about myself and what I deserved. We all deserve justice."
"I may not be providing my name for this quote, but I am starting to talk about it and that is something the women of One Tree Hill gave me the courage to do," this fan continued. "It all starts with one step and I am proud to be walking in the direction of change with these inspirational and strong women."
Over the course of nine seasons, One Tree Hill tackled a range of topics affecting high schoolers and 20-somethings. There's the powerful scene where Brooke and Peyton escape being held hostage on prom night, or the moment where Haley goes into labor during her graduation speech. Quinn survives getting shot by a woman stalking her and her boyfriend. Millie battles a drug addiction, while Alex attempts suicide. But through it all, they lean on their friends to get through the darkest battles, as well as life's happier moments.
As these fans acknowledge, the hardworking cast and crew are the true heart of the series, and this recent revelation doesn't erase that. "I mean, will I still watch it? Probably... And when I watch scenes that focus sexually on its female characters, I'm going to feel creeped out and uncomfortable," Jenny says. "But when I watch scenes that showcase the strong female friendships between the characters, those, at least, will still feel real."
Based on how the women of OTH have banded together this past week and over the years, that last statement couldn't be more true.
If you or someone you know has been sexually assaulted, call the National Sexual Assault Telephone Hotline at 800-656-HOPE (4673) or visit online.rainn.org.