These 'GoT'-Themed Reactions To Prince Harry & Meghan Markle's Engagement Are Hilarious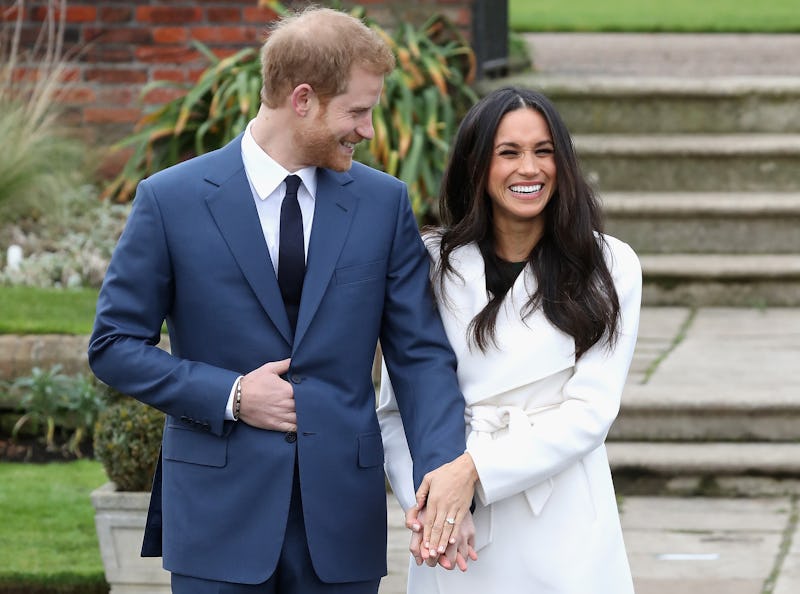 Chris Jackson/Getty Images Entertainment/Getty Images
Raise a glass of wine that's good enough to be stored in Cersei Lannister's pantry, because there's about to be another royal wedding. Prince Harry and Meghan Markle announced their engagement to the world on Monday, Nov. 27, and the news was received with utter delight, as well as a whole pile of funny tweets. And some of those funny tweets happened to be Game of Thrones-themed responses to the royal engagement, a genre of tweet that's especially appreciated during the HBO series' off-season. Oh, and what a long off-season it has been.
Aside from the whole monarchy thing, the fantasy world of GoT and the British royal family don't really have anything in common; it'd be like comparing a classic apple to a winged, fire-breathing orange that has battled ice demons and is actually a shadow creature. But when Thrones is on hiatus, some fans will look for any excuse to bring up the show *raises hand proudly*. The word "throne" in the phrase "fifth in line for the British throne" is enough of a reason to talk Thrones, right? Cool.
Unlike almost everything that's ever happened on GoT, Prince Harry and Markle's story is pretty adorable. The affianced pair met through a mutual friend in 2016 and hit it off straight away. As Markle said in the September 2017 issue of Vanity Fair, she and Prince Harry were "very quietly dating for about six months before it became news." They have maintained a relatively low profile, occasionally spotted doing things like shopping for a Christmas tree together like a regular ol' couple. However, they are not a regular ol' couple: She is a successful American actor who has been on multiple hit TV shows, he was a captain in the British Army, and both are humanitarians. Oh, and he also happens to be fifth in line for the British throne.
And speaking of the sovereign chair, it's time to Thrones. Here are some solid GoT-themed tweets about Markle and Prince Harry's big news that'll treat Thrones fans right.
It Was A Very Hound-tastic Proposal
As the couple told the BBC, Prince Harry popped the big question while he and Markle prepared a roast chicken. Diehard chicken fan Sandor Clegane probably approves of this move.
This Is Quite A Fine Idea
No pressure, but uh, Prince Harry would look terrific in Jorah's yellow tunic.
Here Is An A+ Plan For Folks Who Plan To Watch The Ceremony
Fetch the flagon of celebratory mead, for it's a most glorious occasion.
This Question Is A Fair Response
Hey, even though the question isn't relevant to this particular conversation, it's always considerate to check where your pal is on their GoT journey. You wouldn't want to accidentally spoil anything down the road, you know?
This Seems Like A Solid Request
We should all be so lucky.
*Cue Game Of Thrones Theme Music*
Thankfully, Cersei Lannister has nothing to do with this union.
Whoa... Just Whoa
Now that would be a twist for the ages.
Well, For Starters, There Isn't Any Sigur Rós
You know, among other things.
*Sobs To The Tune Of "Rains Of Castamere"*
Will... not... think about... the Red... Wedding. Will... just... think about how... beautiful and happy.... everyone looks.
And On That Note
That is an objective fact.
And Finally, Here's An Oldie Tweet But A Goodie Tweet
According to The Daily Star, Prince Harry and Markle reportedly enjoy watching GoT. Royals: They pick out Christmas trees and keep up with Thrones just like the rest of us.
All of the con-GoT-s, er, congrats to Prince Harry and Meghan.