This Beyoncé Behind-The-Scenes Video Includes Absolutely Adorable Footage Of Her 3 Kids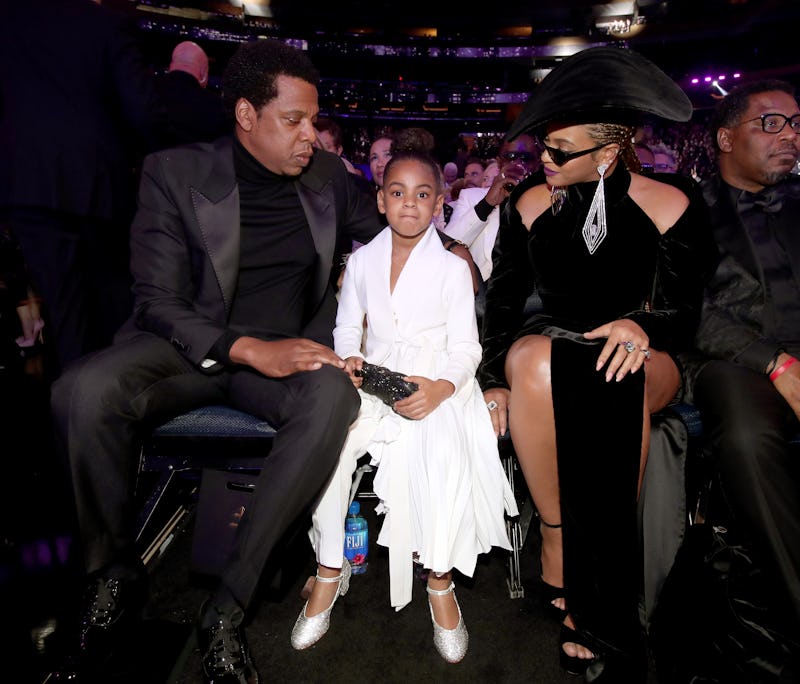 Christopher Polk/Getty Images Entertainment/Getty Images
It's no secret the Carter family is an adorable one. If you need further proof of their cuteness, just wait until you watch this behind-the-scenes video of Beyoncé's Vogue September cover shoot. In addition to watching the singer working it for the camera, there are several glimpses of all three of her kids. That said, there is a moment between Blue Ivy and one of the twins that stands out the most. It's only a brief moment, but one fans won't be able to get enough of.
Around the 2:20 mark of the video (below), you can quickly watch as Blue Ivy plays with Sir or Rumi. It's unclear which twin Blue Ivy is nuzzling, but there's no denying the 6-year-old loves being a big sister to her siblings. Whichever twin it is, they're latched onto their big sister's neck and laughing hard at the playfulness of Blue Ivy. It is seriously the sweetest thing ever.
In July 2017, Bey's mom, Tina Knowles, revealed how Blue Ivy is a good sister. While chatting with Entertainment Tonight, Knowles said, "She's very proud and very excited. She's a good big sister, she really is." Her husband, Richard Lawson, also told ET, "She cares for them a lot."
Well, that's certainly evident in the video. You can check out the moment here:
Did your heart just grow three sizes? It doesn't cuter than that. There are also a few other family moments in Vogue's video, including Beyoncé holding her twins, the Lemonade artist kissing one on the head, and the musician squeezing a twin's cheek. Like Blue Ivy, the Everything Is Love creator can't get enough of her children.
Just look at Bey loving every moment of being a mom here:
The way she looks at them is the look of someone who is extremely happy. It's really no secret Bey enjoys motherhood. After she gave birth to Blue Ivy in January 2012, she told Vogue in February 2013, "My family and my closest people were there when I gave birth. Everything that scared me just was not present in that room. So for me to really let go and really appreciate every contraction ... it was the best day of my life."
JAY-Z also opened about having twins to CNN in January. "We are in a beautiful time now because they are seven months and they can't move," he joked. "They can just coo … they just coo and you don't have to 'wait, wait, wait, wait.'" He added, "You know, they're not running anywhere yet. We are going to enjoy these couple of months until they start running, and then it's over."
Beyoncé and JAY-Z maintain private lives and are careful about when and where they share photos of their kids. So, to be able to see Blue Ivy, Sir, and Rumi in Vogue's behind-the-scenes video is definitely a major gift. It's wonderful to see how happy the Carters are as a family and to be able to see the siblings interact with one another in the sweetest of ways.