This Hilarious Beyoncé Met Gala Meme Makes Up For The Fact That She Didn't Actually Attend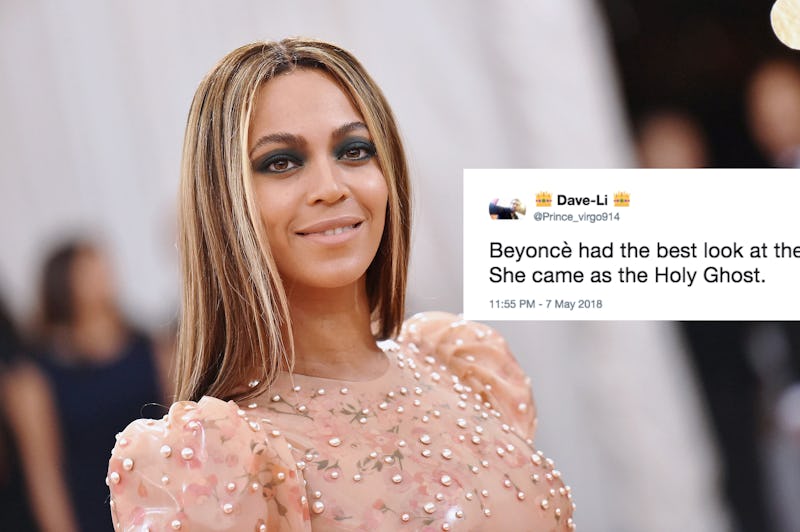 Mike Coppola/Getty Images Entertainment/Getty Images; Prince_virgo914/Twitter
Fashion's biggest night was missing one of the world's biggest stars, but you might not have realized it if you were scrolling through Twitter. Despite not being in attendance, Beyoncé was the 2018 Met Gala's best meme. Even better this meme stuck to the theme of this year's Met Gala, which was "Heavenly Bodies: Fashion and the Catholic Imagination." Seriously, it's worth bowing down to Queen Bey and saying a little prayer for this divine meme.
The joke was simple, but definitely heavenly. Once fans realized they weren't getting an entrance of Biblical proportions from Beyoncé, they created one for her. "Beyoncé arriving as the Holy Ghost," @ChenelynMercad0 tweeted. "Stunniiiiiiiiiiiiiing!" Of course, the image they tweeted was just of a vacant red carpet, Beyoncé nowhere to be seen. Hence, she's a ghost of the holiest kind.
From then, it's wasn't long before others jumped on the "Beyoncé as Holy Ghost" meme. "So Beyoncé did come to the Met Gala after all," @nycyonce tweeted, "As the Holy Ghost." Meanwhile, @lindophiri05 tweeted, "Apparently Beyoncé arrived as a holy ghost. We see you sis. and we are living." But, it was probably actor Amber Tamblyn who said it best: "Beyoncé arrives at #MetGala2018 as a holy apparition, everyone else can go home now you've all lost."
Others just posted shots of the empty red carpet with photographers set up to catch the perfect shot of Beyoncé, who as @DRIPPINSWAGU tweeted was still "serving looks" despite being invisible. Let's be honest, if there's anyone who could do it, it would be her.
It's why it's no surprise that despite being a no-show there were still some who, like Tamblyn, thought she was the best dressed at the 2018 Met Gala.
@TheYonceNews joked, "BEYONCÉ IS KILLING ON THE RED CARPET TONIGHT." Sure, it's funny, but seriously, everyone knows Beyoncé would have slayed it if she did end up showing up. The worst part is, Beyoncé canceled on the Met Gala at the last minute to take a surprise vacation, courtesy of JAY-Z.
Entertainment Tonight reported that it was a surprise trip so that she could "relax before her tour." You know, the couple's joint On The Run II Tour which kicks off in June. Not to mention, she might need a break after her record-breaking performance at Coachella, which should forever be known as #Beychella.
Like the world, the Met Gala is another thing that our girl Beyoncé runs. She's become known for her show-stopping looks like her 2016 peach latex number from Givenchy by Riccardo Tisci. The year before, Beyoncé showed up late to the Met Gala in a bejeweled see-through dress from Givenchy that left little to the imagination. Naturally, people took notice. Especially since this look came the year after Solange and JAY-Z had their famous elevator fight at the 2014 Met Gala, something Bey might rather forget. Though, most people still remember her look from that infamous night: a sheer black Givenchy dress with a birdcage veil.
While Givenchy seemed to be her designer of choice for the Met Gala, Beyoncé reportedly had picked a custom designed gown by DUNDAS for this year's event. According to ET, the former Roberto Cavalli creative director had been "working for weeks on the custom creation." Peter Dundas previously designed Beyoncé's 2017 gold Grammys dresses, which were perfection — and as some on Twitter pointed out, very much on this year's Met theme. Now fans can only imagine what the Met Gala look was like, just like this meme did.
Beyoncé didn't grace the 2018 Met Gala with her presence, but her image still won the night. That is the otherworldly power of Beyoncé. Amen to that.