FYI, There's A Very Sweet Detail About Cardi B's Baby Name That You Might've Missed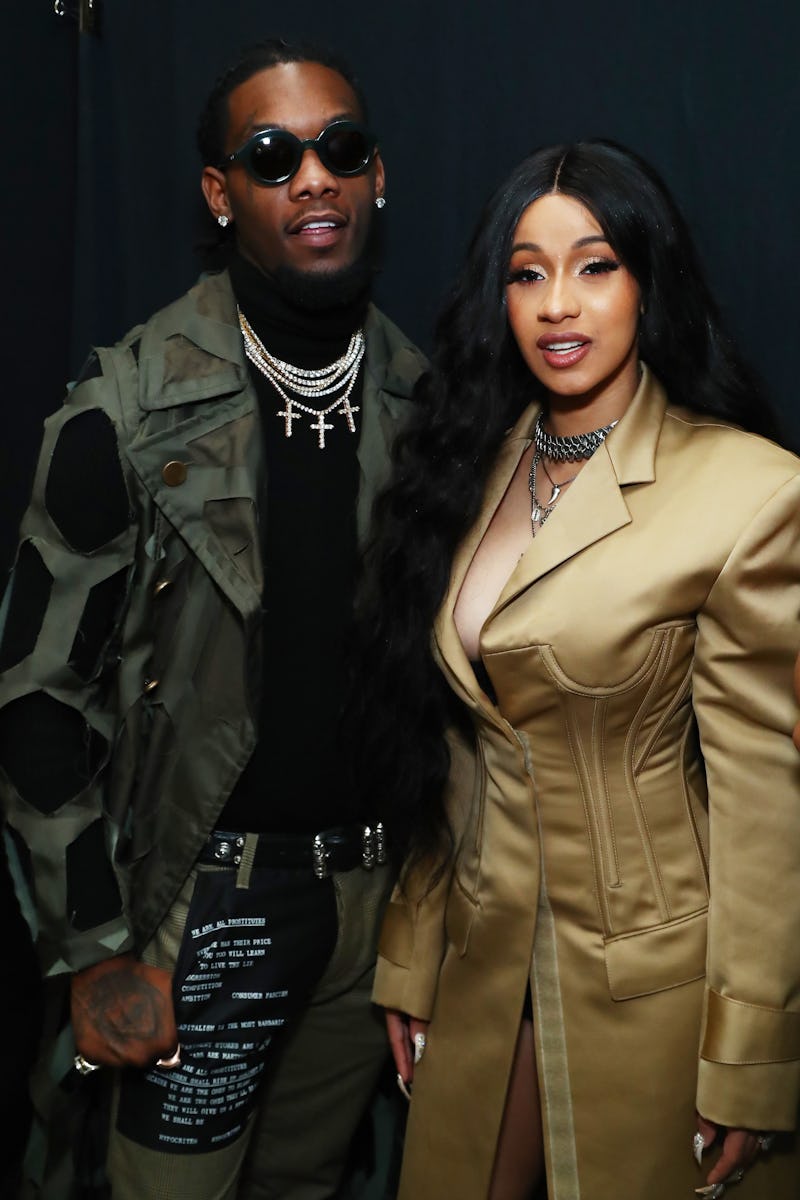 Astrid Stawiarz/Getty Images Entertainment/Getty Images
Cardi B officially became a mom less than 24 hours ago. On Tuesday, July 10, she and Offset welcomed their first child into the world. According to TMZ's announcement, the baby's name is Kulture Kiari Cephus — and if the adorable moniker alone doesn't have fans swooning, then this detail about Cardi B's baby name will probably get the job done. As the couple's sharp-eyed fans might know already, the baby's initials bear some pretty serious likeness to her dad's.
And speaking of little Kulture's father, most pop culturally savvy folks probably know the Migos rapper best by his stage name, Offset. Perhaps lesser known is the musician's birth name, which a quick Google search reveals to be Kiari Kendrell Cephus. Just so we're all on the same page, that means Offset's initials are K-K-C, too, just like his daughter's. Not only that, but you don't have to be a master investigator to pinpoint the most glaring similarity at play here. After comparing the sweet father-daughter monikers — and fans who've done the same might've spotted this one already — it's pretty clear that the baby's name was fashioned with her father's in mind, on more counts than one.
More specifically, it looks like Offset might've been keen on passing down more than just initials to his and Cardi's tiny bundle of joy. Because, upon closer speculation, it looks like her middle name — Kiari — also pays homage to her dad in a pretty huge way. (To review, Kiari is Offset's first name.)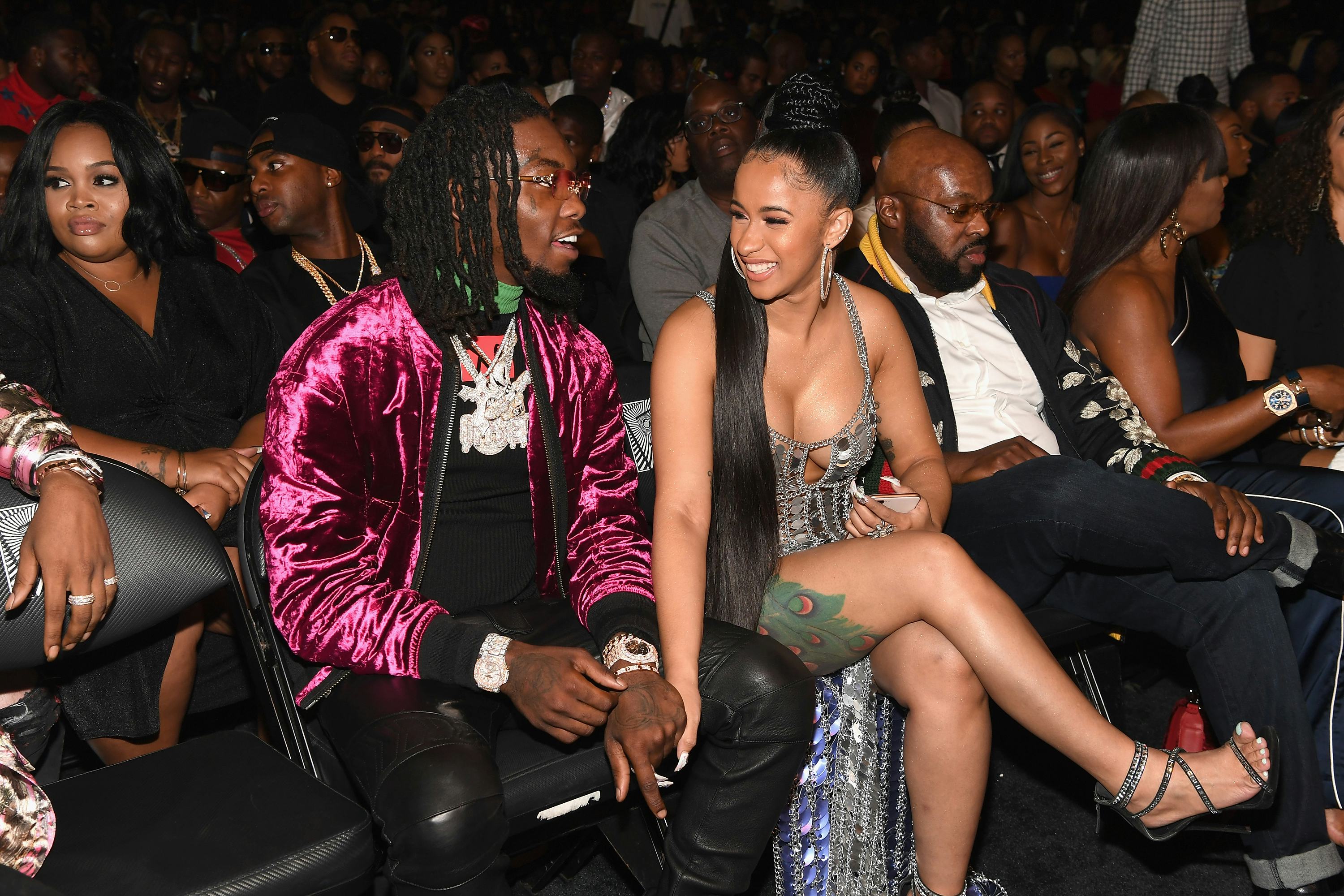 Suffice to say, it certainly sounds like Offset's share of fatherly recognition is well-deserved. If Kulture's name (which, for obvious reasons, bears what seems like very intentional significance to her parents — Dad, especially) is any measure of Offset's commitment to parenting, then it seems safe to say the rapper is approaching his fourth bout with fatherhood in a uniquely special way. "My dude named the baby," Cardi B teased during an appearance on The Ellen DeGeneres Show back in April, not too long after the pregnancy reveal that shook the internet, courtesy of SNL.
At the time, Cardi told DeGeneres that she "really [liked] the name" her husband picked (though, it's probably worth mentioning that, at the time, the world didn't yet know he was her husband), but didn't offer any details on the baby's name itself. "I'm gonna let [Offset] say the name since he named the baby," she said. Fans who've been following this week's latest news know that it was Cardi who revealed their daughter's name in the end, but knowing that Offset came up with the meaningful moniker in the first place is still incredibly sweet.
According to TMZ's report, Cardi B gave birth to her newborn daughter Tuesday night at an Atlanta hospital, with Offset by her side. As fans of the famously fierce musician have probably seen already, Cardi confirmed the delivery news Wednesday morning, July 11, with an exceedingly glorious Instagram post that's bound to make Beyoncé proud. The photo sees a still-pregnant Cardi perched atop a throne-like white chair, surrounded by flowers, looking totally stunning, and embodying all the fundamental characteristics of a bonafide queen. And, if Cardi's searing side-eye glance in the picture is any indication, it seems pretty clear that she knows it, too.
In addition to confirming that she did, in fact, give birth to her daughter Tuesday, Cardi's Queen Bey-inspired IG post doubled as the musician's baby-name reveal. "Kulture Kiari Cephus 07/10/18," she wrote, tacking a pair of pink emojis (a bow and a flower, naturally, in honor of her infant daughter's entry into the world) onto the end of the post's caption. Of course, she also made a quick shoutout to Offset, including her husband's IG tag in the caption as well.
So, while Cardi B and Offset might not have taken the traditional route in passing down a family name, their daughter's moniker still manages to carry on the essence of the previous generation. That being said, here's to the next few years watching little Kulture Kiari make that name her own.