The Middle Name Of Cardi B's Daughter Has Super Special Meaning To The Couple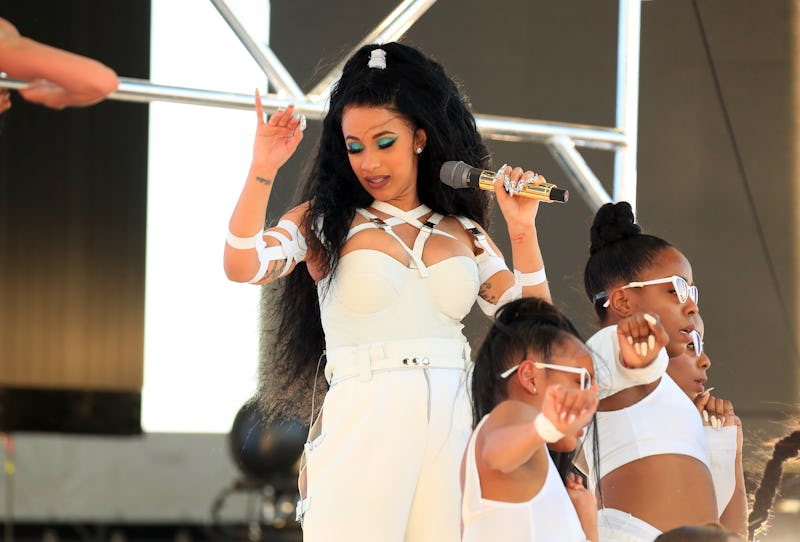 Christopher Polk/Getty Images Entertainment/Getty Images
Cardi B and Offset's baby girl is officially here, and the rappers' daughter's name is too sweet. Cardi B and Offset's baby is named Kulture Kiari Cephus, and there's a special meaning behind the newborn's middle name. Kiari is Offset's first name, so it looks like their daughter's own moniker is an homage to her dad.
TMZ reported that Cardi B gave birth on Tuesday night at a hospital in Atlanta, and Offset was there with her during the delivery. On Wednesday, Cardi B confirmed the news with an Instagram post welcoming her daughter. The "Bodak Yellow" rapper shared a photo of herself taken during her pregnancy, writing in the caption, "Kulture Kiari Cephus 07/10/18 🎀🌸 @offsetyrn." Offset shared a different photo of a pregnant Cardi B on his own Instagram, where he also revealed their daughter's name and birth date. The baby is Cardi B's first child and Offset's fourth.
Cardi B kept her pregnancy hidden from fans at first, but it looks like she and her husband are fine with sharing more details about their daughter now that she's entered the world. The rapper confirmed that she was pregnant during an appearance on Saturday Night Live in April. She also revealed last month that she and Offset were secretly married in a small ceremony last September. Cardi B explained in a tweet that they chose to keep the news private because of "nosey" fans.
In her tweet confirming her marriage to the Migos rapper, Cardi B wrote that "there are moments that I want to keep for myself." Her relationship with Offset has been speculated about (and criticized) plenty of times, so it's understandable why Cardi B was hesitant to share the news about her pregnancy and wedding. Still, it's disheartening for fans to know that she felt like she had to hide what should have been two incredibly happy moments in her life.
Offset's full name is Kiari Kendrell Cephus, The Sun noted, so it's no mystery why the couple chose "Kiari" as their daughter's middle name. "Kulture" is a little more of a mystery, though it could also be a reference to Offset's work. Migos has an album named Culture and another one named Culture II, so it's possible that those albums influenced the couple's baby-naming decision. If that were the case, they may have chosen the spelling "Kulture" so that the baby would have the same initials, "KKC," as her dad.
Whether or not the newborn's name is actually a reference to the Migos albums, it sounds like Offset did play the primary role in choosing his daughter's name. Back in April, Cardi B appeared on The Ellen DeGeneres Show, where she told the host that Offset picked their daughter's name. She didn't reveal that the name would be "Kulture Kiari" during that interview, but it sounds like the couple had the name ready to go for months before their daughter's birth.
And while Offset and Cardi B chose to keep their daughter's name a secret until she was born, they did share plenty of other moments with fans throughout the last few months. Both of them posted photos from their baby shower in June, which was themed "A Bronx Fairytale" and looked absolutely glamorous. It's clear that their daughter is going to be showered with love, from both the two of them and from family and friends.
Between Kulture Kiari's name and Khloé Kardashian naming her daughter True after two late family members, this could be the start of another celebrity name trend. Stars might be gravitating toward naming their children after family members, which is something non-famous fans could emulate, too.