If You're Tired Of The 'So Are You Still Single?' Question, This Essay Will Help You Cope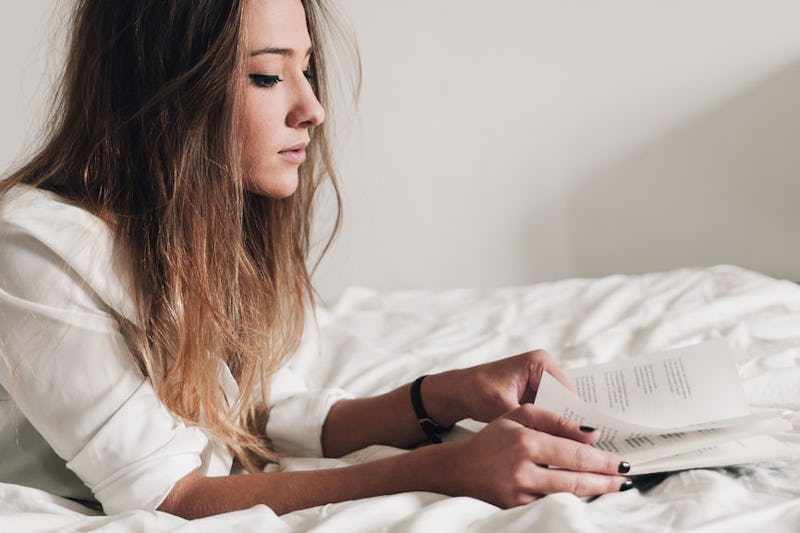 Vera Lair/Stocksy
I saw a meme on Instagram the other day that showed inspirational speaker Iyanla Vanzant holding a crying woman to her bosom, with the caption "You don't realize how single you are until October, November and December." And reader: I laughed. Because it's so true that the holiday season can bring out some unexpectedly heavy feels about relationship statuses — especially when, like me, that status is the cliched "Single and almost 30." And now that the season of extended family members asking "so are you dating anyone yet?" has arrived, I felt myself falling into the trap of "woe is me, I will obviously be alone forever because I'm not married with kids at 29." What helped me get out of it? Actress Lauren Graham, and an essay from her 2016 memoir Talking As Fast As I Can.
In her essay "Before My REI Card: Some Thoughts On Being Single," Graham — the actress who portrayed beloved TV moms Lorelai Gilmore on Gilmore Girls and Sarah Braverman on Parenthood — gets real about her experience with being single later in life. "After I first moved to LA," Graham writes, "I was in a long term relationship with a wonderful guy, but I wasn't ready to settle down. After that ended, I contracted a case of man-repellent-itis so severe that it is still being studied by the Mayo Clinic. Or at least that's how I felt. For a very long time I worked and worked and worked, and then I looked up one day and all my friends were married with children."
What follows Graham's realization that she was ready to pursue dating seriously are a series of super #relatable anecdotes about the very harsh realities of putting yourself out there. Graham spent years being set up by well-meaning friends (including one who took three months to call her), going to parties and events "just in case," being asked about her dating life constantly, and semi-successfully flirting with George Clooney on the Warner Bros. lot though, as Graham says, "it wasn't enough to make George say 'Amal-schlamal!' or anything like that." Actresses: they're just like us!
All the while, Graham had actually already met the man with whom she would eventually find happiness: actor and Parenthood co-star Peter Krause. Five years before the two started dating, they presented together at the 2002 SAG Awards, where Krause suggested they hold hands as they walked out on stage together. Nothing happened that night, but by 2007 the duo was planning their first skiiing trip together.
This is not to say that you should all be holding out hope that someone you have already met will end up being your soul mate and that you can rest easy in this knowledge. Rather, it's a reminder that life is often weird and sometimes wonderful, and that we really have no idea how things will play out for us — at any age.
Graham writes:
"Because here's the thing: I was fine on my own and so are you. But it can be hard when you feel ready for Happy Couple-hood and you seem to have missed the train. As my friend Oliver Platt used to say to me about hopes and dreams I'd share with him: 'It's coming, just not on your time frame.' I find this a helpful reminder in any number of ways: not only when you're hoping to meet someone but also when you're waiting for a better job or for some relief during a bleak time...life doesn't often spell things out for you or give you what you want exactly when you want it, otherwise it wouldn't be called life, it would be called a vending machine. It's hard to say exactly when it will happen, and its true that whatever you're after many not drop down the moment you spend all your quarters, but someday soon a train is coming. In fact, it may already be on its way. You just don't know it yet."
With that, I'm back to being OK with my state of singledom, nosy aunts be damned, and confident that my train is somewhere rolling steadily down the tracks as we speak.