'This Is Us' Season 3 Will Explore Rebecca's Childhood Sooner Than You Think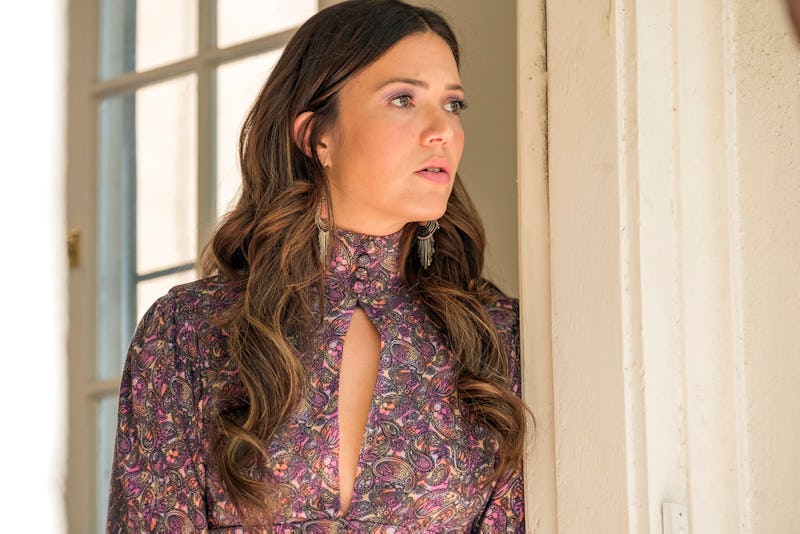 Ron Batzdorff/NBC
This Is Us is about to turn back time for Rebecca Pearson. According to Mandy Moore, Season 3 of This Is Us will explore Rebecca's childhood — and revisiting her past will really lay the groundwork for her struggles as a single mother following Jack's death. "She's ... picking up the pieces of her life, post-Jack, and keeping her own grief under wraps or keeping a handle on it while she deals with three children who are coping in very different ways," Moore said in an interview with TVLine, published on Wednesday, Oct. 3. "It's a tough time for her."
Fans won't have to wait long to start learning how young Rebecca's life lends itself to her state of mind in another of the series' time-jumping storylines. "We delve a tiny bit into Rebecca's childhood in Episode 3," Moore also told TVLine of the upcoming installment titled "Katie Girls," airing Oct. 9 at 9 p.m. ET on NBC. "It gives you a clearer idea of the woman she wants to be. She struggles against how she was raised — her parents' relationship was really dysfunctional. She rebelled against that. She doesn't want to be that kind of wife or that kind of mother."
As viewers saw in the second episode of This Is Us, the Pearson family matriarch isn't in a good place — to put it mildly. "It's a struggle for me to get out of bed every morning," Rebecca told teen Randall (Niles Fitch) in the episode. "It takes every single ounce of energy I have, and then I have nothing left for the rest of the day. Nothing ... but I can't seem to stop it."
Her parenting style and upcoming attempts at filling Jack's shoes (as if anyone could possibly begin to do so) are clearly rooted in her own childhood. But as much as her upbringing shaped her life, as seen on the show thus far, the time Jack (Milo Ventimiglia) spent in Vietnam was a major part of shaping his character as well.
Alluding to the Season 3 premiere episode and "the complicated place we find Jack in when he and Rebecca first meet," Moore explains there's plenty about to play out in the Vietnam War storyline as well. "There's so much of it he's chosen not to share with her and his family that profoundly affected and changed him," she explained in the TVLine interview. "It's a part of him that he doesn't show to anybody else."
Added Moore: "That's an interesting dynamic: of falling in love with somebody, but they don't completely reveal who they are. It's tricky territory."
Given the highly emotional subject matter, even Moore needs to find a way to decompress — just like the rest of teary-eyed fans do from week to week. Following Episode 2, Moore broadcast a "therapy session" with Karamo Brown, who happens to appear on another tearjerker: Netflix's Queer Eye reboot.
"I feel like there's a lot of correlations between your show and our show," she told the former psychotherapist and social worker during a joint Instagram Live chat session, which Moore also posted on Twitter the next day. "They're dealing with everyday people. Ours just happens to be a fictionalized family, but everyday people who are going through everyday things that we all grapple with in life: the highest highs and the lowest lows ... We're holding up a mirror to people's lives and you're kind of doing the same thing in a very literal way."
For his part, Brown — who offered advice on topics such as how to deal with grief — wholeheartedly agreed, joking that, when going into people's homes on Queer Eye, he's also felt, "This is basically This Is Us right here."
If previous seasons of This Is Us are any indication, the story of Rebecca's childhood will be yet another of the numerous reasons why fans may find themselves needing a counselor to help them through all the feels.