This 'KUWTK' Clip Captures The INTENSE Moment Kim Saw Tristan Thompson In Khloe's Delivery Room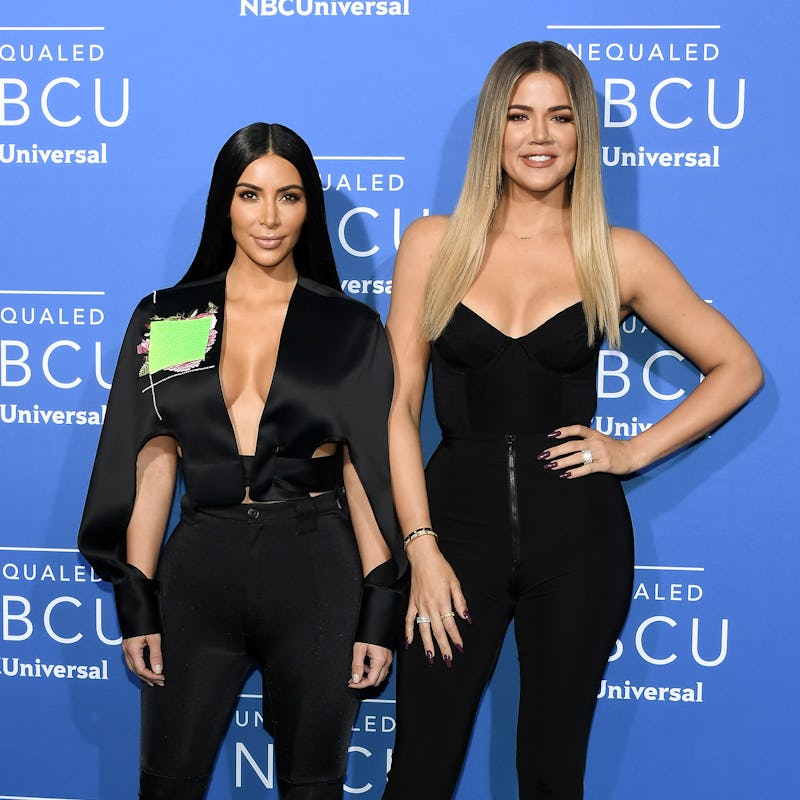 Dia Dipasupil/Getty Images Entertainment/Getty Images
Though she's never been one to back down from a fight, it turns out that Kim Kardashian's confrontation with Tristan Thompson over reports of him cheating ended up being postponed until after Khloé gave birth, in order to ensure that the process was as drama-free as possible. As seen in this Keeping Up With the Kardashians clip reveals how Kim actually reacted to seeing Tristan Thompson in Khloé's delivery room, the eldest sister wanted to ensure that the experience was as drama-free as possible for the first time mom.
Even though she revealed to the cameras in the clip that she was ready to "go off" on Thompson, having just found out about his cheating. When first saw him in Khloé's delivery room, she ended up deciding to keep things civil for the sake of her younger sister. "The vibe in the [delivery] room is calm. I thought there would be way more tension," Kim revealed about arriving in Cleveland for niece True Thompson's birth alongside mom Kris Jenner, sister Kourtney Kardashian, and Khloé's best friend, Malika Haqq. "As much as I want to go off, I just don't think it's the time, so I'm going to keep it cute. I don't have to have a lot of interaction [with Tristan], I just have to be there for her," she said.
Of course, that doesn't mean that there aren't a few awkward moments between Kim and the NBA star — at one point, after she returns from the bathroom, she mimes a throat-slitting gesture behind Thompson's back so that only her family can see her doing it. (Hey, keeping it "cute" allows for one or two subtle digs!)
Despite Kim's determination to be polite in the delivery room, Khloé did pick up on some tension between them — immediately after Kim's joking threat to Thompson, Khloé spots her sister standing next to Thompson and asks, "Are you going to say 'Hi' to each other, or no?"
The pair then shared an awkward hug for the benefit of the expectant mother, before Kim immediately retreated to the other side of the room, where she tried to ignore Thompson.
While the famous family is able to make fun of the awkwardness between themselves and Khloé's basketball player beau, the decision to share the aftermath of Thompson's cheating scandal on national television was a difficult one for Khloé. Back in April, just days before the Good American founder gave birth to daughter True, videos surfaced online that reportedly showed Thompson getting close to another woman while out at a club. Shortly afterwards, more reports surfaced about other instances of Thompson's alleged infidelity; the NBA player has never officially commented on the reports.
Khloé also remained quiet about the alleged infidelity in the months after the scandal broke and she gave birth, although she did share several cryptic messages on her social media accounts that implied she was having a difficult time in the immediate aftermath. However, on Nov. 4, the reality star spoke out for the first time about the ordeal just before an episode aired which showed the entire Kardashian family hearing about the allegations for the first time.
"Tonight's episode is an uncomfortable and super emotional one for me, but when we signed up for this show over a decade ago, we signed up for a reality show, which meant showing you guys inside our lives, the good, the bad and the ugly," Khloé wrote in a series of tweets. "To relive these moments all over again is incredibly difficult emotionally but I also hope that with every trail, tribulation and curve ball life throws at us, that we ALL get to learn from our journeys."
She added: "Amidst the tough times, I have been blessed with the ultimate gift, my sweet baby True who has changed my life in ways I never could have imagined."
Later in the evening, Khloé opened up about the decision to have Thompson present in the delivery room on Twitter, saying that it was important for her that True have "videos and pictures of her daddy there, holding her."
Despite how difficult it has been for Khloé to look back on the dramatic days leading up to the birth of baby True, it's clear that her delivery room was filled with all of the love and joy that she had hoped for. And if that means that Kim had to put her feelings about Thompson aside for the time being, it seems like a sacrifice that she was more than willing to make in order to ensure an easy delivery for her younger sister.
As for how, exactly, the family handled the situation with Thompson after Khloé gave birth, it looks like fans will have to tune into this week's episode of KUWTK to find out.