Kyle & Erika Took A Picture Together At A Party Years Before They Were 'RHOBH' Co-Stars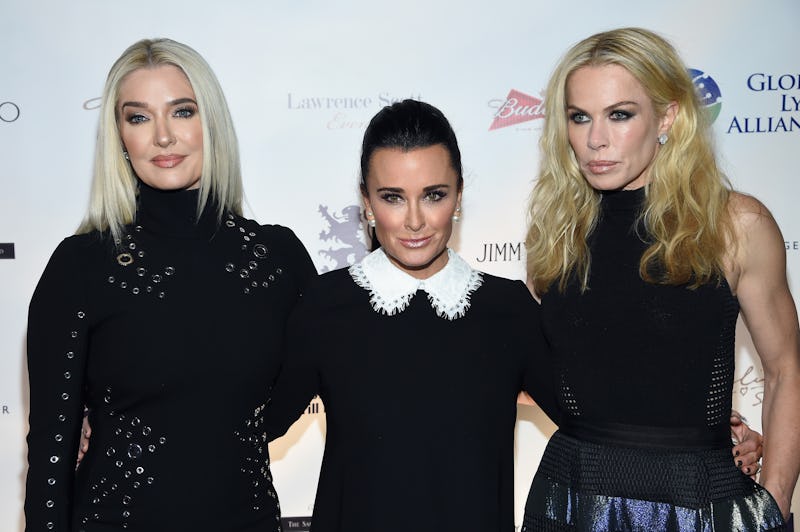 Dimitrios Kambouris/Getty Images Entertainment/Getty Images
Give thanks to the good folks over at Watch What Happens Live with Andy Cohen, because they sure know how to treat a Bravoholic. On Tuesday's episode of WWHL, Andy Cohen graciously shared a picture of The Real Housewives of Beverly Hills stars Kyle Richards and Erika Girardi at a party in 2010. The photograph, which is available over at Bravo's The Daily Dish, was taken at a holiday event hosted by Perez Hilton's fitness website back in December 2010. Wow, is there anything more beautiful than two future RHOBH (associate producer: Nicole Pisano) co-stars meeting at a party hosted by Perez Hilton? The answer: No, no there isn't.
On the Feb. 6 episode of Bravo's late night talk show, Kyle and her longtime buddy Bethenny Frankel sat down with Andy to talk about their respective Bravo programs. After he scrolled through a bunch of adorable throwback pics of Kyle and Bethenny, Andy told the American Woman executive producer that he had another blast from the past up his sleeve.
The King of Bravo revealed that he had an old photo of Erika Jayne and Kyle, an announcement that seemed to catch the OG Beverly Hills Housewife off guard. Unlike Kyle and Bethenny, Kyle and Erika's friendship didn't begin multiple decades ago. Heck, they've really only been friends since Erika joined RHOBH in 2015, and before the pic went up, Kyle remarked that she didn't recall posing for any camera with Erika before they were co-stars. How much of a throwback could this photo really be?
As it turns out, a bona fide throwback photo of Erika and Kyle does exist. However, Kyle did not remember meeting Erika back in 2010, and seeing the photo from the party did not jog her memory. She and Bethenny seemed legitimately thrown by the photo's existence.
Just when you think you've seen every noteworthy throwback photo of a Bravolebrity that the world wide web has to offer, WWHL comes in hot with an obscure picture and breaks the corner of the internet where Bravoholics hang out.
Just how long ago was December 2010? Well, when Kyle and Erika put their arms around each other at the FitPerez holiday gathering and smiled for the cameras, the first season of The Real Housewives of Beverly Hills was only two months in. Erika's debut album, Pretty Mess, was just over a year old. Erika was still five years away from becoming a Beverly Hills Housewife. Kyle was still a year and a half away from opening Beverly Hills boutique Kyle by Alene Too. Erika was seven years away from being a contestant on Dancing with the Stars. Kyle was six years away from developing a scripted series loosely based on her life for the Paramount Network. And at some point, between December 2010 and 2015, Erika traded her "Barbie" nameplate necklace in for a piece of jewelry that's a little less safe for work. (OK, it's a lot less safe for work.) In summary: In Bravo years, December 2010 was a lifetime ago.
Grab your yarn, thumbtacks, and cork board, because it's time to play a round of The Celebrity World Is Even More Connected Than Any Of Us Realized. Right around the time Kyle and Erika took this pic at the FitPerez gala, Stephanie Shepherd was an assistant to Erika and Mikey Minden. Before Mikey was Erika's creative director, he was the creative director for the Pussycat Dolls. A few years later Steph Shep would go on to work for Kim Kardashian, friend of the Pussycat Dolls. Oh, and once upon a time, Kim K was Paris Hilton's assistant. Bethenny was an assistant to Paris' mom, Kathy Hilton. Kyle is Paris' aunt and Kris Jenner's pal. Erika is now a character in Kim K's mobile game, Kim Kardashian: Hollywood. Perez Hilton's name was inspired by Paris Hilton. Erika and Kyle met at Perez's party five years before they became co-stars.
Wow. Life comes at you fast, so don't forget to pat the you-know-what and twirl your ponytail.