This Tweet From Meghan Markle Proves She Has What It Takes To Make It In The Royal Family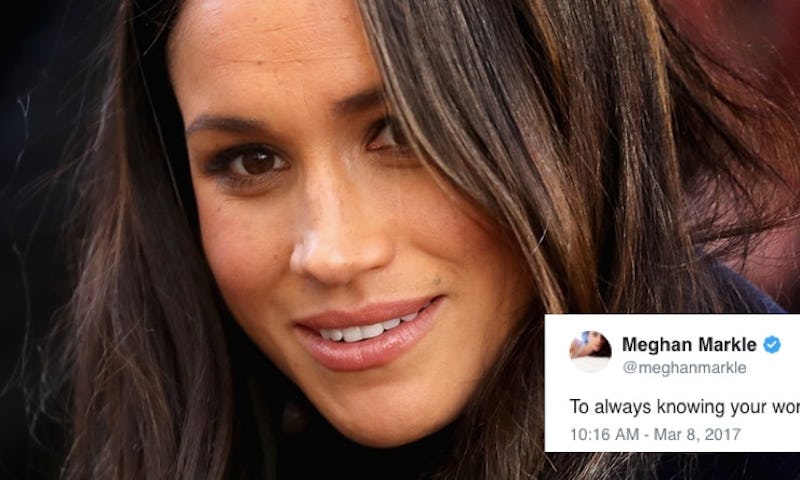 Chris Jackson/Getty Images Entertainment/Getty Images; Meghan Markle/Twitter
In less than a year, Meghan Markle will marry Prince Harry and officially become part of the royal family. But, scroll through her Twitter feed and it's clear, Markle has always had what it takes to be a royal. Mainly because she's always known her worth, something Markle noted in a recent tweet that cited poet Nayyirah Waheed.
On International Women's Day 2017, Markle tweeted a message to her followers that was also an affirmation. "To always knowing your worth," she wrote, following that concise tweet up with a short inspirational poem from Nayyirah Waheed. The poem, which appeared in Waheed's first self-published collection, 2013's salt., focused on the need to know yourself and not let anyone else define you.
The poem has Waheed sharing a piece of advice with her daughter that states it is not her beauty that will help her get through life, but her confidence. "knowing your worth," Waheed wrote, "can save your life."
Markle shared the quote on a day that celebrates women, and more importantly, asks women to celebrate themselves. Waheed's words follow suit, making the case that needing other people's approval or feeding off of other people's compliments will make you weaker. It's a strong statement from Markle, who as an actor was always in the public eye, and now as Prince Harry's partner will be scrutinized even more. But she knows that strength doesn't come from what other people think of you; it's how you think of yourself.
To deal with fame, you have to have a strong sense of self. You have to know who you are since they'll be so many people who will want to make you doubt yourself. For anyone who's seen the video of 11-year-old Markle speaking out about sexism regarding a commercial that implied women are the only ones washing dishes, it's clear this is a woman who definitely isn't afraid to be herself or speak out for what she believes in. That same conviction lies in everything the adult Markle does, whether it's fighting for women in places like Rwanda and India as a United Nations Women Advocate or taking on her royal duties, whatever those may end up being.
In Prince Harry and Markle's first TV interview as an engaged couple, she told the BBC that she was ready for a "new chapter" in her life after giving up her role on Suits. But that doesn't mean she's going to become a new person, as she said:
"What's been really exciting, as we talk about this as the transition out of my career… is that the causes that have been very important to me, I can focus even more energy on. You realize that as you have access, or a voice that people are willing to listen to, [it comes with] a lot of responsibility, which I take seriously."
That "responsibility" she speaks of seems to fall in line with her International Women's Day message — that knowing who you are and knowing your worth can help you figure out what's important to you. It makes you fight harder for those things because you have your own convictions.
When being in the public eye like Markle, you can't let others' opinions get in the way. Already, she's been subject to the opinions of those who don't approve of Prince Harry and Markle's engagement because of her skin color.
When it was first announced that the two were dating, Prince Harry released a statement through his communications secretary that spoke out against the "wave of abuse and harassment" Markle was facing. When speaking with the BBC earlier this month, she also spoke about how "disheartening" it was to hear people criticizing their relationship based on her race.
As Markle said then, though, "At the end of the day I'm really just proud of who I am and where I come from, and we have never put any focus on that. We've just focused on who we are as a couple."
Markle doesn't need to be liked by everyone, and she already knows she won't be. She has confidence in herself that she knows best what's best for her. That strength makes her someone who won't crumble under the pressure of her royal duties. But more importantly, that confidence gives fans another reason to bow down to Markle — everyone's favorite new royal, who already rules.