How To Keep Supporting Women After IWD 2017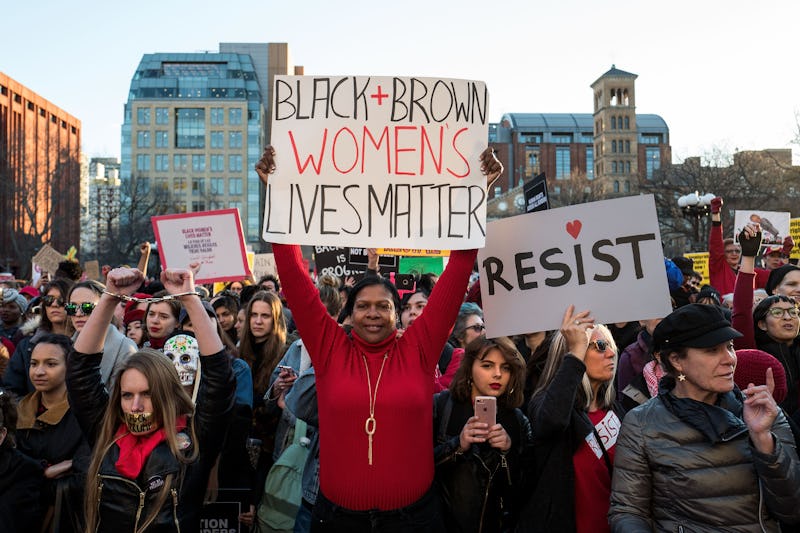 Drew Angerer/Getty Images News/Getty Images
March is giving us many much-deserved reasons to celebrate women. In addition to it being Women's History Month, March 8 was International Women's Day as well as the Day Without A WOman. If you didn't have a chance to participate yesterday or are looking for ways to keep the momentum going, there are plenty of opportunities to continue supporting women after International Women's Day.
Before we get into the "how," let's start with the "why." If you've made it this far, chances are good that you, personally, don't need a reminder on why it's important to support women. That instinct, however, is not universal, as evidenced by lack of gender parity worldwide.
Despite women making up 49.6 percent of the world's population, there is a stark lack of female representation in leadership, government, and other positions of power in the vast majority of countries. You don't need to look beyond the our own congress to see the lack of female representation. (Yes, we are making growth, but we are still nowhere near reaching equal gender representation.)
The gender wage gap is a global problem. In the United States, women statistically still do not receive equal pay for equal work. In fact, Iceland is currently working to become the first and only country in the world to require equal pay for women. (While the United States does have the Equal Pay Act, there are easily exploited loopholes that prevent true equal pay regardless of gender.)
If you know someone who thinks the wage gap is a myth or that sexism as a whole doesn't exist anymore, you can show them this recent video of a male lawmaker opposing equal pay for women in European Parliament. He states women "must earn less" on account of them being weaker, smaller, and less intelligent than men.
To paraphrase former First Lady and current President of my Heart, Michelle Obama: That was low. Let's go high. Here are 10 ways you can continue supporting women after International Women's Day and beyond.