Natalie Portman Called Out A Man Who Stepped On Mariah Carey's Dress & The Pic Is PERFECT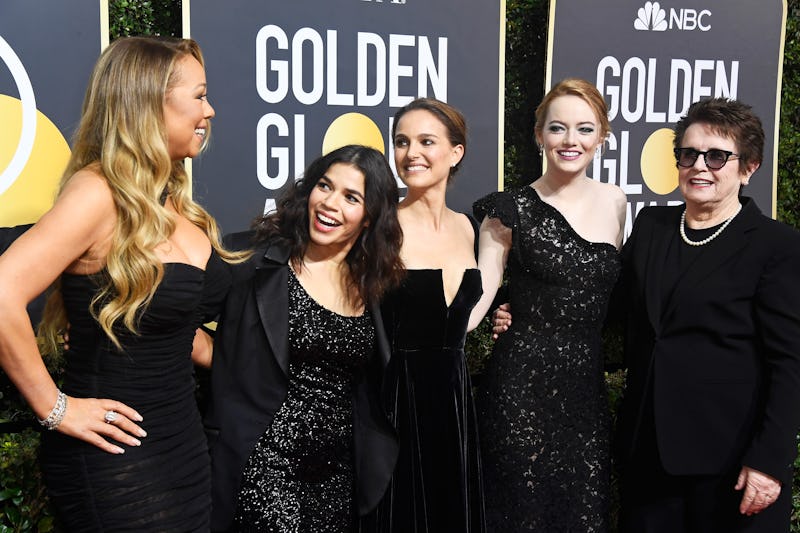 Frazer Harrison/Getty Images Entertainment/Getty Images
If you enjoyed seeing celebrities band together at during the 75th Golden Globes — dressed in all black and donning their Time's Up pins — a certain photo of Natalie Portman standing up for Mariah Carey on the 2018 Globes red carpet will totally warm your heart, too. And if anything, this is exactly what girl power looks like — or more accurately, women power.
The Sunday, Jan. 7 event was highly anticipated, and for many reasons. Not only would fans get to see some their favorite stars be awarded for their contributions on both the big and small screens, but the night would also serve as a platform for attendees to lend their support for women and the #MeToo movement. The sea of black dresses, tuxedos, and suits, and explanations behind why some celebrities chose to rock Time's Up pins really showed just how seriously the movement is being taken within the industry, and that's definitely something to celebrate.
Portman and Carey, however, had their own moment of solidarity, preventing what potentially could have been a major wardrobe malfunction. And lucky for fans, the moment was caught on camera. While posing on the red carpet, a certain gentleman stepped on the train of the "Touch My Body" singer's stunning gown, and standing up for her fellow sister, Portman made her disdain for the incident known.
Of course, it looks like it was merely an accident, but Portman's body language, paired with Carey's facial expression, hints that the Jackie actor was taking a strong stance. And sure, exactly what was said hasn't been confirmed, but imagining Portman ripping the gentleman a new one for being careless is pretty classic.
Speaking of Portman taking a bold stance, the actor dispelled the same "no B.S." attitude while presenting an award for the Best Director category on the Golden Globes stage, Sunday. The category consisted of all-male nominees, and Portman made sure to reiterate how much progression is still needed in the industry with the line, "And here are the all-male nominees."
Portman's one-liner was met with gasps and a ton of laughter, followed by cheering from the audience. And by the looks of social media, people watching from home were absolutely thrilled by Portman's boldness as well. Portman wasn't going to display her activism by solely wearing black to the event. No, she wanted to have her words heard too, and the move was much appreciated.
Since 1943, only five women have been nominated in the category, and in 1984, the legendary Barbra Streisand was the first and only woman to win the coveted award. This portion of Golden Globes history is absolutely infuriating, and kudos to Portman and Streisand for bringing light to the disparity on the grand stage. What the supposed allies of the movement plan to do with this bit of information remains to be seen, but hopefully it's inspired people to both make way for more opportunities for women, and to protect them from the unwarranted ugliness which lies in within the industry (i.e. sexual harassment and sexual misconduct).
Portman just showed the world what both girl power and allying looks like. Condemning sexual misconduct by sharing social media posts, or even celebrities accessorizing all-black outfits with Time's Up pins to show solidarity with women is nice. But putting your activism where your mouth is, and showing your support with action can do so much more. Without hesitation, Portman let the world, including her colleagues, know exactly where she stands in the movement — potentially using her reputation as collateral. And her gestures throughout the night were needed, fearless, and, hopefully, will start a trend within the industry.
The Golden Globes should come up with an award in her honor, because Portman totally won the night.
If you or someone you know has been sexually assaulted, call the National Sexual Assault Telephone Hotline at 800-656-HOPE (4673) or visit online.rainn.org.