Pete Davidson Is Focused On Moving Forward From His Split, According To A New Report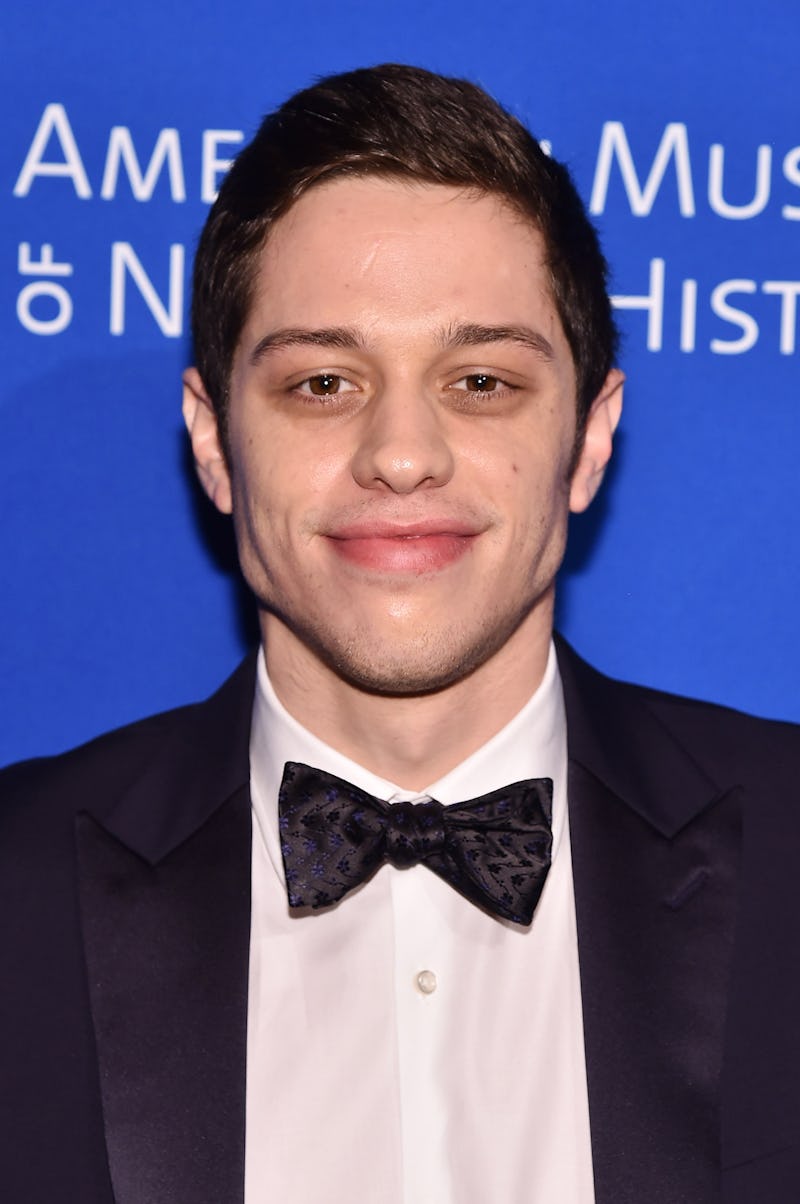 Michael Loccisano/Getty Images Entertainment/Getty Images
Following their highly publicized split, it appears that both Ariana Grande and Pete Davidson are taking some much-needed time for themselves. According to a source at Us Weekly, the Saturday Night Live star may be taking a big step in his personal healing process. On Friday, the publication reported that Pete Davidson changed his phone number in order to "distance himself." (Bustle reached out to Davidson's rep for comment, but did not receive an immediate response.)
Us Weekly's source claimed that not only did Davidson change his phone number, but he also made some other alterations. "He decided to focus on himself. He's had the matching tattoo that he got with her changed," the source said, with two sources adding that the comedian and Grande currently "are not speaking."
It should be noted that Davidson hasn't confirmed this information himself, so it should be taken with a grain of salt. But if there is indeed truth in the source's statements, it's apparent that the SNL star is trying to make some positive changes for his own well-being. Based on a couple of other reports, it really does appear as though he's trying to take a step back from the spotlight following the recent breakup.
In addition to possibly changing his phone number, Davidson also recently canceled a few college comedy shows. As Us Weekly reported on Oct. 24, he dropped out of an appearance at Saint Louis University in Missouri "due to personal reasons," per the school's Facebook page. According to the Daily Mail, he also deleted his Instagram account right after the split. (Davidson's page now appears to be back, but without any photos and without following anyone.) So, it could very well be that he simply wants to take some time for himself right now.
No one can fault Davidson for taking the steps that he needs in order to mend after his breakup from Grande. That obviously goes for the singer, too. And it does seem as though the "No Tears Left To Cry" songstress is similarly taking some time to heal, as she's conveyed on social media.
On Oct. 25, in response to a false report about the status of her relationship with Davidson (claiming that he begged her to stay and she told him to "leave her alone"), Grande cleared up these rumors and put the focus on love and light. She wrote:
"none of this is true. it'd be so helpful is the media and everybody would please just drop it and drop makin stuff up so we can heal and support one another moving forward. it sucks to see this stuff. thank u guys for understanding. much love and appreciation."
Her latest statement came days after she made her return to Twitter. When she did return, you better believe that Grande brought her classic brand of positivity to the table as she told her followers how much she loves them. The singer also told her followers, "i hope ur well and taking care of yourselves ilysm."
Following their split, which reportedly occurred in mid-October, it seems like both Grande and Davidson are all about moving on. And it's also quite apparent that they're both all about the positive vibes too.