The 'Sisterhood Of The Traveling Pants 3' Movie Just Made Some Major Progress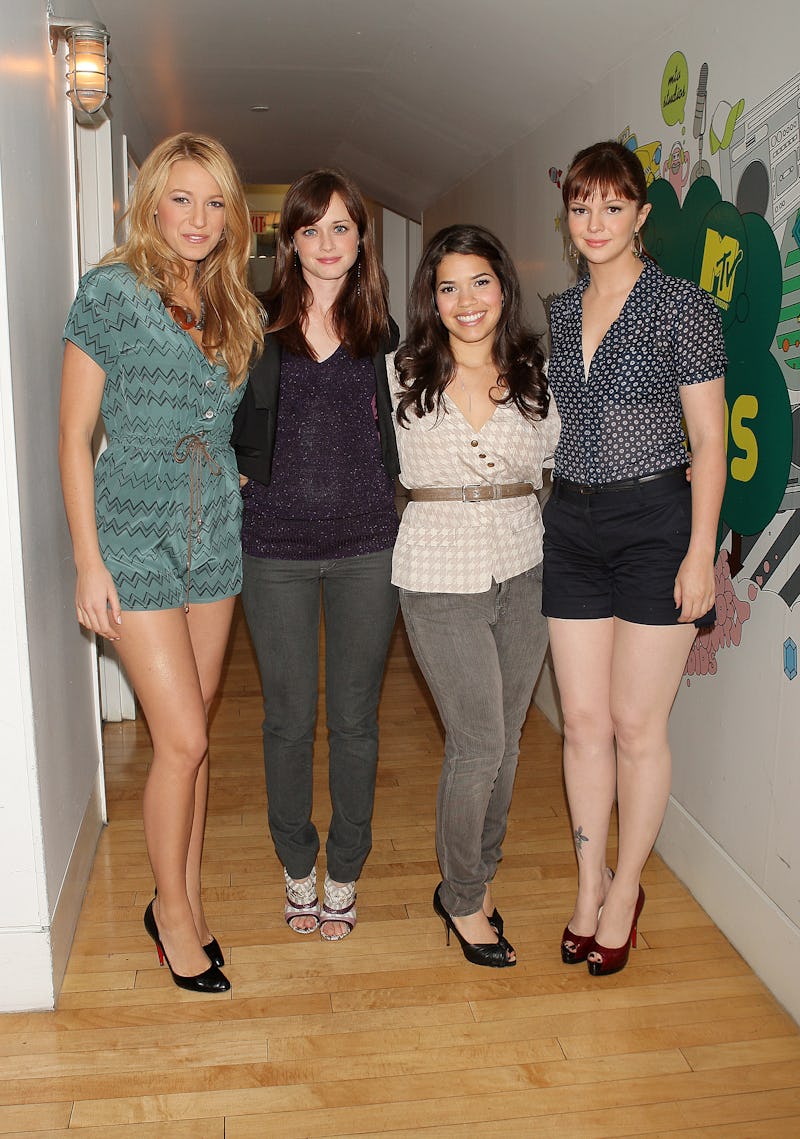 Scott Gries/Getty Images Entertainment/Getty Images
On April 26, Alexis Bledel appeared on The Tonight Show Starring Jimmy Fallon. The actor was primarily there to promote her role on the second season of Hulu's Handmaids Tale, but Fallon and Bledel gave a Sisterhood of the Traveling Pants 3 update, too — and it sounds like a third movie might actually end up happening.
Fallon kicked off the conversation by quickly reminiscing about the Gilmore Girls, which Bledel starred in for seven seasons, after which it was revived for a four-part Netflix mini-series in 2016. After confessing his love for the long-running show, Fallon brought up another one of what he called Bledel's "greatest hits" — The Sisterhood of the Traveling Pants films.
"Sisterhood of the Traveling Pants, that's my jam." Fallon exclaimed. "That's my jam! I love you, and I love that movie, I love everyone in it," he gushed. "I love it, too!" Bledel replied. "I love the sequel," Fallon confessed. "Can there be another one?"
"I really hope so. I would love it," Bledel said, earnestly. "It would be the best thing." Fallon continued to press the actor, asking, "Do you still talk to the other guys [Bledel's co-stars Blake Lively, America Ferrera, and Amber Tamblyn]?" (Fans of the films that following any of the cast on social media would know that, duh, of course she does.)
"Yeah, I mean, we don't get to see each other a lot because of everybody's work and family and everything," Bledel said before casually dropping some major news. "But when everybody's in town we do, and we just pitched a third movie, even … I hope it comes together. It would be so great."
Wait. Hold on. Back up. Did she just say that they'd gotten together to pitch a third Sisterhood film? Fallon appeared equally shocked by Bledel's admission, and said, "You did, for real?"
"Yeah, we did!" Bledel confirmed. "What? That's big news! You have to do that! Please do that!" Fallon exclaimed. "I would love it, I would love it," Bledel replied. Yeah, girl. You and like, a million other people — Fallon included — would really, really love for that to happen.
Rumors have been circulating about the possibility of a third Sisterhood film being in the works for years now — since as far back as 2014, according to The Hollywood Reporter. At the time, the third film was reportedly being produced by Alloy Entertainment, and the company's president, Les Morgenstein, told THR,
"The Sisterhood series is one of Alloy's most cherished properties and we are looking forward to continuing its legacy with Sisterhood Everlasting nearly a decade after the first film was released. The original film brought together an incredible group of talent who we hope to unite for fans once again."
But, alas, that was four years ago, and a third movie has yet to surface. The film franchise is based on a book series of the same name by Ann Brashares, and after the first movie hit theaters in 2005, it brought in around $42 million worldwide, according to THR. The sequel came out in 2008, and it did even better — $44.4 million worldwide.
It appears as if the possibility of a third movie may be more real now than ever, though. On April 26 — the same day Bledel spoke to Fallon — her friend and Sisterhood co-star, Blake Lively, told Entertainment Tonight at CinemaCon that, "[it] could really happen."
Lively continued, "I think that people who love the movie want to see it. So, I mean, fans have gotten bigger movies made. [The sequel to] Deadpool is all thanks to the fans. So I'm saying we'll do it."
Since both Lively and Bledel — half of the cast's four core actors — are saying positive things about a third Sisterhood film coming to fruition, let's call that a 50/50 chance that it ends up getting made. Now, it's up to America Ferrera and Amber Tamblyn to push those odds over the edge for the fans.