There's An Ursula K. Le Guin Documentary Coming & You Can Watch The Trailer Now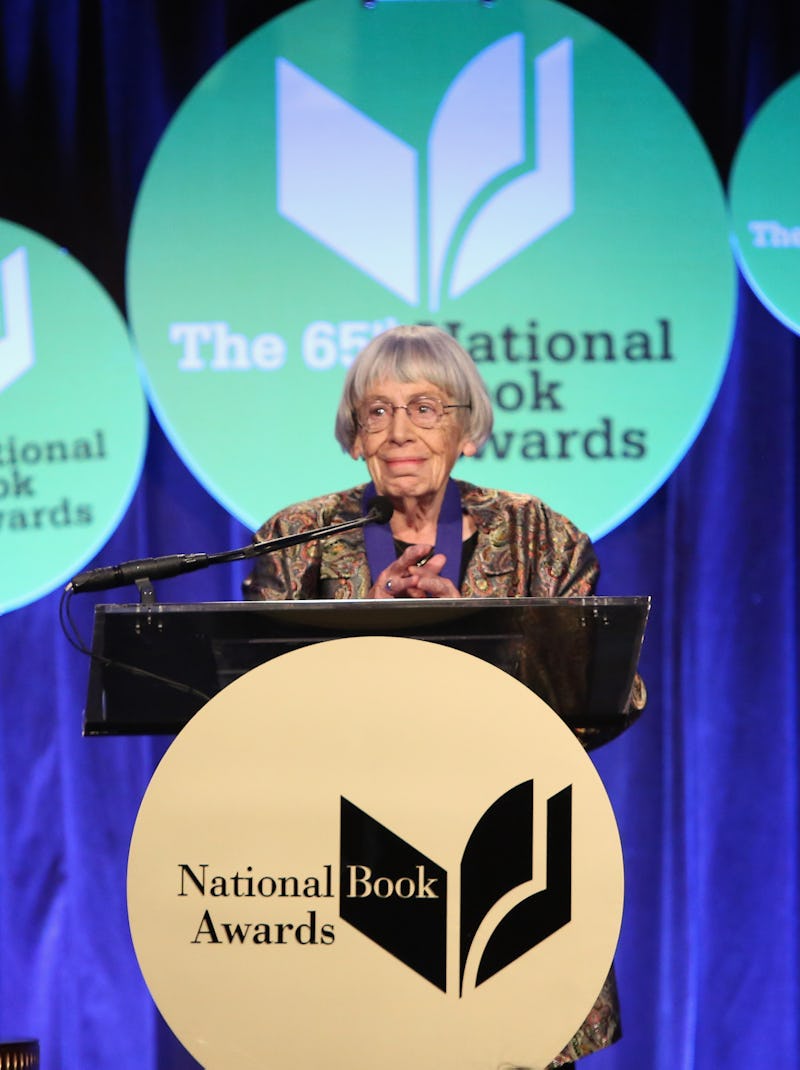 Robin Marchant/Getty Images Entertainment/Getty Images
When Ursula K. Le Guin died in January, the beloved author left a massive hole in the hearts of fans who admired her groundbreaking work in science fiction and fantasy, and her tireless fight for female representation in literature. Although she was widely considered to be one of the fiercest defenders of women in science fiction, a new film about the author reveals that even Le Guin once struggled to picture "a woman wizard."
Worlds of Ursula K. Le Guin, a new documentary by Arwen Curry about the life and legacy of the late author, explores Le Guin's long career as a pioneer in speculative fiction, including the role of feminism in her work and the struggles she faced teaching herself how to write women into her novels. In the film, which Curry worked on with the author for 10 years, Le Guin admits that "from my own cultural upbringing, I couldn't go down deep and come up with a woman wizard." According to the author, she had been "a woman pretending to think like a man," a behavior she had to unlearn before she could create some of her best work.
As Le Guin tells Curry in the film:
"I had to rethink my entire approach to writing fiction … it was important to think about privilege and power and domination, in terms of gender, which was something science fiction and fantasy had not done. All I changed is the point of view. All of a sudden we are seeing Earthsea … from the point of view of the powerless."
Published in 1990, Tehanu is the fourth book in Le Guin's popular Earthsea book, and the first one that centers on a female character. It took Le Guin 17 years to write, according to the documentary, but it has become one of her most celebrated works.
Funded by a combination of grant money and a successful crowdfunding campaign, Worlds of Ursula K. Le Guin celebrates the author was a woman who "defiantly held her ground on the margin of American letters until the sheer excellence of her work, at long last, forced the mainstream to embrace fantastic literature." It reveals Le Guin's struggle to break free from the idea that, when it came to fiction, "men were at the center of it," and how the author eventually became the feminist icon she is.
It also features conversations with authors who have credited Le Guin with influencing their work, including Neil Gaiman, David Mitchell, and Michael Chabon. Each writer speaks beautifully to Le Guin's legacy, but Gaiman does it particularly well when he says, "What Ursula was having to navigate was the societal prejudices against science fiction, against the fantastic, and against children's fiction. All of these things were marginalised."
A pioneer in the science fiction and fantasy genre, Le Guin was the author of over 20 novels and countless poems, essays, and short stories. She was also the recipient of several major literary awards and honors, including the Hugo Award, Nebula Award, Locus Award, World Fantasy Award, and the National Book Foundation's Medal for Distinguished Contribution to American Letters. Le Guin's first novel, Rocannon's World, was published in 1966, but it wasn't until two years later with the release of A Wizard of Earthsea that she became a critical success. Now, over 50 years later, Le Guin's work has been translated into more than 40, and she is considered one of America's greatest science fiction writers.
When she died in January, Le Guin left behind an impressive body of work that helped shape the science fiction and fantasy genre for decades, and will probably continue to do so for generations to come. She also left behind a legacy of fierce feminism, in her novels and in the way she tried to shape the literary world, and fans can see it all in Worlds.