This Is How Vanessa Trump Feels About Don Jr.'s New Relationship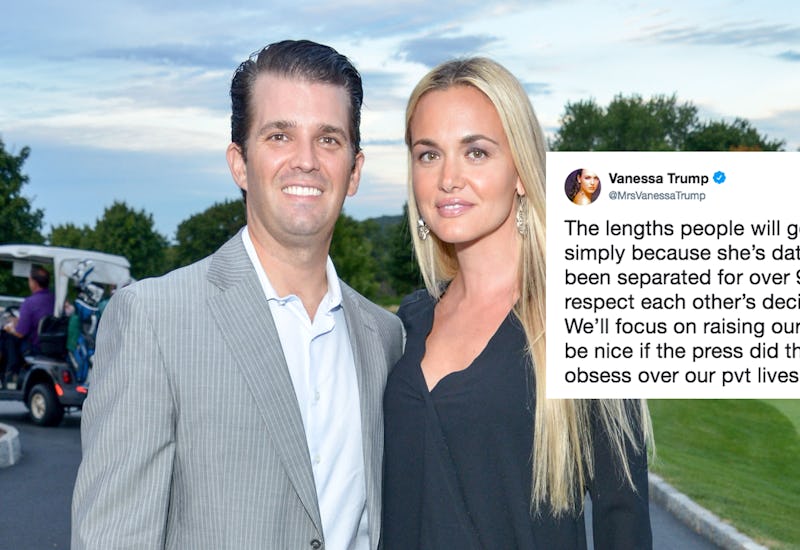 Grant Lamos IV/Getty Images Entertainment/Getty Images
Donald Trump Jr.'s new relationship appears to have been confirmed by an unexpected source. Following his Twitter tirade against a critical opinion piece on Kimberly Guilfoyle, whom he is reportedly dating, Don Jr.'s wife, Vanessa Trump, backed up their relationship in a tweet on Thursday, while expressing support for Guilfoyle.
"The lengths people will go to attack a woman simply because she's dating Don," Vanessa tweeted on Thursday afternoon. "We've been separated for over 9 months and respect each other's decisions & privacy. We'll focus on raising our great kids.Would be nice if the press did the same rather than obsess over our pvt lives!"
After rumors began swirling that Don Jr. is dating Guilfoyle, a Fox News host and the ex-wife of Gavin Newsom, the New York Daily News ran an opinion piece arguing that the relationship poses a conflict of interest for Guilfoyle, as she often comments about Trump-related matters on TV, and that Fox should immediately fire her.
On Thursday, Don Jr. tweeted out a rebuttal piece at Mediaite, which claimed that because Guilfoyle is an "opinion host" and not a "news reporter," her relationship with the president's eldest son poses no conflict of interest. The article also cited several other examples of journalists having romantic relationships with political figures, and argued that calling for Guilfoyle to be hired is "not only unjustified; it's a hit job."
"Liberal privilege at its finest," Don Jr. wrote while blasting out the Mediaite piece, although it's unclear whom he was accusing of exercising privilege.
The original Daily News article included a line about Guilfoyle being better at "picking grapes" than picking romantic partners. This led Don Jr. to accuse the author of the piece, Linda Stasi, of engaging in "hypocrisy, sexism & racist rhetoric," as Guilfoyle is half Puerto Rican. Stasi apologized on Twitter and said she had "absolutely no idea that Guilfoyle is half Puerto Rican," and the line in the article was changed to "picking lottery numbers."
In any event, Vanessa's tweet appears to confirm Don Jr.'s relationship with Guilfoyle, which was originally reported in May. The news came as a surprise to many, as Guilfoyle was once married to Newsom, the ultra-liberal former mayor of San Francisco and current California gubernatorial candidate. She told the Mercury News in 2017 that she thinks Newsom will do an "outstanding job" as California's governor, but make no mistake: Guilfoyle is most definitely a Republican.
In fact, she was once on the shortlist to serve as President Trump's press secretary after Sean Spicer left the job, according to the Mercury News, and she's still an open supporter of the president. She told the newspaper in 2017 that "it would be an honor to serve the country" as the top White House spokesperson, but the job ultimately went to current press secretary Sarah Huckabee Sanders.
Vanessa and Don Jr. filed for divorced in March after being married for 13 years. Several outlets reported that this was precipitated by Don Jr. having an affair with Aubrey O'Day, formerly of the band Danity Kane, although neither he, Vanessa nor O'Day ever confirmed that.
The Daily News reported Tuesday that a day earlier, Don Jr. and Guilfoyle were seen being dropped off outside of her Upper West Side apartment, going inside and spending the night while two Secret Service vehicles waited outside.
"Now two trucks are guarding their sleepovers," a source who allegedly saw the couple told the Daily News. "Draining the swamp?"
Despite various news reports and, now, what seems like a confirmation from Vanessa, Guilfoyle has not publicly disclosed her reported relationship with the president's son.