This Video From Denise Richards' Wedding Shows The 'RHOBH' Cast Member Is Totally In Love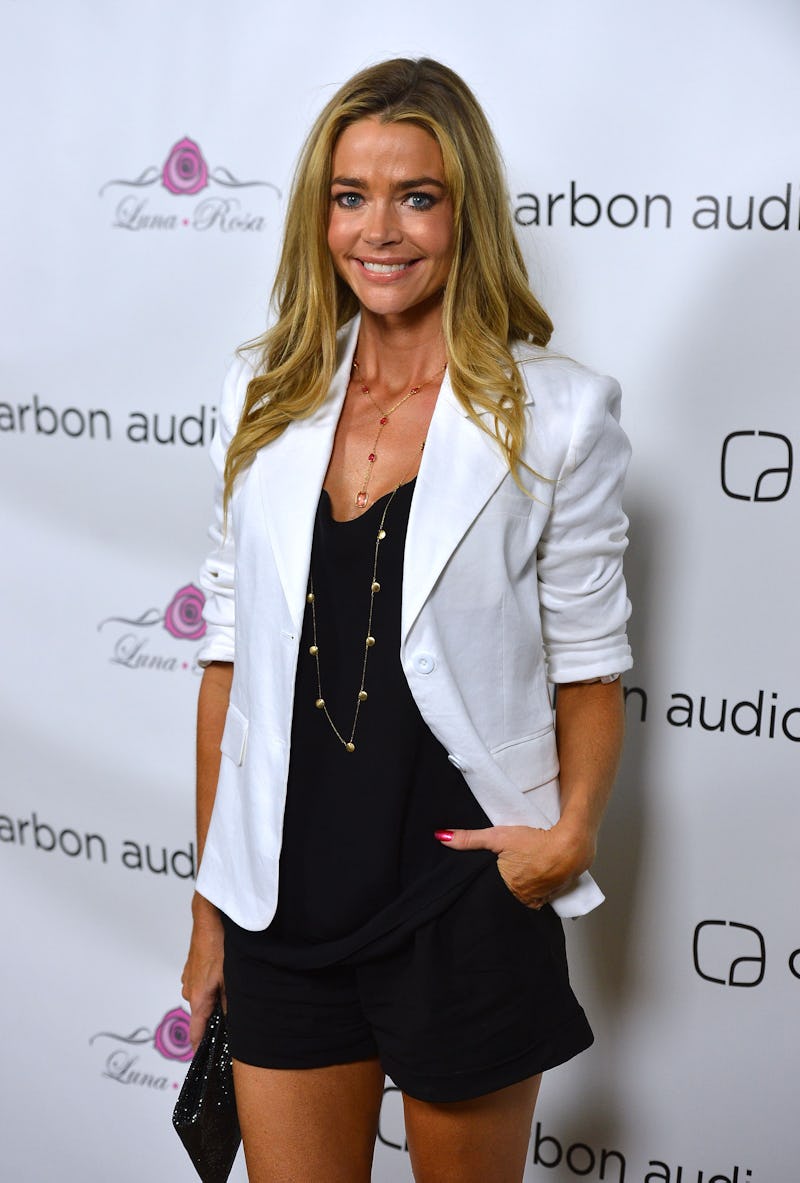 Frazer Harrison/Getty Images Entertainment/Getty Images
Write it down, future Real Housewives: If you want to really make a splash your first season, host a surprise beach wedding less than a week after you reveal you and your significant other are affianced. Oh, and maybe do like Denise Richards did and record a wedding day video message for all the world to see. Shortly after Denise married Aaron Phypers on Saturday, Sept. 9, the newlyweds got in front of a camera and recorded a very special message for the folks at home who were dying to know if the rumors were true *raises hand without a stitch of shame*. The Real Housewives of Beverly Hills Season 9 won't premiere until later on this year, but the reality series' newest addition's wedding day content is just what the impatient RHOBH fan's doctor ordered.
In the clip, the couple stands in front of a sculpture made out of roses, Denise is in her wedding dress, and they appear to be on a beach in Malibu. You don't have to be Meghan King Edmonds to figure out that Denise and Aaron shot this video while they were still at their wedding. Here is what Denise says:
"Hi, I'm Denise Richards, and yep, the rumors are true. This is my husband, Aaron. We just got married."
Denise and Aaron took a moment out of their big day to record a message for Bravo heads far and wide, and Bravo promptly shared that video online. Our new Beverly Hills Housewife is a benevolent and generous one.
When she was ready to let the planet know she got hitched, Denise really did cover all of the bases. Over the weekend, she confirmed the nuptials with a video, an Instagram post, and a written confirmation. In a statement provided to Bravo's The Daily Dish, the RHOBH star said,
"I am so happy to officially be married to the love of my life. I can't wait for everyone to go on this incredible journey with me this season on The Real Housewives of Beverly Hills. It has been a wild ride so far!"
This summer really has been a wild thing, er, ride. In just the last few months, the Drop Dead Gorgeous actor sold her house, announced her engagement, got married, and, of course, joined the Real Housewives of Beverly Hills roster. On Aug. 8, Denise confirmed she will be on RHOBH Season 9 in a statement to People. The statement reads,
"I am so excited to join the cast of [RHOBH] as I am a huge fan of the show. I am looking forward to spending time with all the ladies… and hopefully meeting Boy George!!"
And yes, her RHOBH castmates were part of her wedding celebration. As Reality Blurb noted, Beverly Hills Housewives Dorit Kemsley, Lisa Vanderpump, Erika Jayne, Lisa Rinna, Teddi Mellencamp and Camille Grammer were all photographed at the beachfront ceremony.
"Denise Richards joined RHOBH" was more than enough reason to be stoked for Season 9, but now we have "Denise Richards joined RHOBH and threw a surprise wedding"? It's like Christmas (Jones) in September.