Tiffany Haddish At The VMAs Is All Of Us Throwing Shade At Our Exes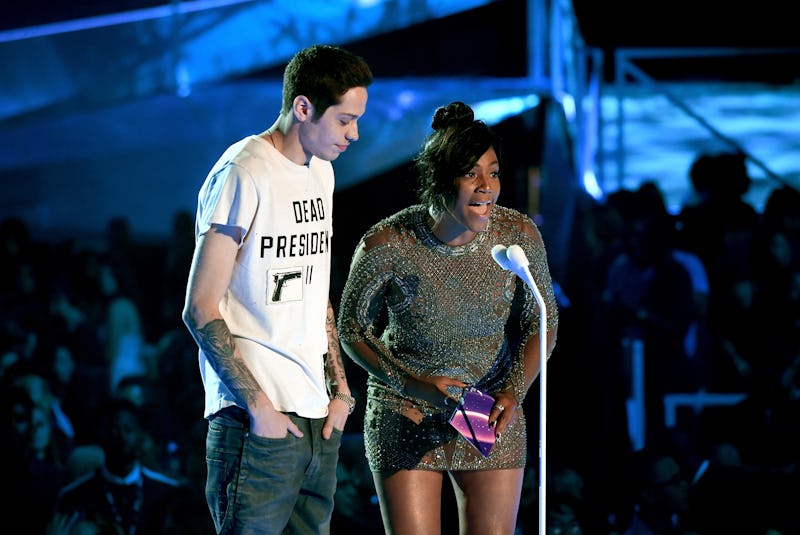 Kevin Winter/Getty Images Entertainment/Getty Images
Out of all the attendees, Tiffany Haddish is having the most fun at the VMAs. The comedian and actor is feeling herself at the MTV ceremony, and Twitter is totally here for it. From praising her spirit to saying she should've been the host, Haddish is getting all the love on Sunday night. She's also sharing heartfelt words of wisdom, along with hilarious comments about exes.
On stage, Haddish first told the crowd, "I just want to say to all the kids in foster care: If I can make it here, so can you!" She continued,
"I just think it's important to be a role model to the kids that look up to me. And, also, I just want to show all my stupid as hell exes that I'm out here killing the game. I told you I was gonna do it. You didn't believe me. Now look at you sitting there, watching me, looking good."
I think it's safe to say that Haddish just won the ex games, because, seriously, getting called out on national television for not believing in your girl's dreams when she's presenting at the VMAs is pretty rough. The last time I remember being this shook by someone calling out their ex at an awards show is when Sam Smith thanked his ex for breaking his heart, so he would go on to create the album that won him a Grammy. Haddish took a more joking, but just as beautifully savage, approach.
I can't wait to see even more from Haddish, but, in the meantime, check out some of the best things Twitter has to say about her — all earned and true.
1. She Is Queen
We bow down to her awesomeness.
2. We Are Not Worthy
She is the light we didn't think we deserved.
3. Don't We All?
So, should I buy our best friend bracelets now or wait?
4. A Beautiful Moment
It shows that you really can accomplish what you want, no matter where you come from.
5. & We Are In Desperate Need Of Some
She is what America should aspire to be.
6. A Time When New Is Better
Up and coming to a stage near you for VMAs 2018 hopefully.
7. She's All Of Ours
Thank you Haddish for being the role model we all need right now.
8. Simple & True
Like seriously, she is so funny.
9. She's Going All The Way To The Top
She's guaranteed to get bigger and bigger as we fall more and more in love with her.
10. She Should've Actually Hosted
It's clear who the fans would've liked to see up on stage all night.
11. A Light In The Dark
Happy to be able to enjoy her presence.
Thank you, Haddish, for being a light and inspiration when we need it most. Here's to many more hilarious words of wisdom to come.