Tiffany Haddish Is Hosting The MTV Movie & TV Awards & Her Announcement Video Is TOO CUTE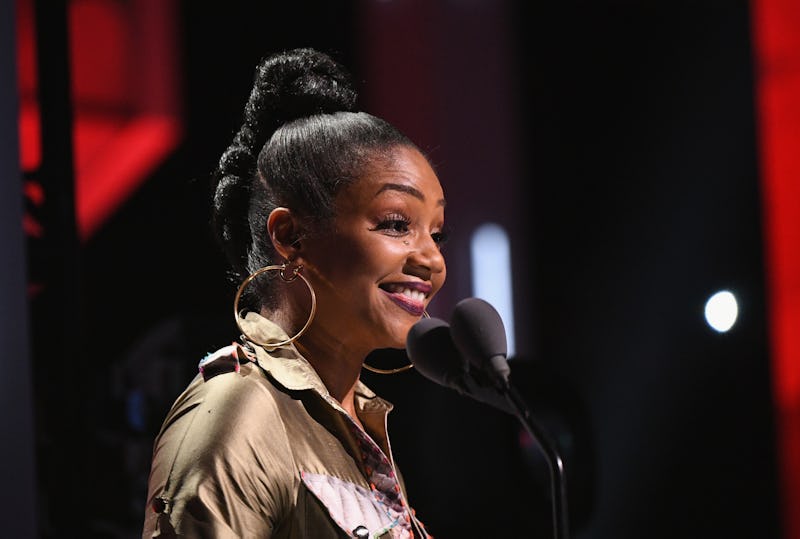 Dia Dipasupil/Getty Images Entertainment/Getty Images
On Thursday Feb. 22, MTV announced that Tiffany Haddish will host the 2018 MTV Movie & TV Awards. This will make the actor the first African American woman to ever host the awards ceremony in its 25-plus year history. Overjoyed about the news, Haddish took to Instagram to gush, writing: "So I got some Great News Everybody! I will be hosting the MTV Movie and TV Awards. make sure you watch!" This year's celebration will be aired on Monday, June 18, at 9 p.m. ET, and the nominations for the coveted awards will be announced at a later date. But just the announcement of Haddish's involvement should be enough to get fans excited.
This latest gig is just one of many that Haddish has received in the months following her breakout performance in last summer's Girls Trip film. The movie was an overall game changer for black women in film, and it helped to quickly boost Haddish into the mainstream spotlight, opening doors for other huge opportunities for the entertainer. In the last six months alone, she has managed to: release a New York Times bestselling memoir, The Last Black Unicorn, become the first black female stand-up comedian to host Saturday Night Live, and serve as the spokesperson for e-commerce marketplace Groupon, appearing in their 2018 Super Bowl commercial.
Additionally, Haddish is set to star in the upcoming sitcom The Last OG. The show, due to debut on TBS on April 3, will feature the actor as Shay, the ex-wife to Tracey Morgan's character, Tray, according to Indiewire. She is also scheduled to appear alongside Kevin Hart in the film Night School, which will be released later this year.
Her latest hosting job at the 2018 MTV Movie & TV Awards certainly changes the game for female comedians — particularly female comedians of color — who have long been shut out of equal opportunities when it comes to mainstream programming. A 2017 VH1 documentary called All Jokes Aside revealed accounts of racism and sexism that were felt through the lack of representation of black women and comedy. Comedian Luenell spoke openly about the ongoing issue in the doc, saying:
"Comedians are already sort of the last renegade entertainers, and the female comic is almost invisible. The female black comic, they just don't focus on us at all."
VH1 also points out that, although pioneers such as Moms Mabley, LaWanda Page, Whoopi Goldberg, and Marsha Warfield have paved the way for other women of color to follow, the representation of black women has continued to remain few and far between.
Meanwhile, Haddish, unknowingly, made a pretty good campaign for the hosting gig during her presentation at the 2017 MTV Video Music Awards last August. Even though she took the stage for less than two minutes, the actor managed to steal the show, quickly entertaining the crowd with hilarious comments about her exes — not to mention her amazing dance movies.
Haddish also addressed young viewers, saying: "I just want to say to all the kids in foster care: If I can make it here, so can you!" She continued,
"I just think it's important to be a role model to the kids that look up to me. And, also, I just want to show all my stupid as hell exes that I'm out here killing the game. I told you I was gonna do it. You didn't believe me. Now look at you sitting there, watching me, looking good."
The moment won the hearts of both the audience and viewers at home, obviously. And thankfully, even though the 2018 MTV Movie & TV Awards not scheduled to air until mid-year, fans now have plenty of ways to catch up with Haddish thanks to her status as one of the most sought after comics in the game.