This Speech By Time's Up New President Will Motivate You To Take Action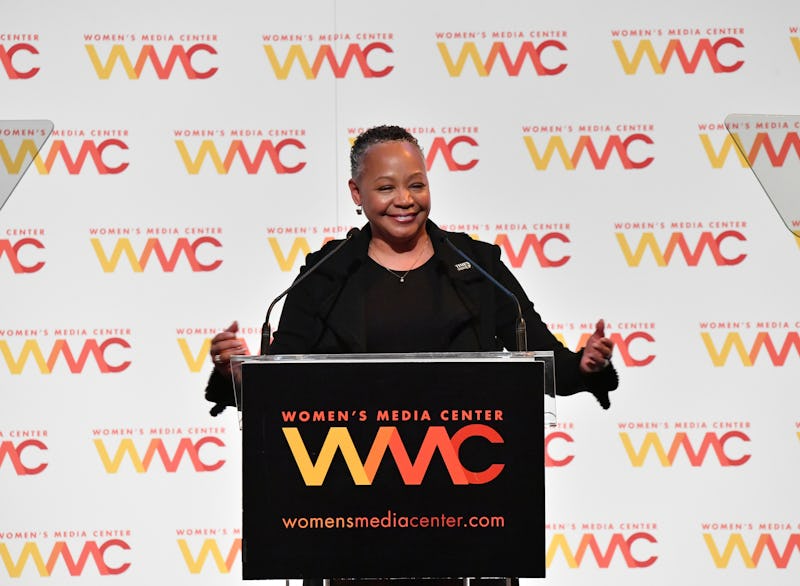 Mike Coppola/Getty Images Entertainment/Getty Images
On Thursday night in New York City, the Women's Media Center hosted its annual awards gala to honor women making waves in the media industry and creating space for others to rise the ranks alongside them. One of the women awarded was Time's Up president Lisa Borders, who just a month ago was announced to be the first leader and Chief Executive Office of the women's defense fund, which was founded earlier this year in response to the #MeToo movement. November 1 was also Borders' first official day on the job, and during her acceptance speech, she recalled how Jane Fonda, one of the WMC's founders, asked her, "do you have any idea what you're about to lead?" to which Borders answered confidently, "yes ma'am."
Previous to this new appointment, Borders served as the president of the Women's National Basketball Association. According to her biography in the gala's program, during her first year on the job, "the WNBA scored its highest attendance in five years and included record marks for digital, social media and retail." But for Borders, it was about much more than just sports, as she said during her WMC speech.
"As we watch all the social justice issues in this country, I am here to report that [WNBA] players have been on the frontlines of those issues long before our male counterparts," she said. "And this is not to subordinate men, that is to say women took a leadership position."
Borders also announced that the WNBA will be involved with Time's Up and the partnership will be called Time's Up Sports. At the gala, she went on to speak about how important it is to stand up for what is right and how important it is to be a driving force for change against what is wrong, especially in light of today's political climate.
"I can remember my mother telling me, 'you deserve what you tolerate'... to be clear, she was talking about my tenth grade boyfriend," Borders said with a laugh. "But I would submit to you that that adage is fungible. And that we as a nation deserve what we tolerate."
The #MeToo movement and founding of Time's Up have effectively amplified women's voices and left many feeling more empowered than in years past. Just a short time prior to this awards gala, for instance, there was a monumental Google employee walkout against sexual harassment and inequality. While Borders did not mention the walkout in her speech, she did note that this period of supporting equality opportunity is "not just about women. This is also about our enlightened brethren who recognize that not just because we are 52 percent of the global population, not just because you have daughters, or our voices should matter, but that we too have added value to every, every situation."
And that was the purpose of the WMC's awards gala, highlighting many women's valuable contributions to the landscape. In addition to Borders, Netflix's Vice President for Original Content Cindy Holland, Emmy-award winning director Abigail Disney, and President and CEO of the National Women's Law Center Fatima Goss Graves were awarded. The cast of Orange Is The New Black was also in attendance, and everyone's favorite Congresswoman Maxine Waters gave the night's closing remarks.
But it was Borders' speech that truly left the room of attendees electrified, and it's safe to assume that this will be the same energy she will bring while spearheading Time's Up. "Time's up for all the inequities, all the disparities," she declared. "We were born out of tragedy but I promise you, we will triumph if we work together to eliminate all the challenges women encounter everyday."