Timothée Chalamet Really Does Love Steve Carell & 'The Office' As Much As You Do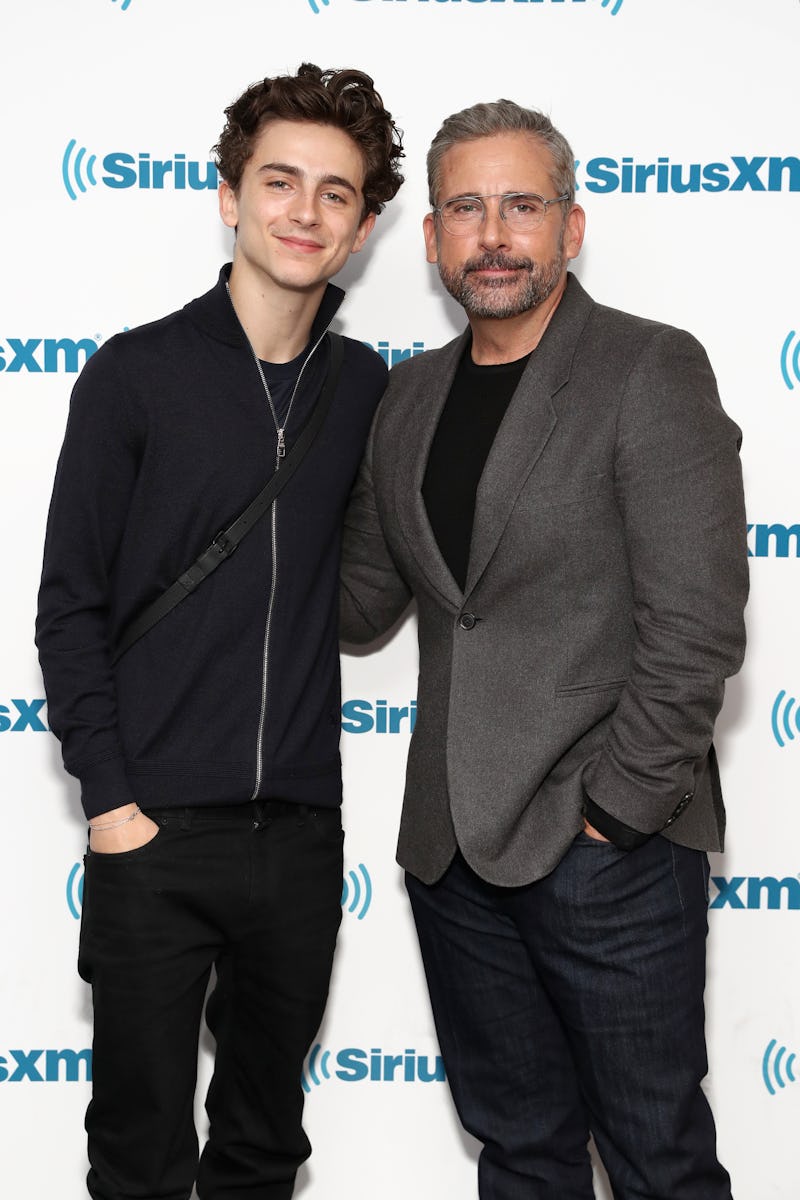 Cindy Ord/Getty Images Entertainment/Getty Images
Those among us who have marathoned The Office multiple times might think that they're Steve Carell's biggest fan, but frankly, they've got nothing on his Beautiful Boy costar. During a recent appearance on The Late Show with Steven Colbert, Timothée Chalamet revealed that he told Carell that he was a sex symbol despite the latter's many protestations that he's not attractive.
While discussing the charms of the Office star with Colbert — who claimed that despite his sexy new image, his longtime friend Carell is basically a "dorky dad" at heart — Chalamet admitted that he has to continuously remind Carell that he's a genuine sex symbol. "I'm always trying to tell him, he's like an icon," Chalamet joked.
He continued, "He said he visited a college campus with his kid. He was like, 'I was surprised that people were running up to me.' It's like, 'Steve, you're like a sex icon.'" Chalamet also referenced the "memes online" about Carell's newfound status as a silver fox, laughing that his costar has "aged like a fine wine."
Carell's sex symbol status first came to the Internet's attention back in June 2017, when the actor and comedian stepped out at the Despicable Me 3 premiere in London rocking a sleek pair of sunglasses, a fitted blue sweater, and — most importantly — a head full of silver locks. Social media was quickly filled with debate over when, exactly, the actor who played Michael Scott became such a dreamboat, or if he truly had been hot this whole time.
Of course, his appearance on The Late Show is far from the first time that Chalamet has gushed about working with Carell, who plays his father in the film Beautiful Boy, which is based on David Sheff's memoir about his son, Nic's, amphetamine addiction. In September, the young actor revealed that as a major fan of The Office, he found being on the Beautiful Boy set along with Carell and Amy Ryan — who played Holly Flax on the NBC sitcom — to be completely surreal.
"I gotta say, seeing [Carell and Ryan] interact on set was definitely like, 'What is going on?'" Chalamet told The Hollywood Reporter while promoting the film at the Toronto International Film Festival. … "Because I'm a huge fan of The Office."
He continued: "I don't want to be awkward or anything or say anything, but obviously Steve, for people my age, is beloved. My favorite thing I've heard about the poster is that somebody told me, 'You look like you're just happy to be in a picture with Steve Carell.' And it's kind of true, if you look at it long enough."
Despite having a few moments of geeking out over working with one of his favorite sitcom stars, Chalamet revealed that the pair formed a strong bond while working on Beautiful Boy, which mirrors the father-son relationship that they portrayed onscreen.
"I feel like Steve's like a father figure in my life now in the best way possible," Chalamet told the IMDb Studio at TIFF. "I've been talking about it today, it's just like I was a huge fan of The Office, I'm a huge fan of The Office — I mean, actually, I went back after we shot this movie to see like is this going to be weird to watch now and I was like, 'Those are my parents!' I would be on set and they would be discussing whatever and my head would be going off."
Beautiful Boy might be getting plenty of awards buzz already, but based on all of the interviews Chalamet has done recently, it seems as if the real reward was that he got to work with his Office idol.