It's Time To Upgrade Your Tinder Profile Picture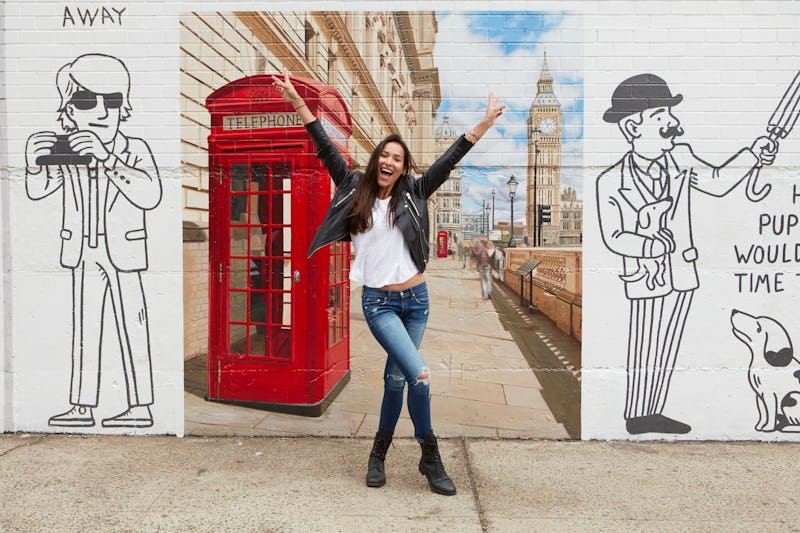 Wieden+Kennedy New York
Here's a situation you've probably found yourself in: You're setting up your online dating profile, and it's time to choose your pictures. Nothing in your camera roll seems interesting or cool enough. You wish you were in front of the leaning tower of Pisa or a red phone booth, anything to show that you're as cultured and fun as you feel. Unfortunately, the only place you seem to spend time these days is the inside of an office. You settle for a selfie, which is good, but not what you were looking for. Well, if you're based in or around New York City, you can kiss the selfie goodbye, because Delta Air Lines and Tinder are here to give you the far away backdrop of your dreams with their "Dating Destination Walls."
Throughout the summer, New Yorkers can head over to Wythe Avenue in Williamsburg to view and take pictures in front of a series of "Dating Destination Walls." Created to provide the perfect shot for your profile, the photo backdrops are surrounded by travel-themed illustrations by Andrew Rae of The New York Times. In total there are nine locations represented: The United Kingdom, Italy, France, Russia, The Netherlands, Switzerland, Mexico, Hawaii, and California.
Beyond the appeal of a travel-based picture, Delta and Tinder have added more fun components. If you're in the area on June 17, head over to Wythe Avenue for a singles-centric event featuring a professional photographer ready to take your wanderlust photo. Then, throughout the summer, visitors are encouraged to post their photos on social media with #DeltaDatingWall.
So why the partnership between Delta and Tinder? The idea for the campaign grew from recent research focusing on singles and travel from the Match's 2017 Singles in America survey and a Simmons Summer Connect study. Delta travels to the most destinations of any airline leaving New York, and Tinder wants to ensure its users are satisfied with their dating app experience. As they state, world travelers are more likely to be swiped right on. Read on to hear more about singles and travel.