Tom Schwartz & Tom Sandoval's Favorite Tom Tom Dish Is The BEST 'Vanderpump Rules' Reference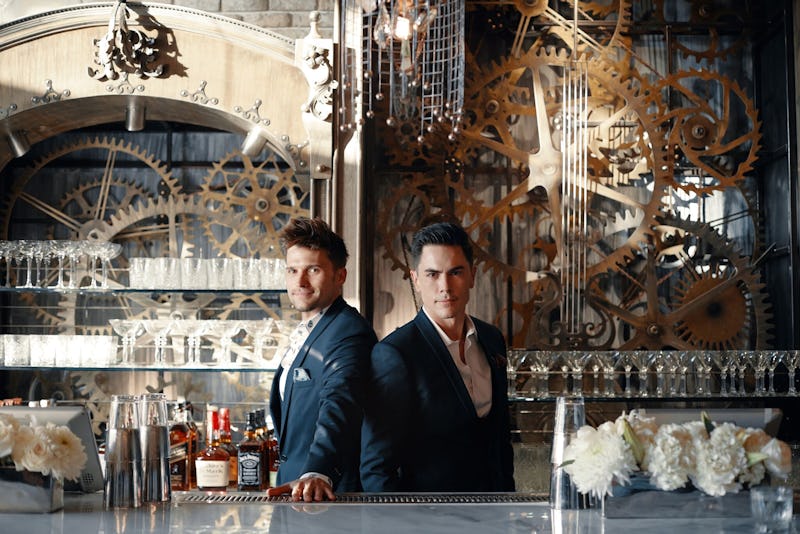 Courtesy of Tom Tom
Happy Tom Tom Day, Vander-pals. If — nay, when — you make the trip to the bar that Lisa Vanderpump and Ken Todd opened with two Vanderpump Rules stars, why not give one of Tom Schwartz and Tom Sandoval's favorite Tom Tom dishes a try? And if —nay, when — you happen to be in the mood for fourthmeal, has Tom Tom got just the thing for you. As the Toms told Bustle at a Tom Tom tasting event on Monday, Aug. 6, one of the things on the menu was inspired by the cast's favorite fast food joint: Taco Bell. "I don't know about you guys, but I'm a big Taco Bell fan," says Sandoval. "I love Crunchwrap Supremes. I wanted to do a gourmet Crunchwrap Supreme and it happened and it's amazing."
What would a bar named after two Vanderpump Rules stars be without at least one menu item based on a Taco Bell delicacy? If there is one thing we Pump fans can always count on in this ever-changing world, it's that the Pumpers love Taco Bell. They have Taco Bell at their bridal showers. At their wedding receptions. On their coffee tables after a long night of drinking. In their jewelry boxes. And on their sweatshirts that, for some reason, end up on backwards. A Taco Bell reference on the Tom Tom menu really was inevit-SUR-ble.
The Toms shared their vision with Chef Penny Davidi, and voilà, the Crunchy Chicken Wrap now exists. "Penny is one of the best chefs I've ever seen and she is just amazing," Sandoval tells Bustle. Their spin on the Taco Bell classic involves a spinach tortilla, fried jalapeños, pico de gallo, sour cream, scallions, cotija, and refried beans. You think it sounds good? It tastes even better.
You better believe the Toms have some SUR-ious drink recommendations up their sleeves, too. "If you're going to have a cocktail, try the Toulouse Your Mind, the Doc Holiday, or the Matcha Bucha," suggests Sandoval. "Three of my favorite cocktails."
And Sandoval's morsels of advice do not stop there. He continues,
"When you get the absinthe one, the Toulouse Your Mind, first thing you'll experience is the citrus of the pineapple, and then it goes into a vanilla flavor, and as that vanilla flavor is happening, the absinthe comes in with that slight licorice and blends with the vanilla very nicely. And once the burn hits on the absinthe, you get those habanero crystals that in there that sort of take over. When you take that drink, open up your mouth and breathe in. Really ignites it. And it's garnished with a miniature red rose called a little red corvette."
And you, dear Pump fan, can Toulouse Your Mind at your earliest convenience. As Sandoval announced on Instagram earlier this week, the bar is slated to open to the public on Thursday, Aug. 9.
The drink list, the food menu, the sprawling clock designed by Nick Alain, the stunner of a back patio, the cocktail that apparently ignites when you breathe in — everything about the Tom Tom experience is one-of-a-kind. As Schwartz tells Bustle,
"It's been a very unique experience. I hope everyone comes and checks it out. It's one of the coolest— I don't want to say it's the best bar or anything like that, you know? It's just very unique. There's no other bar like this. That's just objectively, there's no other bar like this."
Now, go fourthmeal and conquer. And by "conquer" we mean "eat a Cruncy Chicken Wrap at Tom Tom."