Trader Joe's Just Launched Its Own Rosé Hard Cider — Here's What It Tastes Like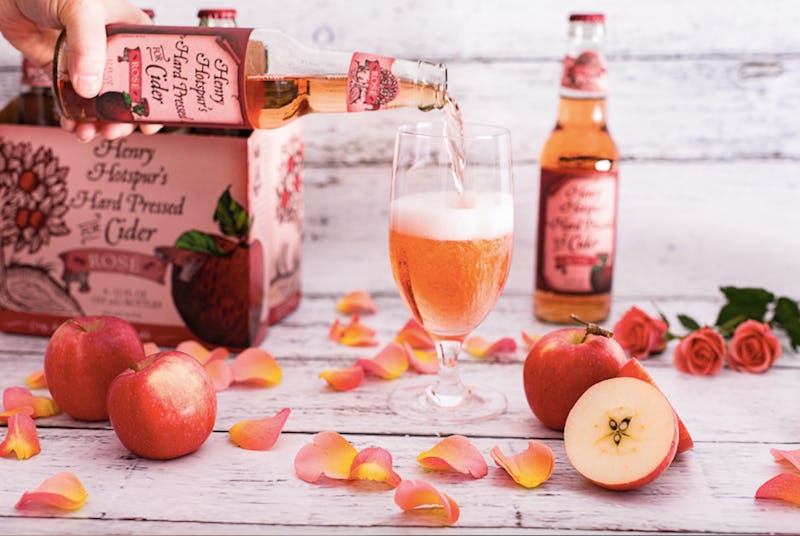 Trader Joe's
Epitomizing Ke$ha's iconic line "the party don't start 'til I walk in," it seems that one brand has waited until near the end of this summer to announce its rosé news. Hopefully, it will be worth the wait — Trader Joe's has its own rose hard cider, dubbed Henry Hotspur's Hard Pressed for Rosé Cider. According to Trader Joe's, the new offering is made by a long-time brewing partner, and is — be still your rosé-guzzling heart — a "blessed union of flavors".
"Our brewers press fresh-picked, Pacific Northwest apples to make cider, then add yeast to kick off the fermentation process. Then, in a separate but simultaneous process, they steep rose petals and hibiscus in hot water to brew a bright pink tea," says Trader Joe's on the product description. "Finally, they carbonate this tea and combine it with the turning cider. The end result? A distinct hard cider with a dry, floral finish; a light, rosy hue; and the tannins you would expect to find in a wine—but not necessarily in a cider."
If you're a rosé stan, then you know this is hardly the first iteration of rosé cider to hit shelves; earlier this year, Angry Orchard instigated a rosé hard cider craze when its version dropped (and it's worth noting that other brands had versions of it in existence long before this year). But rosé hard cider is undoubtedly having a ~moment~ this summer, and now our good friend Joe is getting in on the pink-filtered fun. According to the Trader Joe's blog post, it's available in packs of six 12-fluid ounce bottles for $7.99 or market value, which definitely puts it upfront as one of the more affordable versions of this drink.
Also, I don't want to tell you how to life your life (who am I kidding, of course I do), but this sounds like it would pair perfectly with yet another one of Trader Joe's latest offerings, its Neapolitan Joe-Joes. Aside from the basic math of Cookies + Ice Cream = Everything That Is Good And Worth Existing For In This World, they are also a cheerful pink, which means you don't have to compromise your taste buds when you inevitably buy these to go for the 'gram.
If you're still in need of ways to jazz up your rosé fix this summer, you have plenty of options at your disposal. If you're looking to go hardcore, there are several rosé vodka brands you can try, either to drink straight or incorporate into what might be the most delicious Sex on the Beach of all time. For those of us who are looking more for a palate buzz than a blood one, there are desserts like rosé cookie dough, rosé ice cream, and even a rosé sorbet.
Just make sure you get in all your rosé drinking now, because pumpkin season is nigh, y'all; and while I firmly believe that rosé isn't a seasonal drink, it will get edged out of its peak Instagram glory in just a few weeks. Seize the day and the 'gram while you still can.