Frosé Sorbet Is Here & It's The Millennial Pink Dessert Of Your Dreams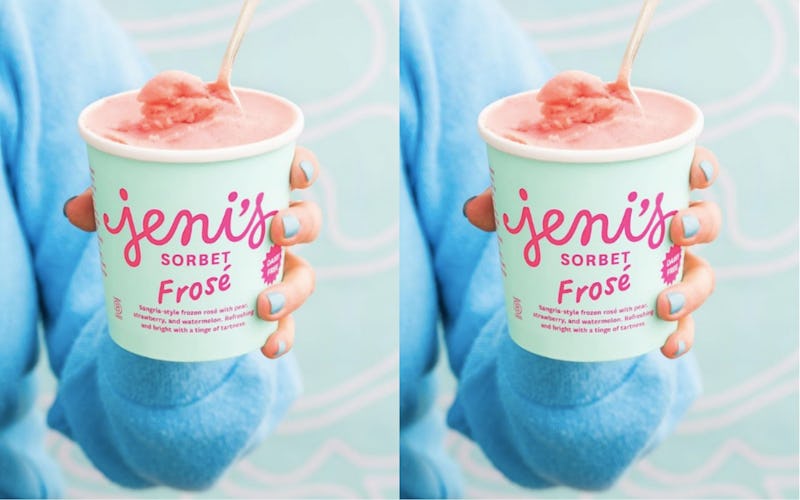 Jeni's/Instagram
Honesty hour: at this point there are so many varieties of delicious pink drinks on deck for the summer of 2018 that I will not be shocked if people start spontaneously combusting into glitter pink sparkles at poolsides and barbecues. The next in the never ending stream of pink things is not, in fact, a drink, but rather was inspired by one: Jeni's Splendid Ice Creams' new frose sorbet just hit the scene, inspired by the frosé blend made famous in the summer of 2016 (aka, the Summer of Pokemon Go, aka the Summer of Our Last Shred Of Innocence).
Jeni's describes the new flavor as "Sangria-style frozen rosé with pear, strawberry, and watermelon. Refreshing and bright with a tinge of tartness." There isn't any actual alcohol in it, so you don't have to worry about accidentally getting crunk on ice cream before noon (though you have options at your disposal if this is, in fact, your summertime dream). But Jeni's suggests using this flavor as a vehicle for your fave summer refreshments, like topping it on sparkling wine, a shot of tequila, or rosé. (If the viral popsicle wines at Loopy Doopy bar in Manhattan are any indication, you're def going to follow your frosé bliss.)
They even have ice cream pairing suggestions for it, which just opened up a whole new world of flavors that my brain is struggling to wrap itself around the glory of — Pistachio & Honey, Darkest Chocolate, and Ndali Estate Vanilla (a richer, smokier take on classic vanilla) are all contenders for this majestic new flavor, according to Jeni's.
Jeni's has 32 storefront locations nationwide, but if you don't happen to be near any of them, never fear — all of their pints are available for purchase online, praise be to the ice cream gods. And there has arguably never been a time more appropriate to jump on the online ice cream train, because Jeni's just released an entire spring collection along with the Frosé Sorbet that they're selling as a package deal.
Spring Collection, $55, Jeni's
The new flavors include the aforementioned Pistachio & Honey, as well as Strawberry Buttermilk, Salty Caramel, and Brambleberry Crisp, which is — moment of respect, please — "Oven-toasted oat streusel and a sweet-tart 'brambleberry' jam of blackberries and blackcurrants layered throughout vanilla ice cream," according to Jeni's. If you think that your mortal eyes can handle it, here's a picture of a spoonful of it.
Though I will say, as something of an ice cream connoisseur (read: I eat a lot of it and spend way more money on it than I will ever confess on this very public internet), it seems like you can't really go wrong with ice cream pairings when it comes to any of these pints. Note, though, that if you are going to make an online order, the minimum purchase is three pints — a feat I imagine will take very little effort to accomplish.
And if frosé sorbet doesn't happen to be your speed this summer, you still have plenty of other rosé options at your disposal. Target just started carrying Yes Way Rosé in their stores for a mere $13 a pop; all of the rosé hard ciders have just hit the market in a big way; and, if all else fails, you can celebrate your love of pink drinks with these literal rosé bottle-shaped pool floats, which just take the whole millennial experience so full circle that I'm a little bit dizzy just thinking about it. In the meantime, if you do have a hankering for frosé sorbet, you can order it from Jeni's online by the pint. Frosé on, friends.