Transgender Soldiers Will Walk The Red Carpet At The 2017 VMAs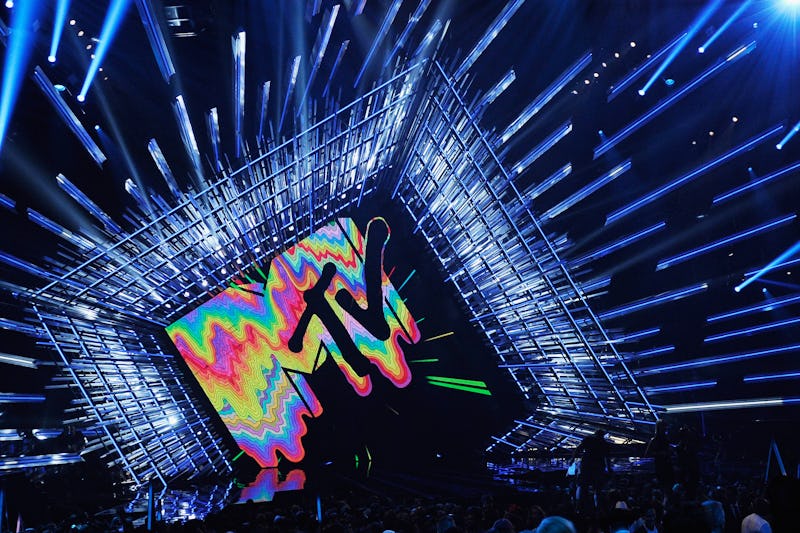 Kevork Djansezian/Getty Images Entertainment/Getty Images
On Sunday, Aug. 27, true heroes will be walking the red carpet at the VMAs. As reported by The Wrap, GLAAD President Sarah Kate Ellis will be joined by transgender soldiers at the VMAs in response to Donald Trump's policy that will prevent new transgender recruits from enlisting, as well as end medical treatment for transgender service members who are already enlisted. Ellis will be joined on the red carpet by current transgender service members Sterling James Crutcher, Logan Ireland, Jennifer Peace, and Akira Wyatt, and trans veterans Laila Ireland and Brynn Tannehill.
In light of the Trump administration's refusal to recognize the contributions of transgender service people across all branches of the military, it is important that these soldiers will be attending the VMAs. Each one of them deserves to have their service to their country applauded. It's also vital that these soldiers and their fellow transgender service-people are seen, so the public can fully understand how much they have sacrificed to keep America safe.
The fight to keep transgender service members in the military, and to preserve the rights of those who wish to enlist in the future, is just beginning. On Friday, CNN reported, Trump directed the departments of Defense and Homeland Security "to determine how to address transgender individuals currently serving based on military effectiveness and lethality, unitary cohesion, budgetary constraints, applicable law, and all factors that may be relevant." Now, more than ever before, it's crucial for America to recognize how vital these soldiers are to the country.
At first glance, the VMAs may seem like an odd place for such a powerful statement to be made. However, the awards show attracts a wide range of viewers, many of which are young and future voters. Their voices have proven to be incredibly valuable, and the VMAs can help shed light on the injustices being done against transgender members of the military. In a statement on the GLAAD blog, Ellis said,
"MTV continues to be a pioneer and fierce advocate for the LGBTQ community by giving one of the most visible platforms to voices that need to be heard. Throughout all the tweets, memos, and speculation, brave transgender Americans are still serving their country and defending the freedoms of this nation while meeting the same rigorous standards of their peers. We are proud to stand with them."
Military and government insiders alike have spoken out about how devastating the reversal of President Obama's 2016 decision to allow transgender people to serve openly in the military would be. In a recent interview with Bustle, Democratic Senator and Army veteran Tammy Duckworth said, "If he wants a stronger military, he would allow anyone who is willing to serve and who's capable of doing the job to serve. In fact, what he's doing is weakening us."
The VMAs are a celebration of music, but they can also be a platform for change. Tune into MTV at 6:15 p.m. EST to watch these American heroes walk the red carpet, and go here to find out more about the amazing soldiers who will be in attendance at the ceremony.