Troian Bellisario's 'Feed' Is Not 'PLL' 2.0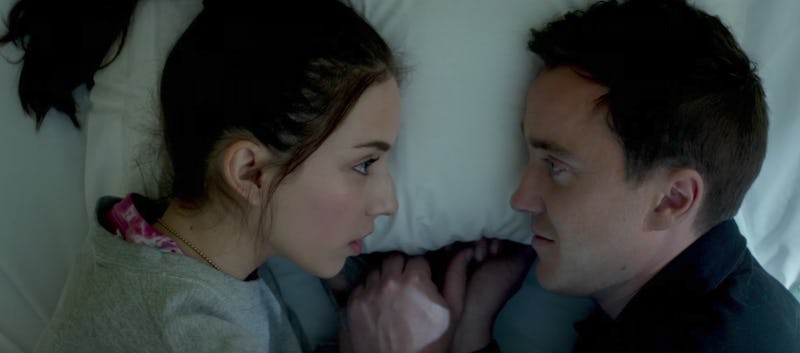 Sony Pictures Entertainment
Pretty Little Liars' Troian Bellisario is trading in an anonymous bully for a frighteningly real disease with her new movie Feed. Bellisario, who played Spencer on PLL for seven seasons, is done exploring the world of female friendships and cyber bullying onscreen, at least for now. Her first post-PLL move sees her bringing a very personal story to the big screen, making Bellisario's Feed performance a must-see for Pretty Little Liars fans.
In Feed, Bellisario plays Olivia, one half of an inseparable twin duo who (slight spoiler alert) loses her brother in a car accident and struggles to recover from his death. In her grief, her brother, Matt (Tom Felton), appears to her and, through his need, sends Liv down the path of developing anorexia. Fans of PLL might recognize some commonalities between Spencer and Liv. Both struggle with mental illness after being haunted by a threatening presence from their past, but there's one thing that separates Feed from PLL, and that's actually the actor herself.
The movie, which Bellisario wrote, produced, and starred in, is a personal one. Inspired by her own experience with anorexia, Feed is the actor's most intimate and personal project to date. "I sat down and I wrote a version of my own story. It's not the exact events, but what I wanted to do with the film was get the audience to understand what it sounds like and what it feels like to be struggling with that illness," Bellisario said in an interview with Teen Vogue.
As a writer and producer, Bellisario had a vey specific mission with this film: to dramatize the very real experience of eating disorders, and that meant separating the physical symptoms (i.e. not eating) from the mental illness. "What I was trying to convey to a lot of people is that there's a large portion of your eating disorder that's a way of dealing with something deeper," Bellisario explained in an interview with Collider. In the film, Olivia's eating disorder stems from the loss of her brother, and Matt becomes the personification of her disease. By crafting a physical representation of an eating disorder, Bellisario hopes to create more awareness and empathy around what an eating disorder really is.
"By personifying that voice in Matt — somebody that Olivia loved dearly, and was so bonded to — I was trying to show the audience that she would follow him at every step of the way," the actor told Teen Vogue.
No doubt some fans of Pretty Little Liars, a show that vaguely tackled unhealthy attitudes towards food with Hanna in Season 1, will recognize their own struggles in Feed. And, in some ways, that's what Bellisario is hoping for, as she told Teen Vogue, "I hope that... it can inspire people to seek treatment and to take it seriously." Feed isn't just a must-watch for PLL fans because of its star; it's a must-watch because there might be some fans who need to see it.