Does The President Know He Just Retweeted A Fake Mike Pence?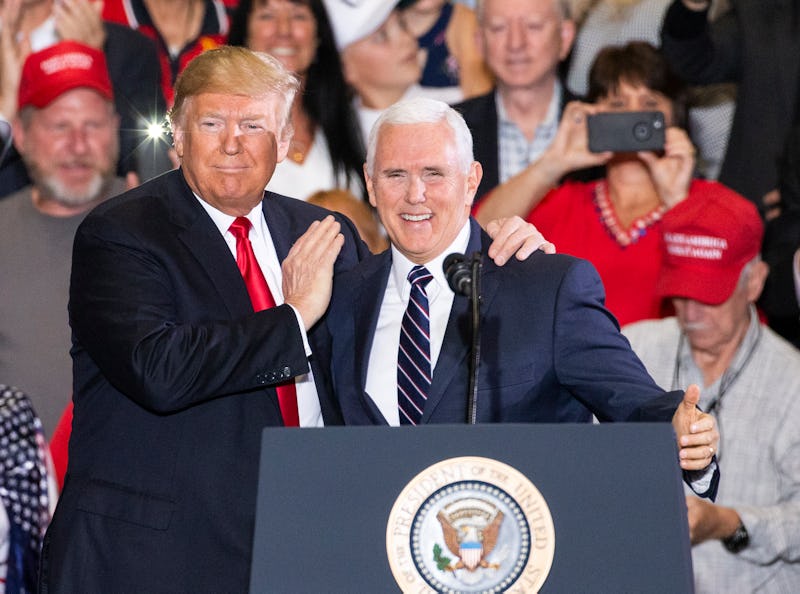 Mark Wallheiser/Getty Images News/Getty Images
The president went on a bit of a retweeting spree Wednesday morning, during which President Donald Trump retweeted a fake Mike Pence account. The post about Hillary Clinton losing the 2016 election read, "I'm thankful for every day Hillary Clinton is not President!"
Though it initially featured a picture of the VP and listed its name as "The Vice President," the account is not actually run by Pence's team. In fact, the account's bio explicitly says it's a "fan account," adding that its "goal is to expose liberal hypocrisy and Fake News Bias." After the president shared the tweet, "The Vice President" changed its name to "Yossi Gestetner" and showed a photo of a man standing with Trump in place of the Pence photo. Bustle has reached out to the White House for comment.
This is far from the first time Trump has retweeted a fake account. Last year, the president retweeted a bot to thank it for criticizing the "dishonest Fake News Media." Around the same time, he tweeted "Thank you Nicole!" at another bot that expressed support for the White House. The account was suspended within a few days, after Nicole was deemed to be fake, as The Washington Post reported at the time. Experts told The Post that the account (which had the handle @ProTrump45) looked awfully similar to a Russia-backed disinformation campaign.
Clinton's name has come up with the president a lot over the past two weeks, as the first daughter and senior presidential adviser was accused of improperly using a private email account for work purposes. Both Trump and his daughter have said that her email usage is nothing like Clinton's because no messages were deleted and no classified information was included.
"All of my emails are stored and preserved. There were no deletions. There is no attempt to hide," Ivanka Trump told ABC News. "There's no equivalency to what my father's spoken about." She later added that she has "nothing to be concerned about" because she knows the facts.
Regardless, both Democrats and Republicans have voiced their concerns about her emails. House Democrats are reportedly planning to investigate whether Ivanka broke the law by using her private email account, while at least two Republicans have asked the White House to clarify why she was using that account instead of her government email.
Clinton seemed to be on Trump's mind Wednesday morning — perhaps because of his daughter's email scandal. Along with retweeting the fake Pence account, he also retweeted two accounts sharing video of Clinton joking with an interviewer who mixed up two black politicians: former Attorney General Eric Holder and Sen. Cory Booker (D-N.J.).
"WOW - if a conservative said this they would be boycotted and not allowed back in the public arena — Hillary said "all black people look the same" - incredibly racist thing to say Hillary!" read one of the tweets the president shared.
He then went on to tweet about tariffs and General Motors, as if he hadn't just spent a good portion of the morning retweeting fake accounts and bashing his former opponent.