Twitter Has Created Fake Track Lists For Taylor Swift's 'Reputation' & Uh…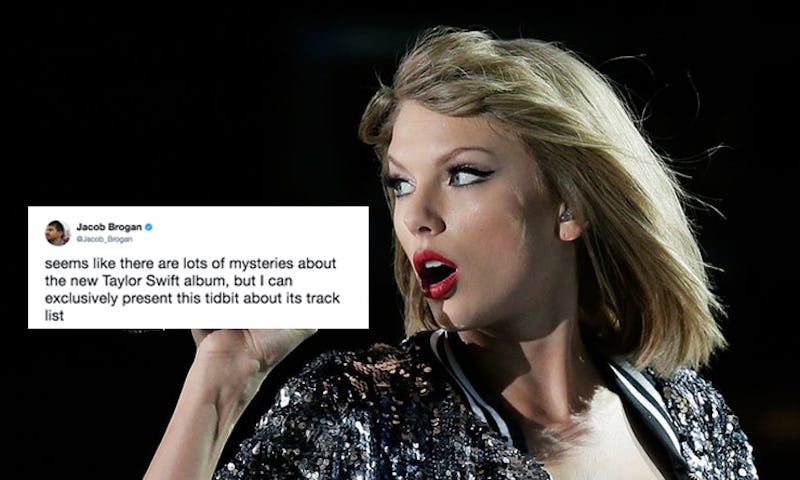 Getty Images/Bustle
Ever since everyone was stunned with the news of Taylor Swift's album Reputation arriving this November, Twitter just can't stop talking about it. In addition to posting enthusiastic messages that have been saved in drafts for three years (Can you believe it's been that long since 1989 came out?), some people on Twitter have invented Reputation track lists for the highly anticipated album, and they are as savage as you'd expect from the internet that never forgets.
Reputation is expected to be a tonal shift for the pop star, who posted art on her Instagram account that suggested a new look. Many are guessing her change in style will also come with an edgier sound. When 1989 arrived on the scene, it was touted as a departure from country music on Swift's path to conquering the pop genre. The path was laid long before then, though, with even her self-titled debut album being labeled "pop-minded country."
A move toward a raspier, more intense sound is also nothing new to the singer. Breakup songs like "Picture To Burn" from Taylor Swift and "Better Than Revenge" from Fearless led seamlessly into a tormented "I Knew You Were Trouble" from Red and later the glossier "Blank Space" from 1989. Now we see fans putting Swift in a whole new category. Some see her as going more on the offensive with her lyrics. Others just love the idea of her sneaking out of her apartment in a suitcase. And yet others have very specific ideas of which parts of her personal life in the last three years will make it into her lyrics.
1. Trapped In A Suitcase, Chapter One
I hope someone made sure that she can breathe in there.
2. She's Going For A Weird Al Parody Vibe
I would love to hear T. Swift cover some national anthems, TBH.
3. Using Her Own Quotes Against Her
It was all a sign.
4. Yaaaaas Queen
Onion rings are a dish best served cold.
5. Feeling Deceived
To reiterate the comments, "Is this real?" and "How dare you."
6. Now She's Just Hedging
The next album will feature a song called "Best Blood."
7. The Meme That Keeps On Giving
The references just never end.
8. Snakes Ahoy
That teaser video had to mean something, right?
9. Sheet Cake Cures Everything
10. Snakes Want To Be Excluded From This Narrative
Which they have never asked to be a part of, since 2016.
11. Emo Swift
Did we travel back in time to 2005?
Though songs about suitcases might please some, Swift will probably be going for more popular appeal. Then again, don't be so surprised if one of these ideas does end up on the Reputation track list.