Twitter's Response To Canada's Pride House At The Olympics Will Warm Your Cold, Winter Heart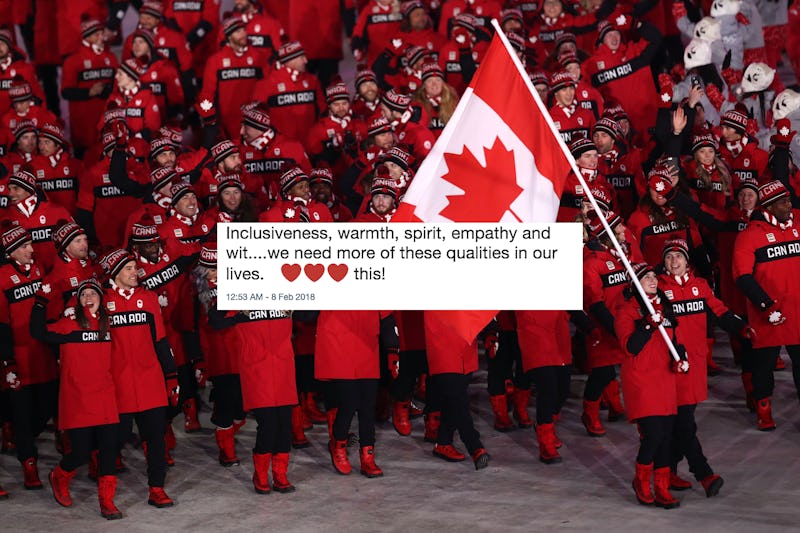 Ronald Martinez/Getty Images Sport/Getty Images
With the Winter Olympics well underway, there's a lot of people from all over the world, on Team Canada right now — and it has nothing to do with their athletic performance. This Olympic Games' Pride House is now open in PyeongChang, thanks to Canada taking a big step up.
Pride Houses started at the 2010 Winter Games in Vancouver, but have spread to other events, including the Summer Games. Although there was no Pride House at the Sochi Winter Games because, well, Russia. And it actually looked liked their would be no house this year — until Canada stepped in.
If you're not familiar with the Pride House, it basically is the same idea as a country house — a place where people from a specific nation can join together to watch, cheer, and even cry — but this one is for the queer community. It's an inclusive space to watch, cheer, and also discuss the challenges of being an LGBTQ athlete. Although it's not just for competitors. Pride Houses welcome LGBTQ athletes, fans, and their allies. You can watch and celebrate together, but you can also learn more about homophobia in sports, how far we've come and how far they still have to go.
And it almost didn't happen. Basically, a lack of funding meant that it looked like there might not be a Pride House at PyeongChang, but then Canada stepped right up to the damn plate. The Canadian Olympic Committee came forward and said that the Canada House would also be the Pride House — and that they would be partnering up with Pride House International. Canada's the first country to team up with Pride House International and actually have a single country also be the Pride House. It's amazing to see.
"By hosting Pride House in our Canada Olympic House, we are extending our warmest welcome to all from every corner of the world to celebrate 'Be Olympic."
"The COC stands behind its commitment of inclusion and diversity in the global sport landscape," Chris Overholt, CEO and secretary general of the Canadian Olympic Committee, said in a statement "We recognize that diversity is our greatest strength. Inclusion is the very foundation of what makes the heart of Team Canada. By hosting Pride House in our Canada Olympic House, we are extending our warmest welcome to all from every corner of the world to celebrate 'Be Olympic.'"
If that doesn't fill you with emotion, then it's time to get the tissues out. This is the message that they have up on a welcome wall in the Pride House — and it's enough to make even me, a slab of stone with a heart of iron, tear up a little.
"Within these walls where those with Olympic hearts come to gather, you are welcomed, accepted and respected.
This is your house no matter who you are or where you come from.
You are at home, regardless of your sex, sexual orientation, race, marital or family status, gender identity or expression, sex characteristics, creed, age, colour, disability, political or religious belief.
All that we ask is that you be respectful of all Olympic competitors, make some noise and cheer loudest for the ones wearing the red and white maple leaf!
Be proud.
Be you.
Be Olympic."
It's emotional as hell. Seeing the outpour of support and emotion on the internet shows just how much having safe spaces like Pride House mean. Athletes and fans, in South Korea and around the world, are feeling pretty #TeamCanada after the announcement was made. Take a look at how much Pride House means to them.