Tyga Responds To The Blac Chyna & Rob Kardashian Controversy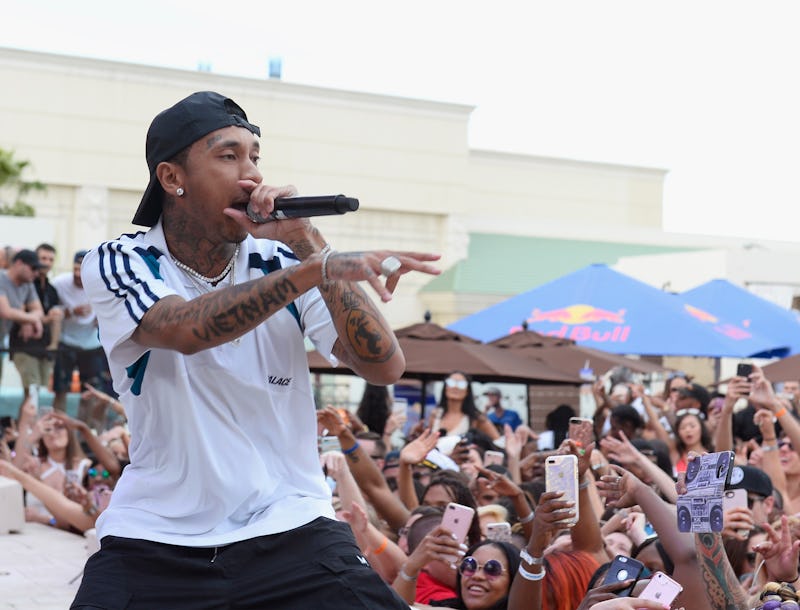 Bryan Steffy/Getty Images Entertainment/Getty Images
Many fans have been waiting for Tyga's response to the Blac Chyna and Rob Kardashian feud for various reasons, but they might be surprised by what they actually got. Chyna and Kardashian's controversial social media fight has drawn opinions from all corners of the internet, but the rapper refused to get pulled into the drama. Cameras for TMZ caught up with the rapper at LAX on Thursday, but Tyga took the high road, showing a massive amount of respect for his family, both current and former. Though he was fresh off his own breakup with on-again-off-again girlfriend Kylie Jenner from earlier this year, Tyga had nothing negative to say about the Kardashians, Chynas, and Jenners alike.
When asked how he felt about "this whole Rob Kardashian Blac Chyna thing," the most Tyga would do was make a face. He widened his eyes and bared his teeth in a look that hinted at his opinions without expressing them outright. Sure, his expression seemed to imply that it is an intensely awkward and inappropriate situation that makes him uncomfortable. But he didn't take the bait to actually talk about it. Instead, he pivoted the conversation to being about his own project: a new mixtape that's dropping on July 21.
It was a skillful swerve, but the reporter was undeterred, asking Tyga whether he thought Blac Chyna should retain custody of Dream in light of the controversy. Once again, however, the rapper deflected the question, keeping his face steady and telling the videographer what a good mood he was in. The 27-year old performer surely has opinions, but he refused to share those opinions with the tabloid, or even to open up about his own personal life, saying instead: "Nah I'm just focused, y'know what I'm saying? Taking care of my business, taking care of my son, you feel me?"
However tempting it might be to weigh in on the conflict between Rob Kardashian and Blac Chyna, at the end of the day, Tyga is self-aware enough to know that it doesn't involve him. His focus is on his son, so the best — and really only — thing he can do as a father in this moment is to avoid the controversy.