Lala Kent Of 'Vanderpump Rules' Opened Up About How She Met Fiance Randall Emmett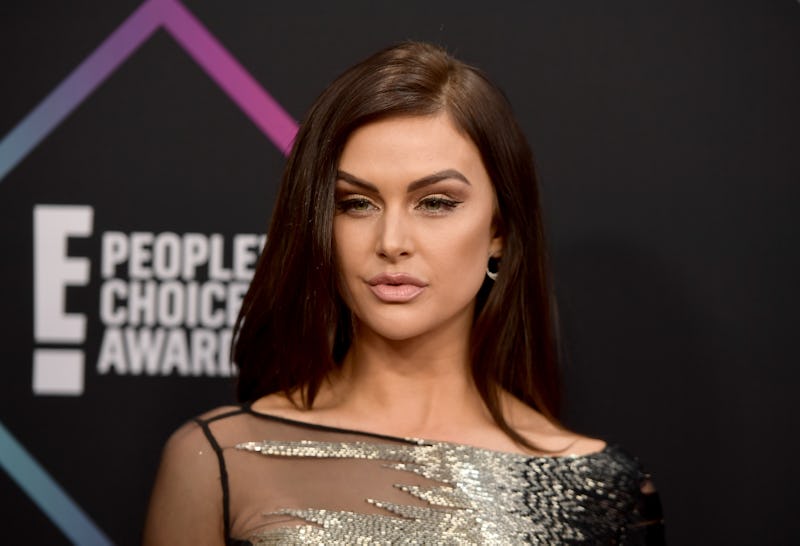 Matt Winkelmeyer/Getty Images Entertainment/Getty Images
Raise your babas high. In a new interview with Cosmopolitan, Vanderpump Rules star Lala Kent shared how she met fiancé Randall Emmett. To think, just a year ago, Lala was doing everything in her power to keep her beau's identity a secret. And now we get to hear the origin of Lala and Randall.
Their story begins where so many beautiful love stories begin. Lala revealed to Cosmo that she met her future husband at the nexus of the Vanderpump Rules universe: SUR. "He came in for a Christmas dinner and sent his assistant up to me and asked me if he could get my manager's contact info because he wanted me in a film," she recalled to the magazine. "And so then we started that whole process, I booked the film and then we just had this instant connection."
Yes, they met at the very establishment where Lisa Vanderpump's Real Housewives of Beverly Hills spinoff takes place. The very establishment where Lala has worked as a hostess for the last several years. The very establishment where we watched Lala blossom into a reality television legend who drinks warm milk out of baby bottles and shares empowering mantras with her friends. Lala and Randall meeting at SUR couldn't feel more right.
Lala continued,
"It was my first season of Vanderpump. I think only like, three episodes had aired of Season 4. I was like, OK, I'm going to let my guard down. Whatever's happening, I like it, you know? He makes me laugh. Give it a try. And we've been together almost three years now."
Almost three years, eh? Time sure flies when you're a star on a popular reality show who is determined to keep their private life private. Yes, Lala and Randall have been together for some time, but they only went public in January— days after Randall's divorce was official. Randall and Ambyr Childers separated in 2015 but did not finalize their divorce until Dec. 2017. Before the divorce was set in stone, Lala went to great lengths to ensure no one found out who she was dating, and her Pump Rules co-stars had some not-so-flattering things to say about her relationship with the mystery dude.
She maintained the wedge between her personal life and reality TV life, but it wasn't easy. As she explained to Cosmo,
"That will go down as one of the toughest times in my entire life. I was just so madly in love with this person, and it was so different from anyone I had ever dated before, and so my feelings got hurt when people spoke about the money aspect, because that's never really been my type of personality to go for such shallow things."
Lala called Randall her "best friend," adding,
"He takes care of my heart and soul. That's important when you're in a relationship. You have to marry your best friend. What's better than being able to have sex with your best friend?"
They share pictures of each other. Though he may never show up on Pump Rules, Randall now regularly hangs out with Lala's friends/castmates. They appeared on Bravo reality series Flipping Out together. They are engaged. And speak candidly about their relationship in interviews. What a diff-SUR-rence 12 months can make.