Stassi Schroeder's Dog Passed Away & Her Tribute To Zoe Will Make 'Vanderpump Rules' Fans Cry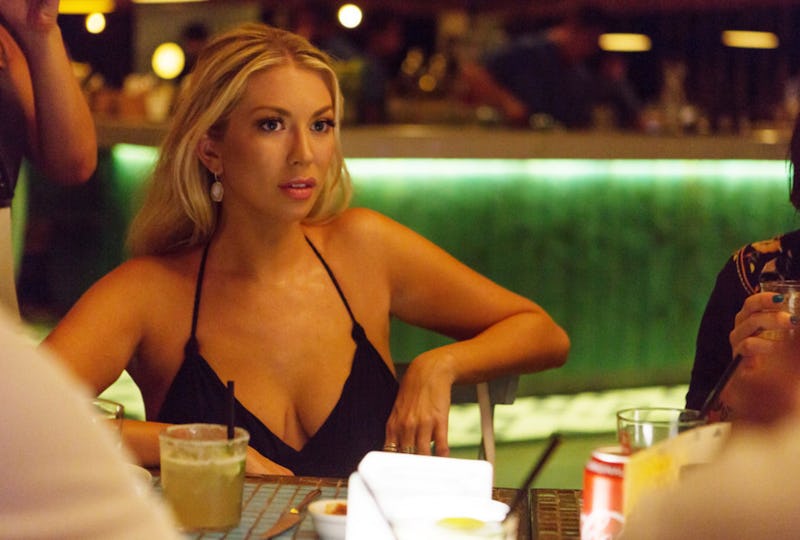 Paul Cheney/Bravo
The Vanderpump Rules universe has lost a furry friend. On Wednesday, May 30, Stassi Schroeder's dog Zoe died. The reality TV personality announced Zoe's passing on Instagram the following day, sharing a heartfelt note and a series of sweet photos of her beloved sidekick. You can see the tribute to Zoe over at Stassi's Instagram feed.
She wrote,
"Last night Queen Zoe went away to the Rainbow Bridge surrounded by so much love, cuddles, her favorite deli turkey and cheeseburgers. Rest now my baby, you were so loved. You will always be our OG. I love you so much and I can't wait to see you again."
Several fellow reality stars offered up their condolences in the post's comment section. Danni Baird from Southern Charm wrote, "My heart aches for u, Stass. I'm so sorry :( love u." Ashley and Lauren Wirkus from Summer House both said they are "so sorry about Zoe." And Bachelor alum Ashley Iaconetti added, "I'm so sorry. She's so beautiful."
Of course, some of her Pump Rules co-stars replied to the heartbreaking news, too. "Puppy heaven has gained the best baby yet. Love you, Stass," wrote Lala Kent. Ariana Madix commented, "sending you all the love." "Sweet sweet Zoe," Brittany Cartwright replied. And Pump Rules newbie Billie Lee wrote, "Aw I'm so sorry."
Stassi and Zoe's story is a beautiful one that began way back when Stassi and Jax Taylor were a couple, i.e., the Paleozoic Era of Pump Rules. When Stassi appeared on Bravo's podcast,The Daily Dish, in April, she recounted how Zoe came into her life. She explained,
"Jax's parents were giving away Zoe, their dog, and we took her in right before we broke up. So in the breakup, I got her."
As viewers saw in Season 1, there was some conflict over who would take Zoe post-split, but in the end, Stassi got to keep her ex-boyfriend's family's dog.
A few years later, Stassi and then-boyfriend Patrick Meagher added a dog named Luda to their family. Here are Zoe and Luda being heart-wrenchingly precious.
If there is one thing she is not willing to compromise on in a breakup, it's who gets to keep the dogs. When Stassi and Patrick's relationship ended once and for all, Luda and Zoe remained with Stassi. She told Bravo's The Daily Dish in Dec. 2017,
"It is kind of weird. It's like having children and then going through a divorce. But I got full custody. Both times ... It's sad but in a breakup, I'm not giving away my dogs. Sorry. You'd, like, actually have to murder me to take my dogs away."
As is common for humans and their pets, Zoe and Stassi experienced a lot of major life moments together. Zoe was around for the Jax years, the Patrick years, and the Frank period. Zoe was there when Stassi moved to New York City and away from Vanderpump Rules. And Zoe was there when Stassi made her dramatic return to Vanderpump Rules.
But it wasn't all messy breakups and Pump Rules shakeups; Zoe was around for a lot of happy moments, too. Zoe was there when Stassi adopted Luda. Zoe was there when Stassi mended all of the fences with her Pump Rules co-stars and found her footing on the reality show again. Zoe was there when Stassi fell in love with Beau Clark. And Zoe got to meet Beau's dog, Refund.
Man, this is all so sad. Losing a pet is awful, and the grief that comes with it stings in its own unique and terrible way. Love and condolences to Stassi during this tough time.