Vanessa Hudgens Loves That 'The Princess Switch' Is Being Compared To A Nostalgic Classic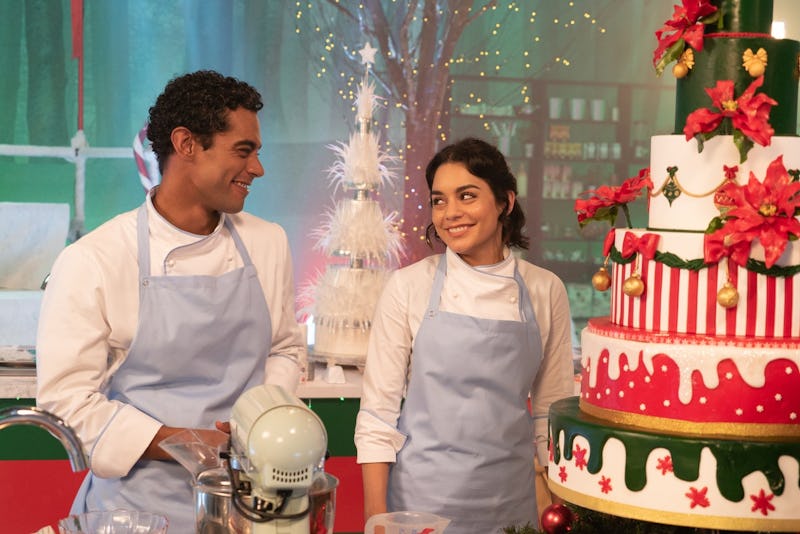 Netflix/Gabriel Hennessey
If you started to feel a bit of deja vu while watching Netflix's latest holiday romantic comedy, The Princess Switch, well, you're not alone. The film's star, Vanessa Hudgens, admitted she appreciates The Princess Switch comparisons to The Parent Trap that her new film is receiving, as the '90s cult classic is one of her favorite films.
In an interview with People, Hudgens said that she's aware that fans noticed the similarities between her film, in which a baker from Chicago switches places with a duchess for a few days before Christmas, and the Lindsay Lohan movie. (The 1998 version of The Parent Trap was itself a remake of the 1961 film, which also starred Hayley Mills in dual roles.) "I've seen that movie so many times," Hudgens said. "My sister and I used to act out the scenes from the movie. It's still such a go-to of mine. If I still love it, hopefully, this will be a classic for my fans and that they'll still watch it."
Both films feature long-lost relations discovering their striking resemblance during a chance encounter, an exciting trip overseas, hidden identities, a secret handshake and even a quick makeover scene in which one character has her hair chopped into a chic bob in order to sell the disguise.
Of course, one of the most striking comparisons between the two films is that both The Parent Trap and The Princess Switch feature the same actress using both an American and a British accent to play two different characters.
And while it's exciting for High School Musical fans to see Gabrielle Montez with a British accent, Hudgens admitted that the different dialects were one of the hardest parts of filming The Princess Switch. "It was very confusing!" she admitted. "There are the two characters and then they switch, so trying to figure out if I was American trying to be British, or British pretending to be American, it was definitely a confusing situation."
However, if there's one similarity between the two film that Hudgens really hopes fans take away from The Princess Switch, it's that feel-good feeling that comes with watching your favorite childhood movies.
"The world is such a crazy place," Hudgens said. "We all need a little bit of light, uplifting escapism. And what better way to do it than with a romantic Christmas movie?"
Even though The Princess Switch has only been on Netflix for a short while, the film has all of the elements to become a beloved holiday hit, much like A Christmas Prince did last year. Right after the film hit the streaming service, many fans started wondering about a potential Princess Switch sequel, which is especially relevant considering that A Christmas Prince: The Royal Wedding will be released on November 30.
After Hudgens is done bringing Christmas cheer to her fans and Netflix viewers everywhere, the actress has a busy schedule lined up for the next few months. In addition to starring opposite Jennifer Lopez in the female-empowerment romantic comedy Second Act, which hits theaters in December, Hudgens will head back to her musical theater roots to play an iconic role in Fox's Rent: Live in January.
For her second time starring in the legendary musical — Hudgens first played Mimi Marquez at the Hollywood Bowl in 2010 — the singer and actress will play Maureen Johnson, the "outgoing performance artist who's not afraid to take on the establishment."
Considering the role was originated on Broadway by Idina Menzel, Hudgens has some major shoes to fill when she hits the stage in early 2019. However, the High School Musical star famous delivered a powerful performance as Betty Rizzo in Fox's 2016 production of Grease: Live, so she's clearly not intimidated by putting her own spin on an iconic role.
And now, with The Princess Switch, it looks as if Hudgens has created yet another character that will quickly become an unforgettable and beloved part of any holiday tradition. Something tells us that Annie and Hallie would be proud to be compared to Stacey and Margaret.