'Vanderpump Rules' Stars Jax & Brittany's Wedding Venue Video Will Leave You In Awe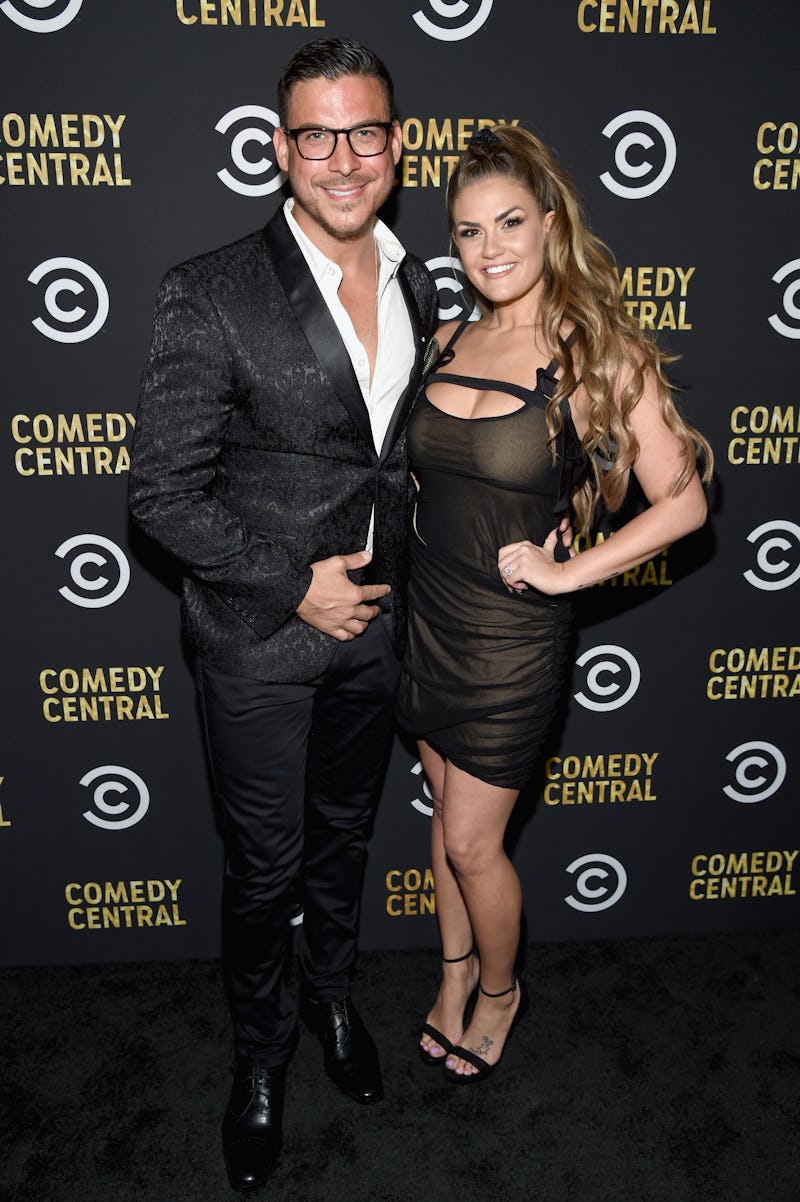 Michael Kovac/Getty Images Entertainment/Getty Images
Jax and Brittany are taking Versailles. Vanderpump Rules stars Brittany Cartwright and Jax Taylor have booked their wedding venue, and the location is one fans should've seen coming 2,000 miles away. Brittany has said time and time again that she has always wanted to get married at the Kentucky Castle in Versailles, Kentucky, and what do you know? That is precisely where she and Jax will tie the knot. As Jax shared on Instagram on Thursday, Brittany's dreams of getting married at the Sexy Unique Spot are officially coming true. And whew, the IG video of Jax and Brittany's wedding venue sure is something to behold.
"Well venue set, deposit paid," Jax wrote on IG. "Now I need a drink....bad." He also posted a video to Instagram Stories he took while he and Brittany celebrated the financial commitment they just made. "Just got the total of the wedding!!!" he wrote on the Story. "Gonna need more tequila!!"
Once the sticker shock wore off, Jax let his excitement take the reins. He tweeted on Friday,
"Can't believe I am getting married in a castle that is all ours for three nights.. you can't see the amazing pool in the back but it's absolutely gorgeous. Gonna be a weekend to remember! #thekentuckycastle"
Without further ado, please enjoy this video of a reality star who just booked the wedding venue of her dreams.
What at thrilling SUR-lwind the last few months have been. Jax and Brittany got engaged on June 7, and the couple immediately began plotting their wedding. Just a few weeks after the proposal happened, Jax and Brittany revealed they'd begun drafting their guest list, hired two wedding planners, started working with a wedding publicist, and attempted to figure out who would be in their wedding party.
When speaking with People back in July, Brittany revealed that the process of picking her bridesmaids was really putting her through it. She said,
"I have so many really close friends, from home in Kentucky and here in L.A., so making my bridesmaid choices down to like eight [people] is going to be really hard for me because my list is at like 15 right now. So, that's going to be the hardest thing."
While tasks like finalizing the guest list and the wedding party have been tough, choosing the wedding location was a breeze. As Brittany explained in the aforementioned People interview,
"I've known where I wanted to get married since I was a little kid. I've talked about it on the show. Even in other seasons, I wanted to get married at the Kentucky Castle so I don't think that's a surprise."
She always knew it was going to be the Kentucky Castle. We fans knew it was going to be the Kentucky Castle. And now, Jax and Brittany's wallets know it's going to be the Kentucky Castle.
Speaking of dreams, if the Bravo cameras are not part of Jax and Brittany's castle wedding day, it will be a true nightmare. Come on, the Jason "Jax Taylor" Cauchi is getting married. In a castle. This is the content we Pump fiends crave.