Police Officers Join In The Dancing At Ariana's Concert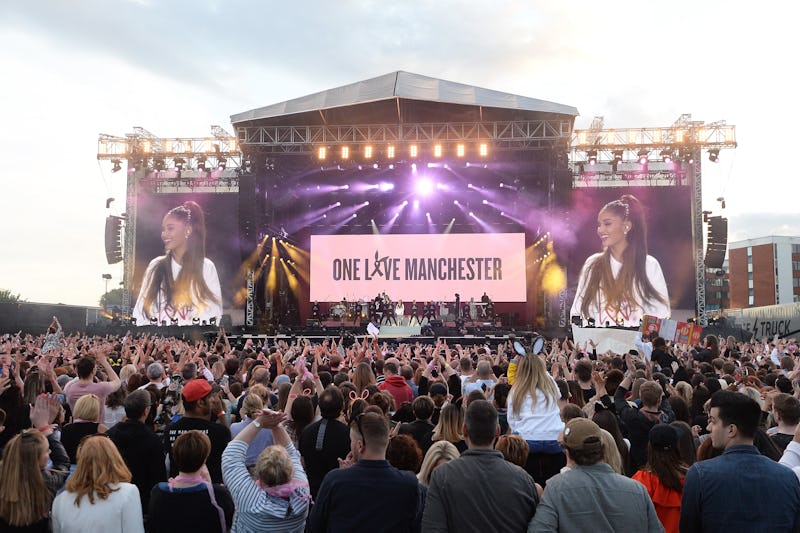 Getty Images/Getty Images Entertainment/Getty Images
The energy at Ariana Grande's One Love Manchester concert was palpable, even if you were watching from your TV screen. Everyone, from Miley Cyrus to Justin Bieber to Katy Perry, promoted messages of love and unity when taking the stage. And that was only furthered when videos surfaced of police dancing with attendees at One Love Manchester. In the clips circulating Twitter, it's clear that even security were feeling the heartwarming vibe of the evening.
Of course, that's not intended to downplay that the whole focus of the evening was to honor the lives of those lost in the tragic terrorist attack at Grande's May 22 concert. Considering there was an incident in London just the night before, it's easy to feel down about current events. Yet watching videos like these may boost your spirits, even temporarily, offering a much-needed reminder that there's still love in this world, and anyone can come together to spread it.
Seeing police officers forming a heart shape on the ground with concert attendees is one of those instances. Plus, seeing all those bright yellow shirts is an additional reminder of how much extra effort must've gone into making this event safe for all of guests. But while they were there to do their jobs, that doesn't mean the police couldn't get in on the fun.
Watch below and try not to smile:
Seeing people come together, in the wake of such hate, is just further proof that there's power and strength in solidarity. And at the end of the day, that's what's going to get us all through the darker times.
Grande's One Love Manchester concert resonated this idea through and through. And videos like these that prove that message trickled beyond just the stage itself. That sort of positivity is clearly contagious.